There's So Much to Discover with Park West Onboard Discovery Princess
Princess Cruises' latest cruise ship—Discovery Princess—embarked on her maiden voyage in late March 2022 from Southern California and Mexico, but she's since made her way up into the chilly waters of Alaska's inside passage and is now cruising at near full capacity.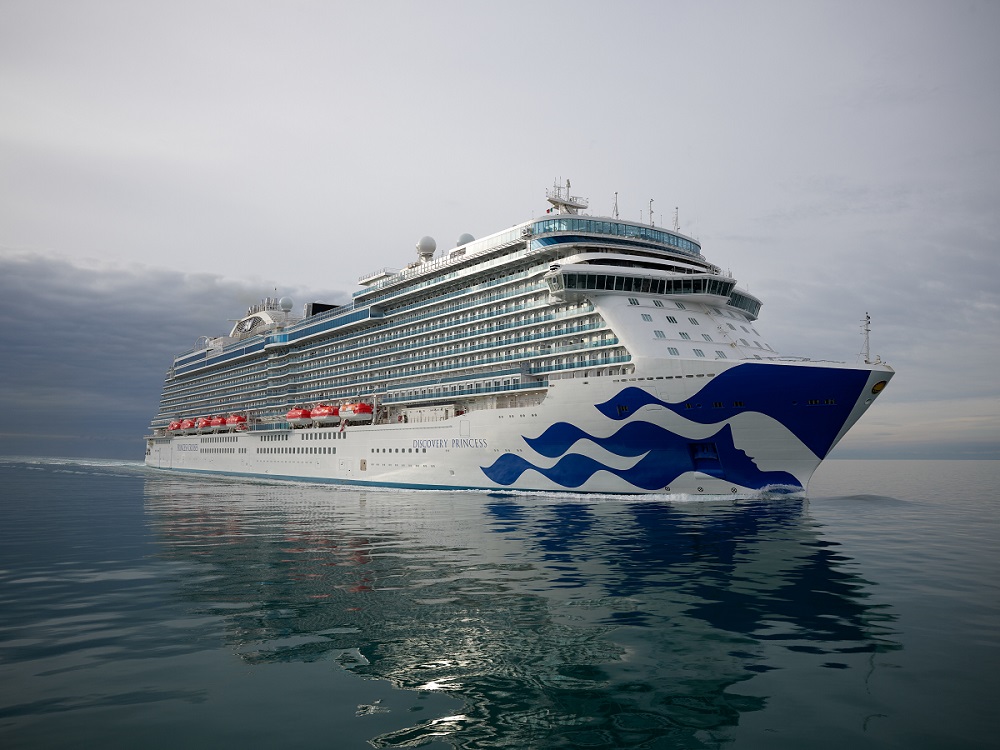 The additional passengers could be felt in the crowded Princess Live! event and art gallery space during the first 24 hours of its May 8th sailing. As soon as Discovery Princess left its port in Seattle, the art gallery was buzzing! Found on deck 7, the ornate space is overflowing with fabulous works from world-famous artists like Peter Max, Mark Kostabi, Itzchak Tarkay, and Romero Britto.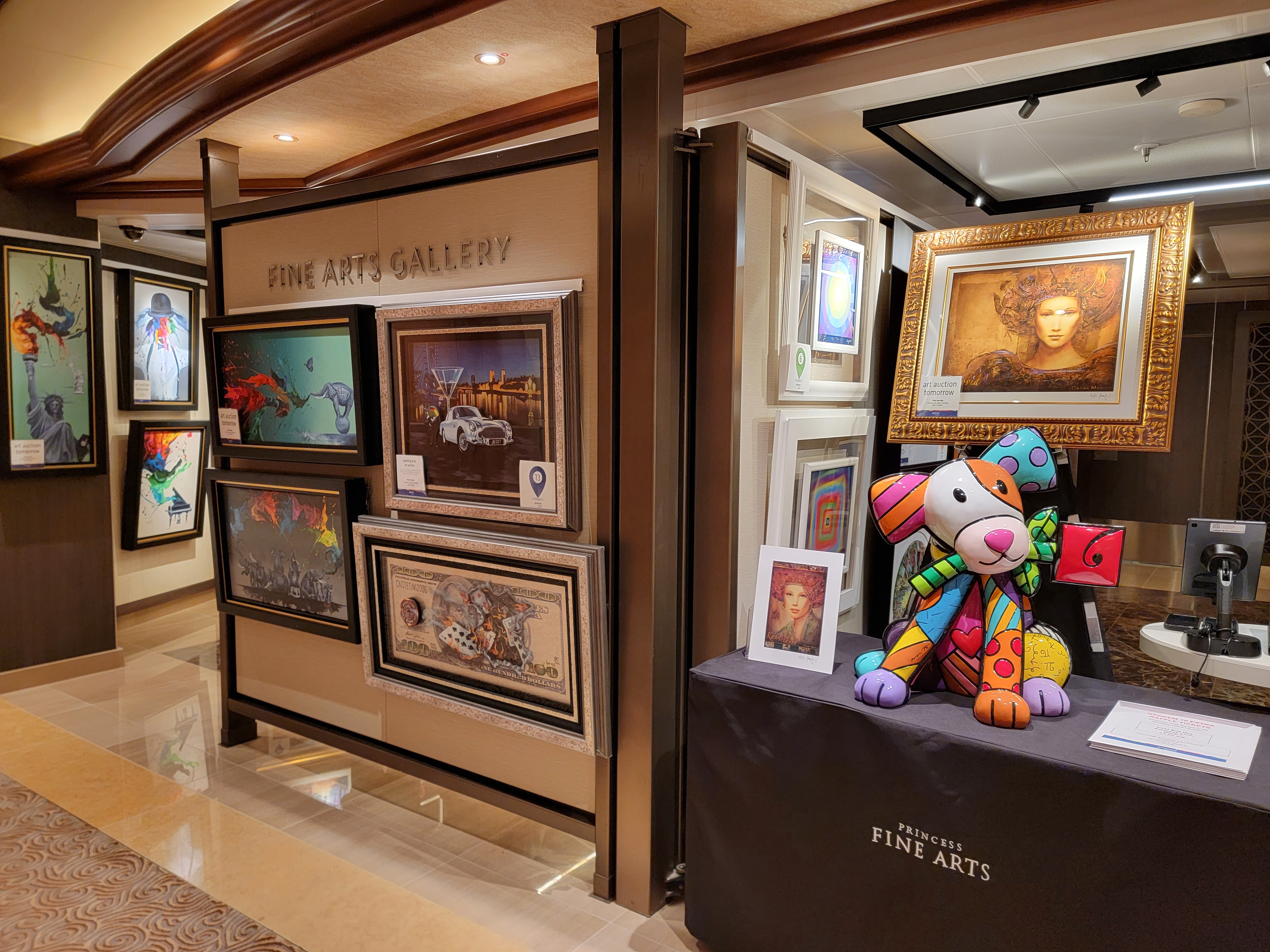 Once sailing on the open seas, the bustling art team hit the floor running and hosted an opening-night raffle at 7:30 pm, offering complimentary artwork and bid coupons valued up to $200! Between 6 pm and 9 pm, the gallery was also the site of an entertaining scavenger hunt that had passengers deciphering riddles to uncover clues based on artwork hanging in the gallery. We could give you a few hints, but it's more fun to ask the art team for clues and maybe learn some interesting facts about the artwork in the process.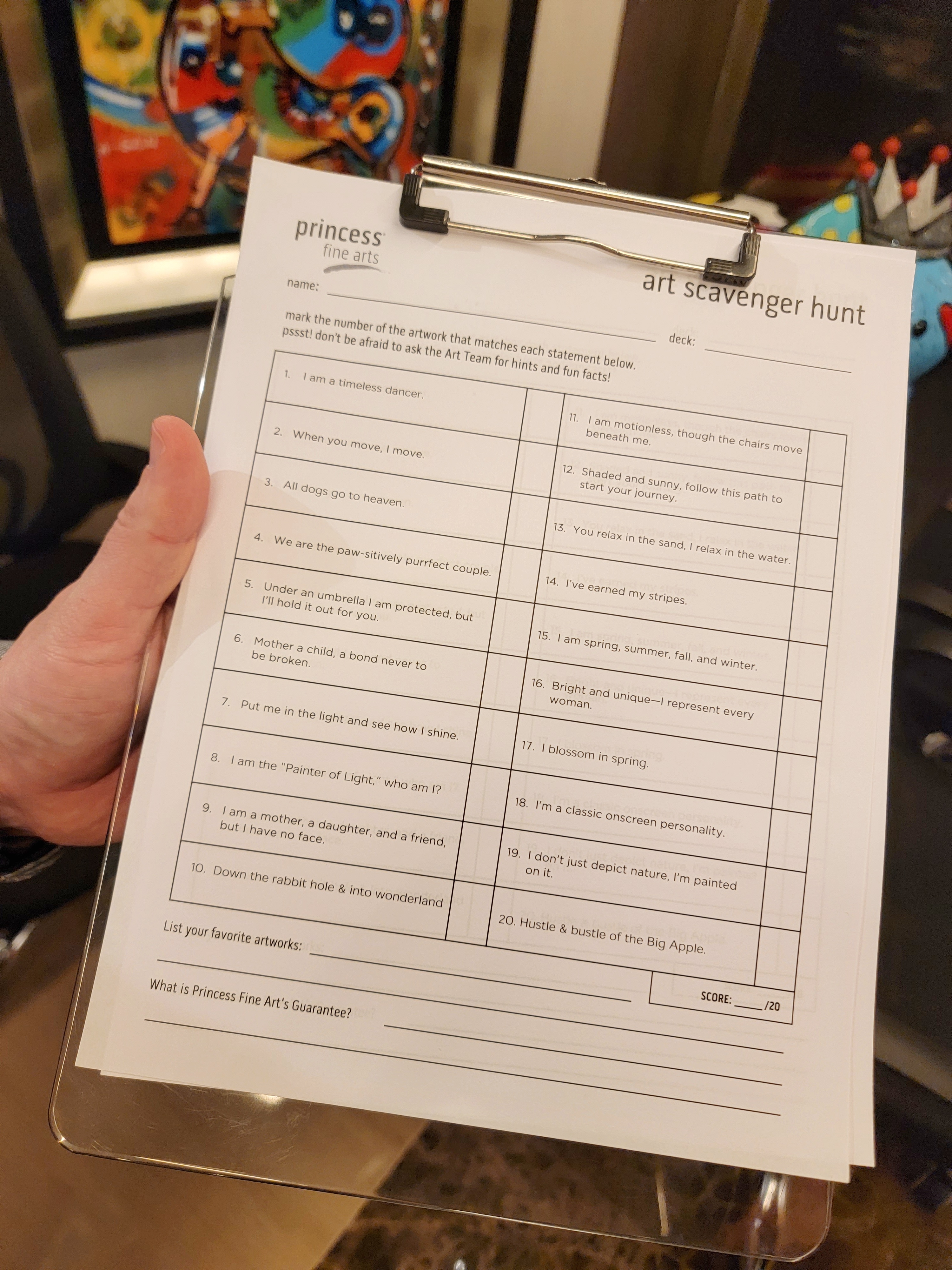 Although this was the first art event of the voyage, first-time guests and experienced collectors cruising on Discovery Princess had likely already encountered the talented roster of Park West artists in their staterooms! Each stateroom on Discovery Princess features a large HDTV offering a bevy of content-rich, informative, and fun on-demand programming all about the onboard art program, including the free seminars offered during each cruise and beautifully produced videos for artists like James Coleman, Stephen Fishwick, Marcus Glenn, Autumn DeForest, Lebo, and many more.
After a shrimp curry lunch at World Fresh Marketplace, a guest can lie in bed and discover Lebo's fantastical reverse plexiglass artwork and how they transport people into new, playful dimensions. Captivated by the concept of reverse plexiglass painting, the guest could then visit the art gallery and see Lebo's artwork—all of its small details, vibrant colors, and cartoon animals the artist uses to tell unique stories—in person.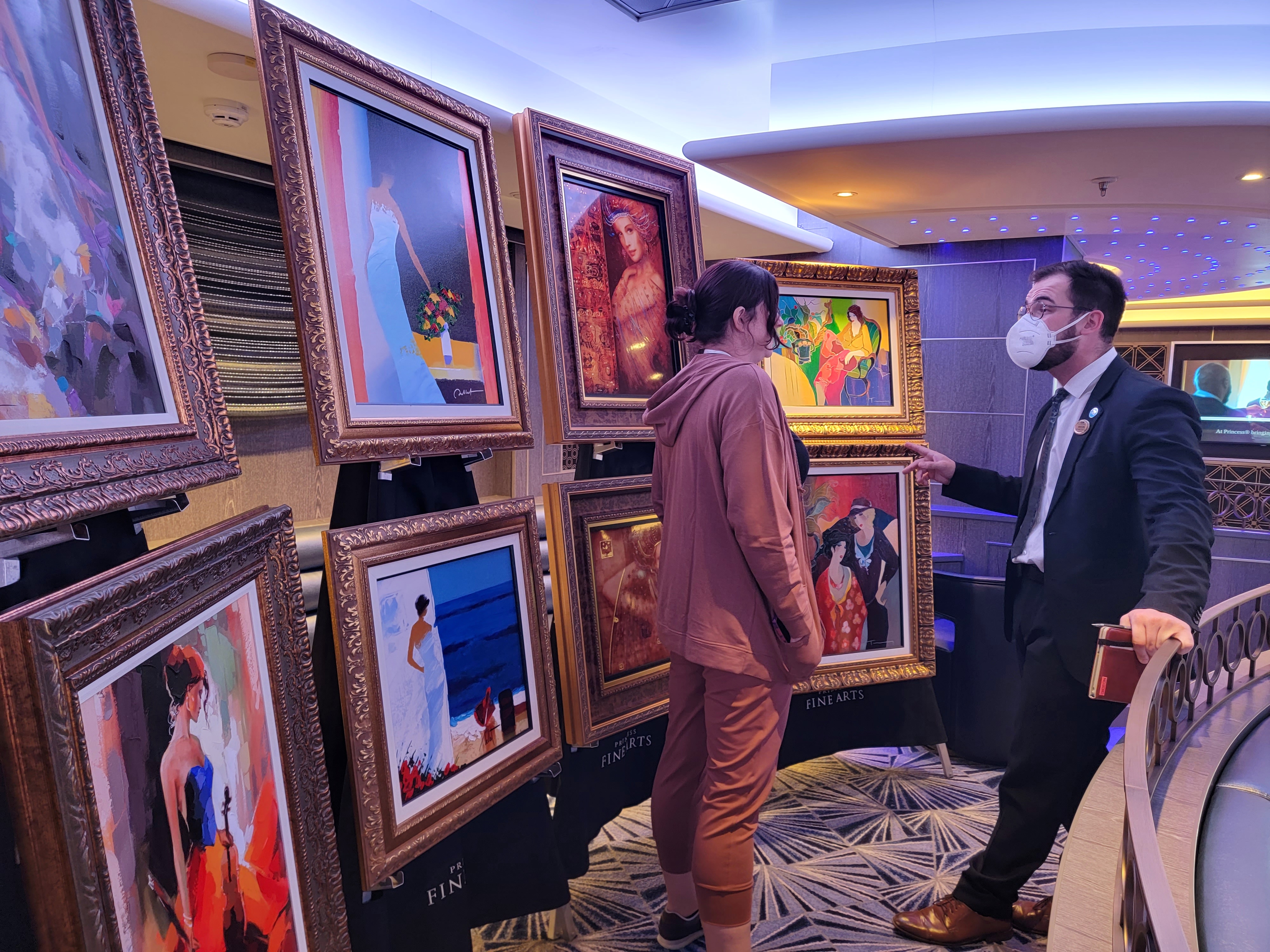 On the morning of Discovery Princess' first auction, deck 7 was full of art (of course) and eager passengers waiting to lay their eyes on the awe-inspiring landscapes of Jon Rattenbury, learn about the modern-day impressionism of palate knife maestro Slava Ilyayev, possibly win a bottle of bubbly or vouchers to the spa, and, of course, to bid on and win remarkable works of fine art!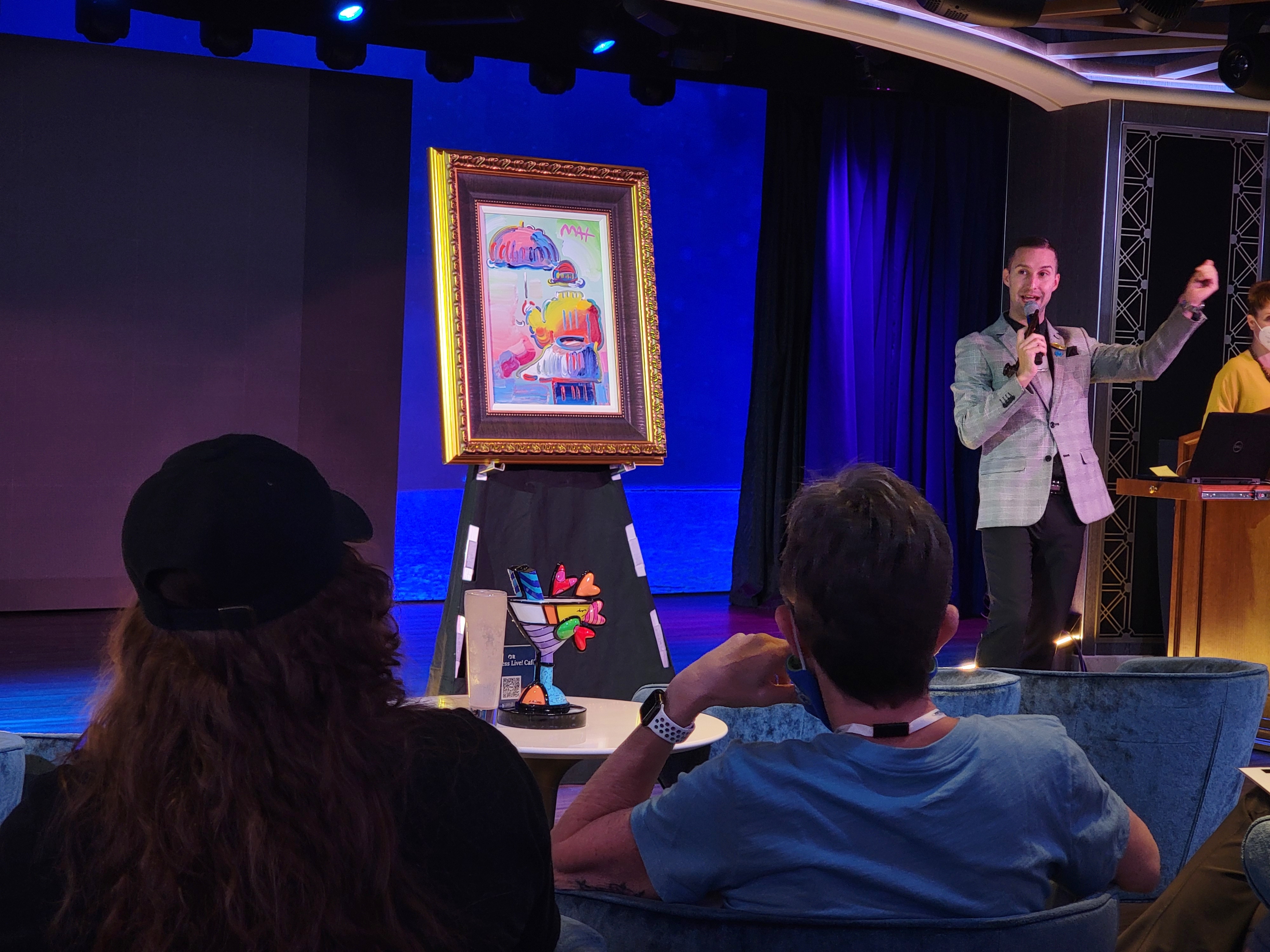 Every seat in the auction room was occupied, and a crowd had even gathered in the walkway to listen to the hilariously energetic auctioneer Dimitri unveil mystery art and one lucky guest got to walk on stage to smell the paint Ilyayev used to create a one-of-a-kind masterpiece. The entire Park West art team—Reece, Naeem, Gideon, and Kim—traversed the half-moon shaped room helping collectors reserve pre-auction prices on dozens of artworks, handing out raffle prizes, and answering any questions. Bid cards were flying into the air for well over an hour as collectors bought works by Kre8, Kinkade, Ratternbury, Max, and so many more.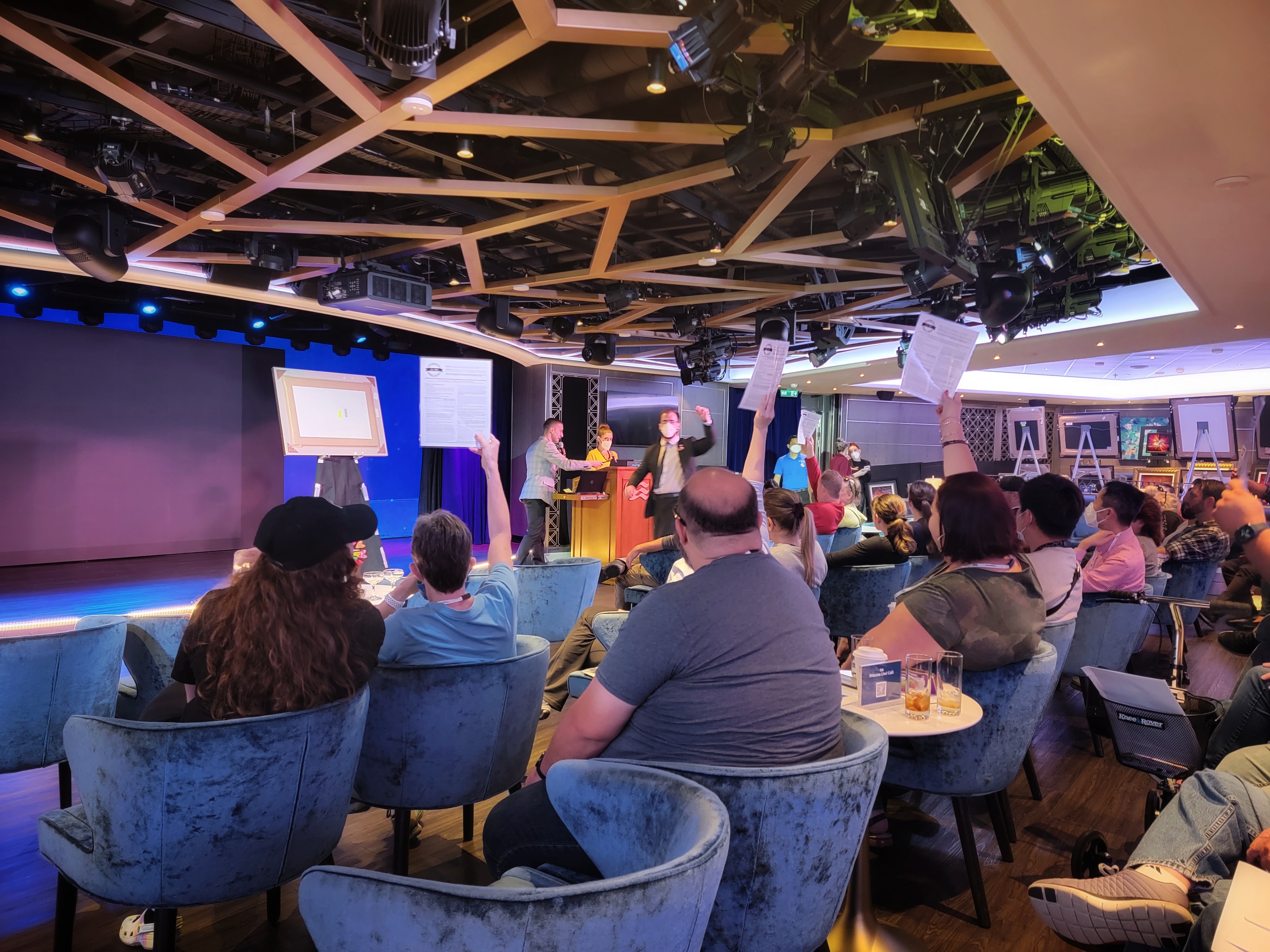 Judging from the positive reception of the first auction, it's clear that guests onboard this glittering new Princess vessel have discovered the fun and pleasure of collecting art they love… and it's only the first day of the voyage!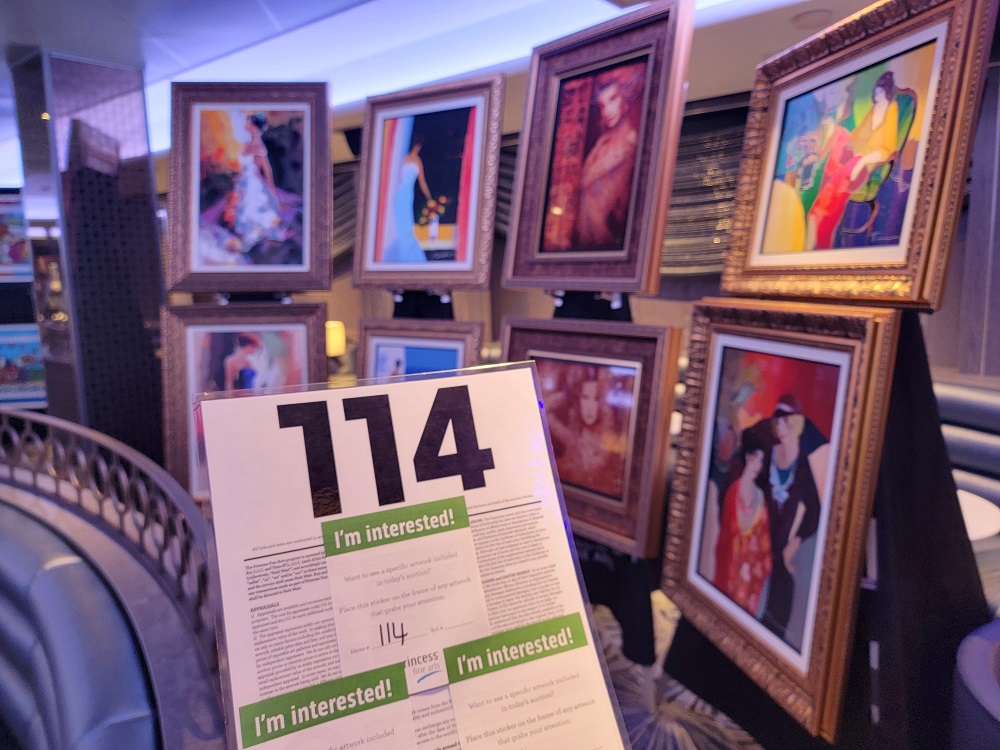 To learn more about buying art during a cruise vacation, register your voyage on our easy-to-use pre-registration page.  When you let us know which ship you'll be on and which sailing, we'll make sure your vacation is EXTRA special. Everyone who pre-registers will get a complimentary $100 art credit and a free gift when they check-in at the gallery during their voyage! Click HERE to register for your next cruise vacation!
Related Articles