Onboard the Largest and Most Cutting-Edge Cruise Ship at Sea
Park West Gallery is extremely proud to be sailing on Royal Caribbean's Wonder of the Seas, which is the biggest ship in the WORLD. (Seriously.) And we wanted to share with our collectors what it's like when you join Park West on this spectacular, one-of-a-kind cruise ship. So, here's a taste of what it was like to sail with Park West on Wonder of the Seas' maiden voyage…
When you sail on Wonder of the Seas for the first time, one of the first things to catch your attention is the ship's immaculately detailed and artful design. 
Well, OK, you might actually notice its unbelievable SIZE first, but then you'll take note of the art, which begins oversized and shiny in the Promenade. To greet arriving passengers, there's a massive chrome cowboy hat and a sparking cherry red classic car parked a stone's throw from Sorrento's Pizza. Wonder of the Seas is a ship that absolutely loves art!
You'll find more art in the design elements throughout the ship as well—most notably in the Rising Tide Bar, the gorgeous Portuguese tiles forming the back wall of Bolero's lounge, and the undulating glass forming the ceiling on deck 5 that's also part of the floor of Central Park on deck 8. It's a wonder, all right!
The exquisite art collection continues into the ship's grand stairwells. Stunning glossy photographs are interchanged with framed mixed media artworks, making the trek up and down helpful not only to your physical fitness (to partially offset the bowls of extra-cheesy El Loco nachos you'll be tempted to eat all week long) but also beneficial for your emotional and mental health too. Once operating at full capacity, the Wonder will hold close to 7,000 guests and over 2,300 crew on board.
The Park West onboard art gallery is a magnificent space. You'll find it portside on deck 4, just past The Attic and Studio B (more on those venues in a moment), with an eye-catching fuchsia and burgundy carpet running the room's length until you reach two casino doors at the end of the hall. There is ample wall space for framed artwork and stately black pedestals to display sculptures. Visitors will experience a world of fine art that is constantly evolving to become something brand-new every day onboard the world's largest and newest cruise ship.
One day you might see a bounty of vibrant primary colors thanks to Brazilian pop artist Romero Britto's artwork and sculpture on display, while the next may be dominated by the darker, whimsical tones of the "Rock Star of the Art World," Michael Godard. You will be moved by the peaceful figures in the art by Itzchak Tarkay and Pino, illuminated beautifully by gallery lights alongside grand masterworks from greats like Picasso, Rembrandt, and Dürer. You will find yourself drawn to the Park West gallery every day to see what it has to offer, experience the beauty, and learn more about art itself thanks to a wealth of engaging programming.
The Attic is where you will find two of the best Park West Gallery seminars. On the inaugural sailing as Wonder of the Seas moved between Old San Juan, Labadee, Nassau, and Perfect Day at CoCo Key, the South African spark plug and Park West auctioneer Wouter Coetsee held court for dozens of eager art lovers and other passengers curious to learn more. They were gathered to be educated, make their next trip to a museum more meaningful, and impress friends at dinner parties with some choice art world knowledge!
First up was the 30,000 Years of Art in 30 Minutes seminar which Wouter ended up stretching to over 45 minutes, much to the delight of everyone in that room. No one wanted to leave! Everyone was treated to fascinating information about Egyptian art, the Renaissance, Impressionism, Modern Art movements, and so much more—all delivered with the quick wit, passion, wisdom, and charm of the delightful Wouter. Later in the week, another nearly full house took their seats for a seminar dedicated to the childhood, career, life, loves, and colorful artistic periods of Pablo Picasso.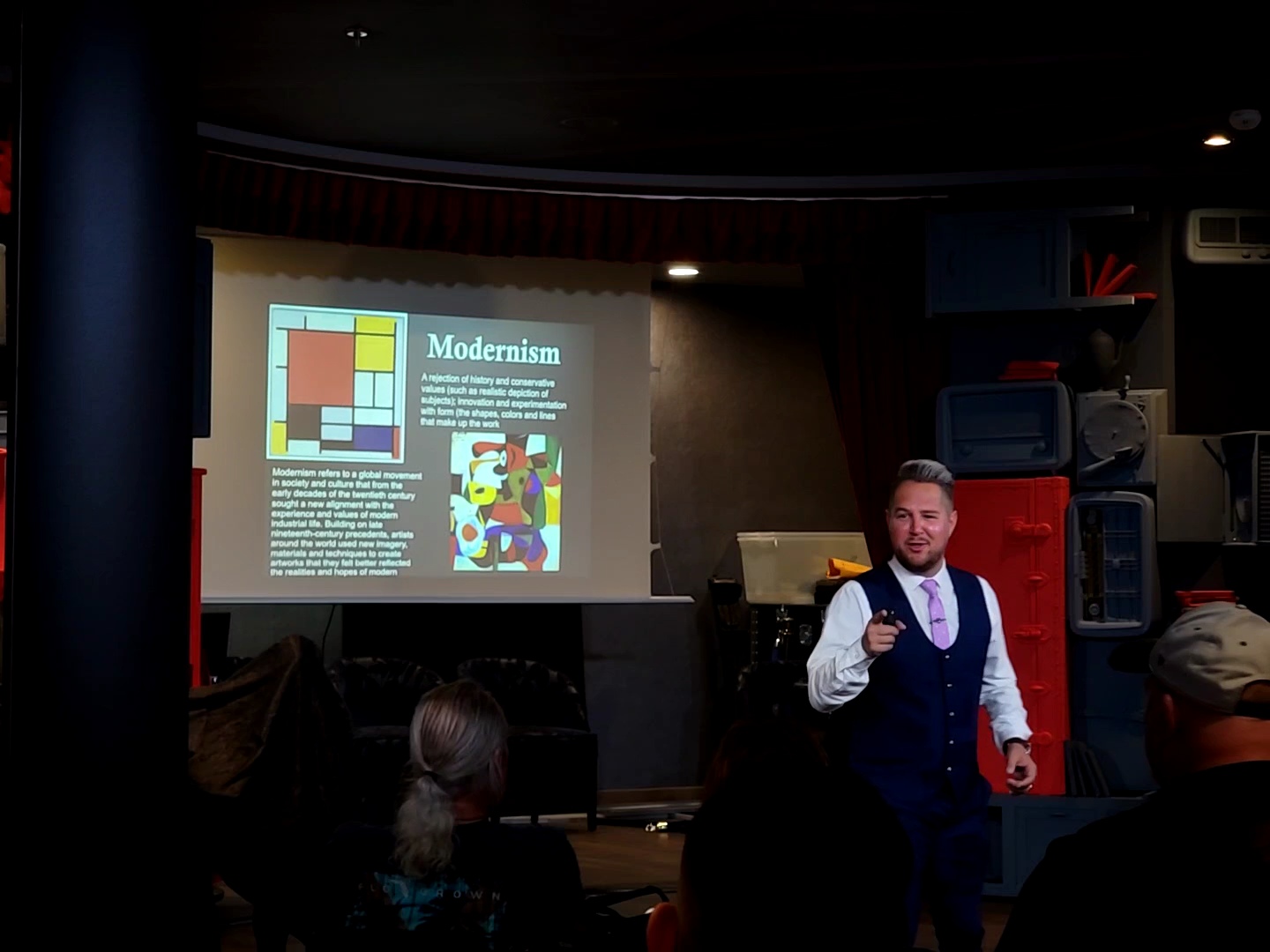 Whether you will choose to ice skate or play laser tag in Studio B, try your luck at a blackjack table, or sit down for southern brunch at The Mason Jar, your time on Wonder of Seas will be significantly enhanced when you spend some of it with Park West. Join us onboard the Wonder of the Seas, in our gallery, and for our seminars where you'll be learning, laughing, and walking away with free pieces of art in the process!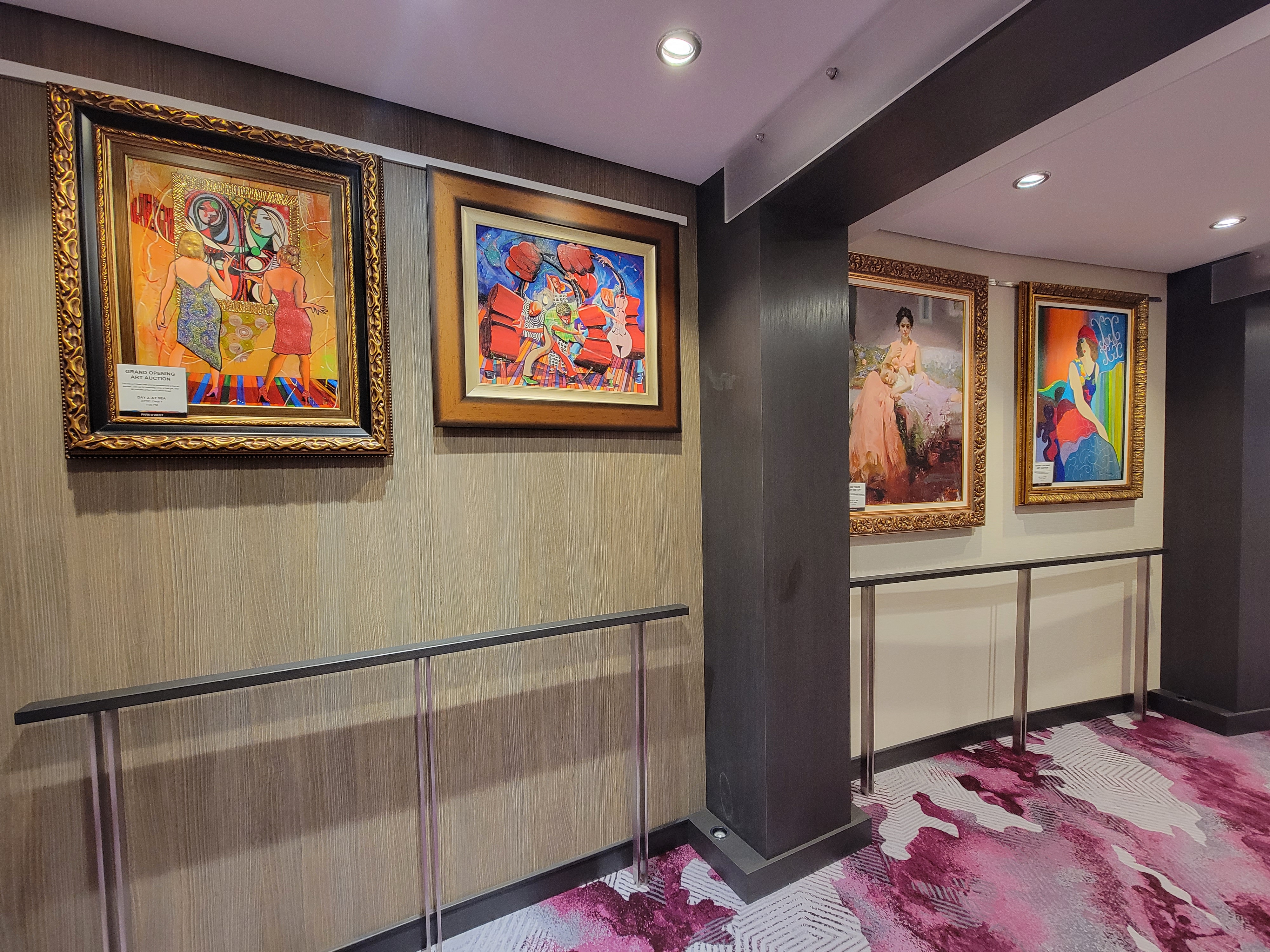 To learn more about cruising with Park West and buying art at auction onboard ships, register your voyage on our easy-to-use pre-registration page.  When you let us know which ship you'll be on and when you'll be traveling, we'll make sure your trip is EXTRA special when you arrive. In fact, everyone who pre-registers will get a complimentary $100 art credit and a free gift when they check-in at the gallery during their voyage! Click HERE to register for your next cruise adventure!
Read more about Park West Gallery's art auctions on cruise ships: