Park West Gallery Expands Across the Seas in 2022 with New Cruise Partnerships
After a long delay, cruise ships emerged back onto the high seas in 2021, and cruisers definitely came back in earnest!
The passengers were not only excited for the entertainment, food, and scenery, but also for the return of Park West Gallery's popular art auctions at sea. With 2022 just around the corner, let's take a look at what's sure to be one of the busiest and best years ever for cruising and three fabulous new ships taking to the water—all of which will be featuring Park West's incredible onboard galleries and arts programming. (These won't be the only ones!)
Expanded Partnerships at Sea
2022 will be a banner year for cruising, in part because we will see Park West Gallery art onboard three brand new ships! "We look forward to further expanding our partnerships by opening new galleries and hosting art auctions and events onboard the Royal Caribbean Wonder of the Seas, Discovery Princess, and Celebrity Beyond," said Park West Executive Vice President John Block. "We expect 2022 to be a memorable year for cruising as new ships are added to fleets and former ships are getting back into service post-pandemic. We couldn't be happier to get our art auctioneers, gallery directors, and staff back on board!"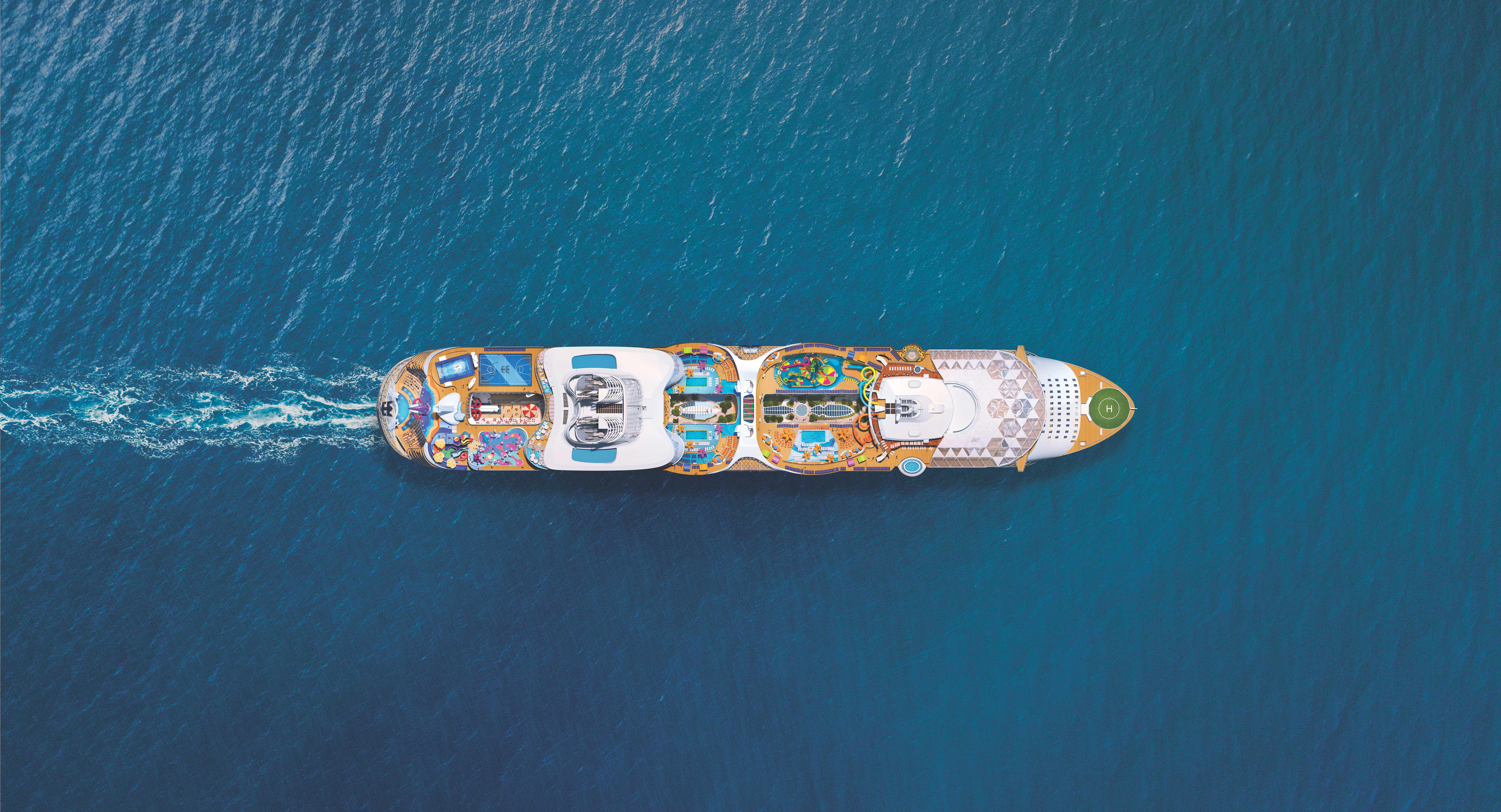 Cruising and Park West have fit together like a hand in a glove for decades. In fact, can you believe it's been almost a decade since artist Peter Max's artwork debuted on the Norwegian Breakaway, covering approximately 40,000 square feet of the ship's hull?
Royal Caribbean Wonder of the Seas
When Royal Caribbean's Wonder of the Seas begins to explore Caribbean ports in March 2022, it will become the largest cruise ship in the world, a crown once worn by Oasis-class sister ship Symphony of the Seas. This glorious new vessel will delight guests with Eastern and Western Caribbean sailings from Fort Lauderdale, carrying them to the rainforests of Roatán, Honduras, the cenotes near Cozumel, Mexico, and the French and Dutch paradise of St. Maarten. Guests can even spend a day frolicking on Royal Caribbean's picture-perfect private island, Perfect Day at CocoCay. And then, in May of 2022, the all-new Wonder of the Seas sets sail for European culture capitals Barcelona and Rome, transporting passengers to Provence in the peak of lavender season, and then to legendary Italian cities like Florence and Naples.
While on board the Wonder of the Seas, you will love discovering its eight unique neighborhoods, including the all-new Suite Neighborhood's pool deck. Of course the visual and culinary arts will be on display too, with AquaTheater delivering live acrobatic and musical entertainment outdoors with extraordinary ocean views and Wonderland Imaginative Cuisine pushing the boundaries of culinary art, much like how Park West artists continue to showcase the enduring power of visual art.
The Park West Gallery Art and Art Auctions on Wonder of the Seas
Park West will bring you an unparalleled arts program during your Royal Caribbean vacation at sea. Join us for a toast at our onboard events, peruse the ship's impressive art gallery, and find the artwork that speaks to you… then take it home! With the knowledge that you are now the proud owner of a phenomenal original work of art, you can continue your artistic experience on board with a dinner of crispy crab cones topped with fluffy avocado mousse at Wonderland!
While there's a fabulous selection of art for sale in the gallery, if you want an extra side of excitement, pick up a complimentary flute of champagne then plug into the electricity of a live Park West art auction! Stay for the fast and furious bidding and maybe you'll take home a masterpiece!
Discovery Princess
Also setting sail in the spring of 2022 will be the sixth and final Royal-class ship from Princess Cruise Line. With Sky Suites offering the largest decks at sea that have a full 270-degree sweeping view, you'll experience cruising and west coast sunsets at sea like never before. While onboard, you will be encouraged to unwind in ultimate comfort at The Sanctuary and fill up your senses with world-class dining options from Michelin-star chefs.
The Discovery Princess begins with sailings from Los Angeles in late March of 2022, exploring Mexican Rivera ports like Cabo San Lucas, Puerto Vallarta, and Mazatlan before heading up to the Pacific Northwest for Alaska cruise season. Imagine, seeing the glaciers and fjords of The Last Frontier while finding the perfect new artwork to add to your collection!
After an auction or an art seminar, you can indulge in an extraordinary dinner at the Chef's Table Lumière. This divine culinary journey begins with champagne and hors d'œuvres before moving on to a one-of-a-kind multi-course dinner created and hosted by the ship's executive chef.
The Park West Arts Programming on Discovery Princess
Whether you're basking in the warm weather of Mexico and Southern California or experiencing the summer chills of spine-tingling adventure in Alaska, the destinations and ports of call you will experience on the Discovery Princess will be nothing short of awe-inspiring.
Equally as inspiring will be the art onboard the ship in the extensive Park West art gallery. You can stroll through admiring works by Peter Max, Thomas Kinkade, and Michael Godard, and attend an art history lecture to learn more about some of the great masters of the art world. Finally, you will not want to miss the entertaining Park West live auctions. There's no charge to attend and you can participate in the bidding for a chance to take home a work of fine art that will not only be a stunning showpiece in your home but also serve as a lasting memory from your Discovery Princess vacation.
Celebrity Beyond
The third ship in Celebrity's revolutionary Edge Series—Celebrity Beyond—arrives in Europe in April '22 and promises to deepen the connection between you and the sea. This elegant vessel will accomplish this through expanded outdoor and open-air spaces, like a two-story Sunset Bar imagined by world-famous designer Nate Berkus, the redesigned Rooftop Garden created by the visionary Kelly Hoppen, a glass-domed Solarium pool area, and the cantilevered Magic Carpet floating platform that's the unforgettable home of dining, drinking, and live entertainment 13 stories above sea level.
This ship's luxurious design seamlessly blends the inside and out to make passengers feel a bond with the natural world that goes beyond anything they've ever experienced on water. Celebrity Beyond is set to redefine the art of luxury travel, and with that comes Park West Gallery art!
Park West Gallery Art Auctions on Celebrity Beyond
Imagine bidding on renowned artist Igor Medvedev's paintings of the Greek Islands and Italy, while actually cruising to these glamorous locales! Beginning in April 2022, Celebrity Beyond's initial sailings will include itineraries that will take guests to the Italian and French Riviera, idyllic Greek Islands, magical Malta, and some of the eternal cities of Italy.
When on board, you can browse the Park West Gallery collection in style, attend a thrilling art auction, and then raise a toast to your winning bid in Celebrity Beyond's fabulous new restaurant by the world-renowned chef Daniel Boulud.
Interested in traveling on any of these amazing cruise ships? You can already register for your voyage on all three vessels—and any cruise ship that Park West Gallery serves—on our easy-to-use pre-registration page. Just let us know what ship you'll be on and when you'll be traveling and we'll make sure your trip is EXTRA special when you arrive.
In fact, everyone who pre-registers will get a complimentary $50 art credit and a free gift when they check in at the gallery during their voyage! Click HERE to register for your next cruise adventure!
Related Articles