5 Tips for Attending Your First Art Auction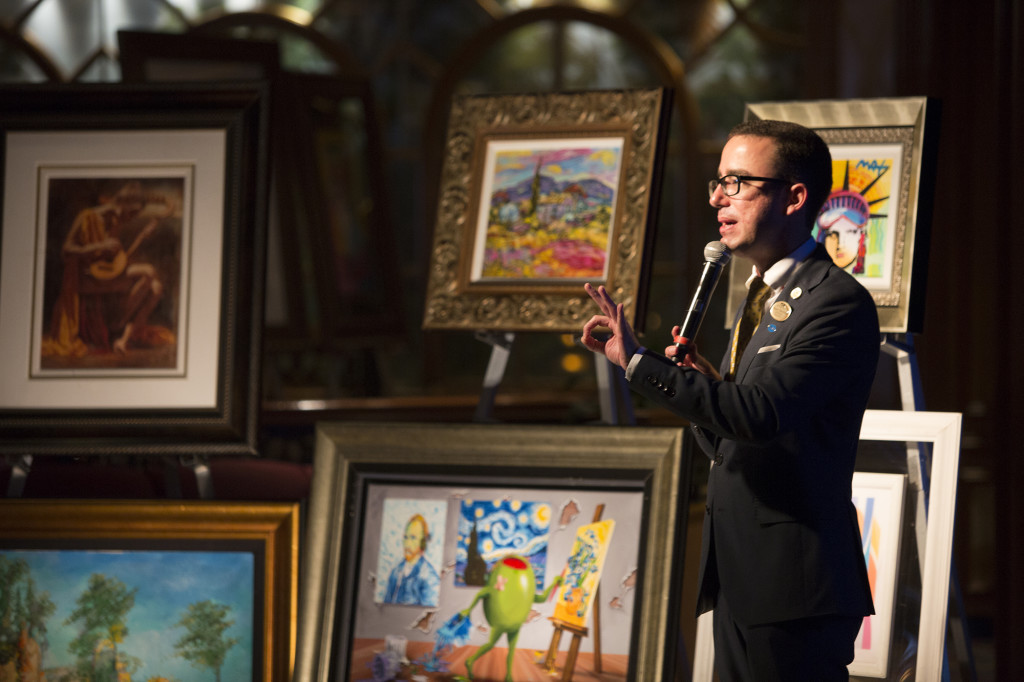 Attending an onboard art auction is a rite of passage for anyone who takes a cruise. With exciting bidding, compelling seminars, and intriguing exhibitions, the art program is sure to be the highlight of any day at sea.
Before you journey into the art world with your first art auction experience, here are several tips that will ensure your first Park West Gallery auction will be memorable and fun.
1). Have an Open Mind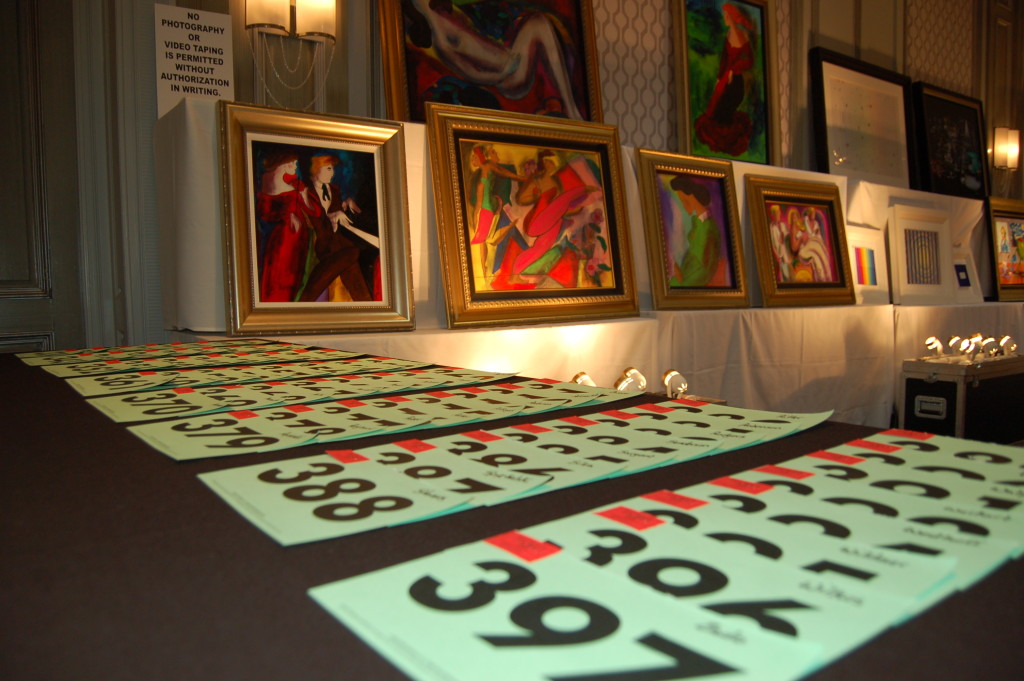 Art auctions are exciting, fast-paced, and unique from any other buying experience. Unlike shopping at the mall or ordering a product online, auctions offer a lively atmosphere for collectors to bid on artwork that appeals to them. As new works of art make their way across the stage, the art auctioneer will educate the crowd in great detail about the history of the artwork, the artist, and the style of art.
To enjoy your experience to the fullest, go into the auction with an open mind ready to learn about different types of art and a variety of artists.
2). Take Advantage of the Preview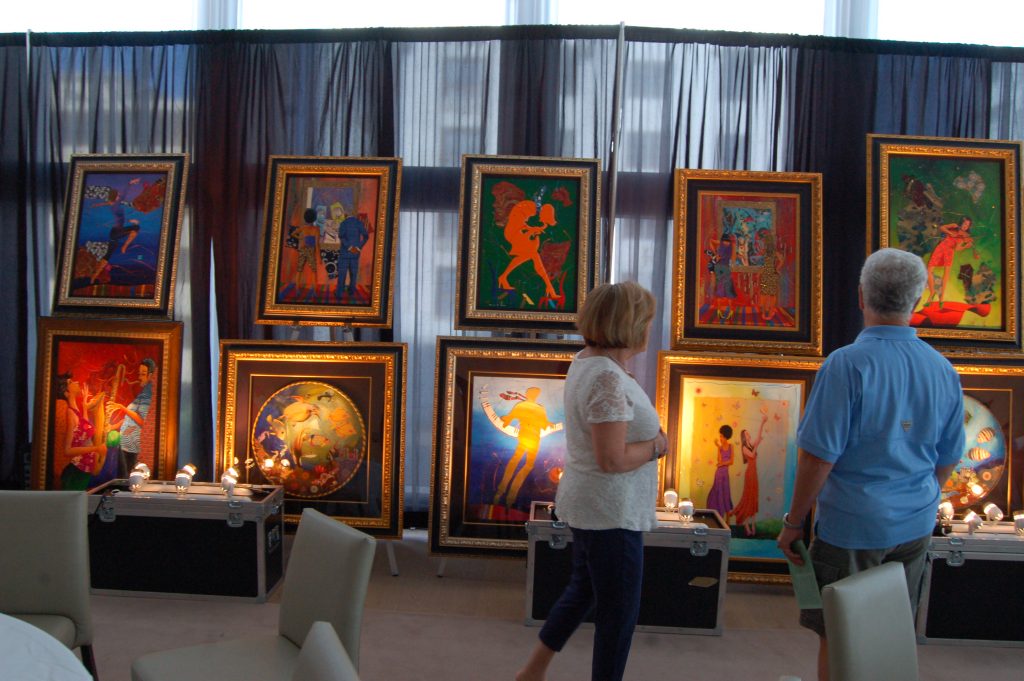 Before the paddles go up, guests have the opportunity to check out the art that is available during the auction. Take your time to browse the gallery during this preview period and seek out works of art by artists that speak to your tastes. Before you sit down, let the auctioneer know which works of art you are interested in to make sure it goes on the auction block.
3). Ask Questions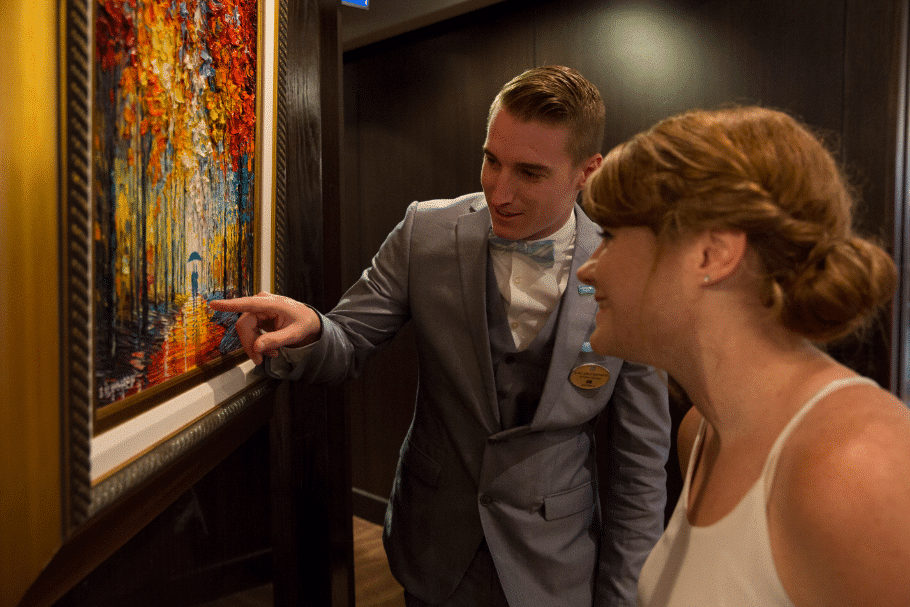 For many, an auction can be a fairly intimidating setting. Park West's goal is to make fine art accessible to everyone by creating a fun, relaxed auction atmosphere and empowering collectors with an educational experience. Have a question before the auction? Feel free to ask your onboard art team for assistance.
4). Talk with Other Collectors
Art auctions are a great opportunity to connect with other art collectors from all around the world. Park West supports a network of amazing art collectors during and after cruises through our Facebook, Twitter, and Instagram accounts. By connecting with fellow collectors during art auctions, you go home with life-long friends.
5). Have Fun!
Your vacation is a time to have fun and try something new. Art auctions are the perfect place to do both! Between beautiful art, good conversation, and the exciting auction environment, the most important thing to remember is to enjoy yourself.
Want to experience a live art auction? Plan your next cruise with Princess Cruises, Norwegian Cruise Line, Carnival Cruise Line, Celebrity Cruises, Royal Caribbean International, or MSC Cruises and you can attend Park West's exciting onboard auctions and arts programming.
Plus, now you can pre-register for Park West events on your upcoming cruises! Just click here to pre-register and Park West will have a special gift waiting for you when you arrive!