YOU CAN BUY PARK WEST ART IN A VARIETY OF WAYS
How do I collect art with Park West?
The vast majority of our art is sold via auctions. You can find more details below.
Why no online pricing?

Prices fluctuate as our inventory changes. We ask that you speak to a representative for the most current pricing. Package pricing is available as collecting in sets is encouraged.
What if I can't attend an auction?
We do have a limited supply of artwork priced to sell directly. If you find an artwork you love online, contact our sales team by phone or email.
TALK TO ONE OF OUR EXPERIENCED ART CONSULTANTS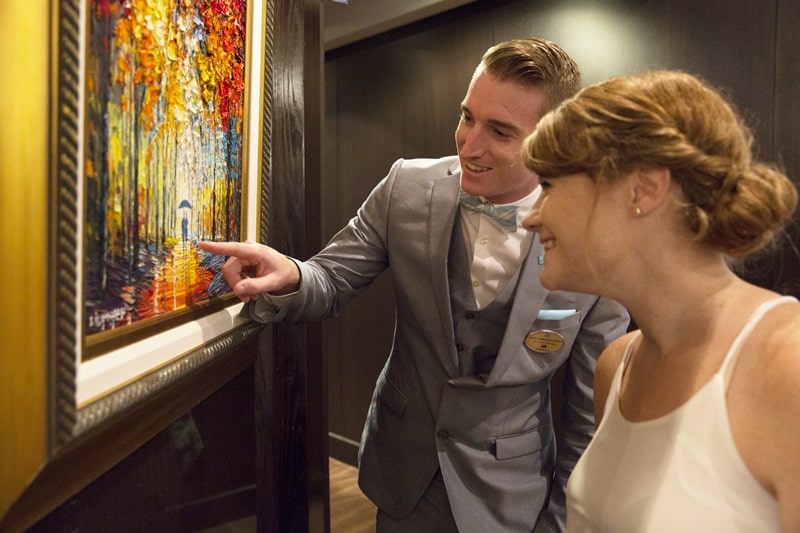 Let us help you start building your art collection today!
Contact our Gallery Sales team:
sales@parkwestgallery.com
1-800-521-9654, Option 4 (US and Canada)
+1 248-354-2343 (International)
HOURS: 10 am to 6 pm Monday-Saturday and 11 am to 5 pm on Sunday, Eastern Standard Time (EST)
OUR ART AUCTIONS ON CRUISE SHIPS TAKE PLACE ALL OVER THE WORLD
Discover the excitement of buying art on cruise ships and becoming an art collector at one of our cruise ship art auctions during your next voyage! We bring the art to you, allowing you to collect art, find the perfect gift, or redecorate your home, all while you're relaxing on a dream vacation.
Park West currently provides art programs for the following cruise lines: Carnival, Celebrity, Norwegian, Princess Cruises, Royal Caribbean, and Holland America.
VISIT THE GALLERIES IN OUR WORLD HEADQUARTERS
Park West Gallery's world headquarters is located in Southfield, Michigan, just outside of Detroit, on a beautiful 3.5-acre site, including a natural pond and sculpture garden.  The classical Greco-Roman building houses galleries featuring artwork from renowned artists as well as a diverse collection from new emerging talent.
The address is: 29469 Northwestern Highway, Southfield, Michigan 48034
During gallery hours, there are always members of our staff available who can answer questions, assist with purchasing, or help interested parties explore Park West's collections.
For more information or to schedule a gallery tour, call 1-800-521-9654, Option 4, or email sales@parkwestgallery.com