For the Love of Tarkay: Meet a New Park West Gallery Collector
Do you follow Park West Gallery on Facebook? If not, you absolutely should! We share news stories, new works of art, live interviews with our artists, thoughts from our fantastic auctioneers, and so much more every single day!
One of Park West's most well-received Facebook posts this past January was the story of a couple who purchased their very first Itzchak Tarkay artwork while sailing on the Royal Caribbean Odyssey of the Seas. When we shared their story, it caught the attention of hundreds. Dozens upon dozens of Park West collectors chimed in through the comments, recounting their own stories of falling in love with and collecting Tarkay paintings (as well as other artists, like Romero Britto, David Najar, Anatoly Metlan, Peter Max, and more.)
Jeff and his wife Lorelei had never bought a work of art before, on a cruise or otherwise, but walked past the Park West Gallery on deck 5 of that beautiful ship on embarkation day and caught a glimpse of  "Colorful Pose" by Itzchak Tarkay. They didn't know it yet, but that moment would set in motion a wonderful, whirlwind week at sea for the couple!
We asked Jeff and Lorelei what it was like to start a cruise vacation without art on the brain, only to end it six days later as Park West collectors with a total of four Tarkays!
"Between the two of us, we'd cruised maybe 20 times, but never bought or, frankly, even thought about buying a work of art," said Jeff. "Sure, my wife and I love art, we're members at The Metropolitan Museum of Art and MoMA, but personally, I never thought I could afford to own any works of art, let alone collect it, so while I always glanced longingly at the art hanging in Park West galleries on ships while heading to dinners, theater shows, and waterslide fun with my kids while cruising in Alaska, the islands, and in the Mediterranean, that was about it." That all changed this past January in the Caribbean!
The kind, sweet, and thoroughly approachable Park West auctioneers Jacques and Meg de Kock made the process of becoming collectors a cinch. According to Jeff and Lorelei, "It felt more like making friends and casually talking about a love of art, composition, and color than being sold anything. It was warm, welcoming, and made us want to learn more and consider bidding at the Grand Opening Auction on the first sea day." Jeff admits that once they saw "Colorful Pose," they knew they were in trouble! This is because the painting's vibrant colors were luminous as it hung in the ship's gallery and because the frame reminded the couple of works they saw hanging in The Met — oversized, antiqued brass-looking metal with tasteful flourishes; this was a proper old school frame for a proper old school painting by a master of the modern figurative movement.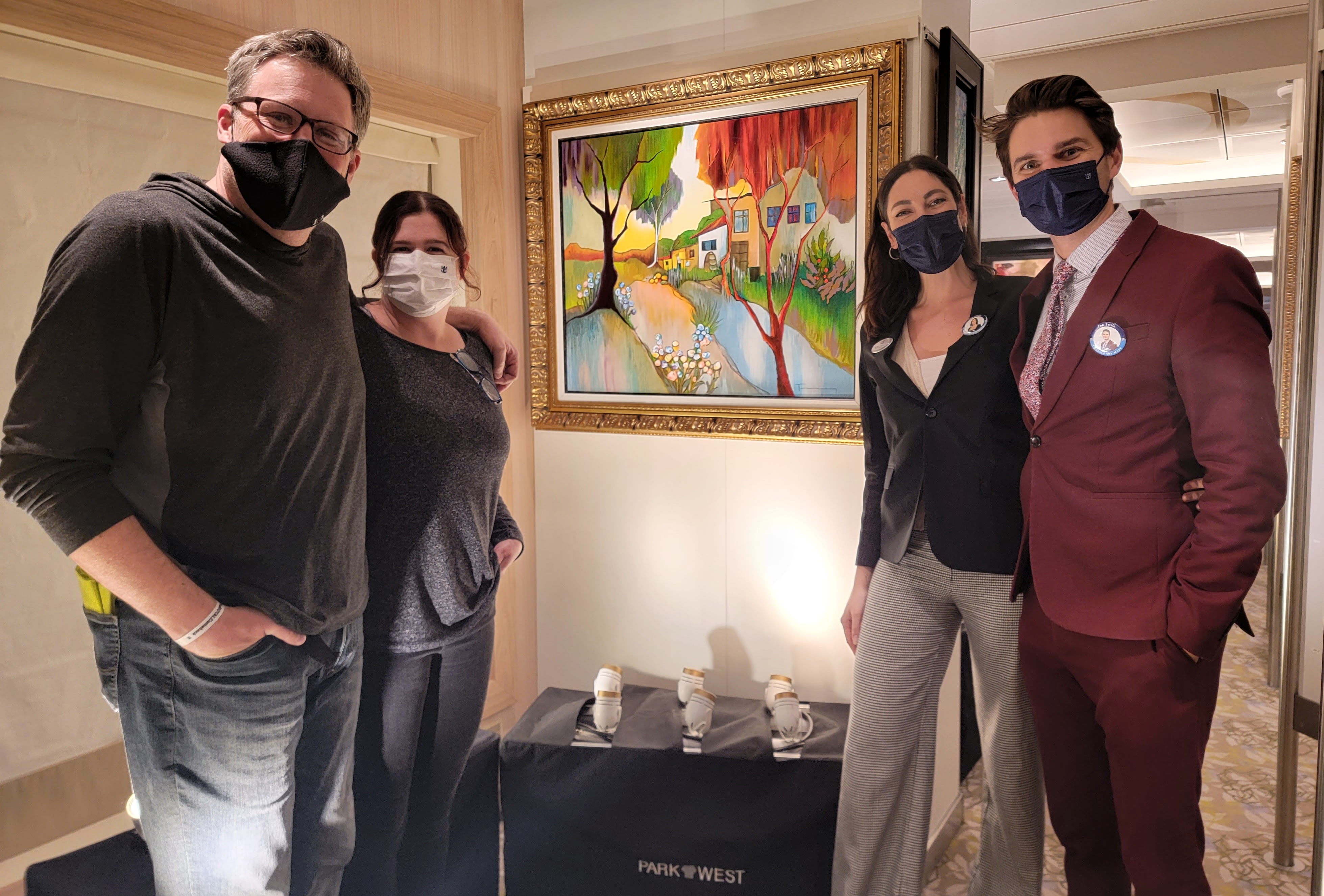 Jeff noted that after he talked to Meg and Jacques and learned how the auction would work, how all the artwork gets reframed brand new, untouched frames of the same design, and that the ballpark price for an artist embellished limited edition painting like "Colorful Pose" was actually within reach (as opposed to the steeper cost of collecting one of a kind paintings, which is all the couple thought were sold at auction), the couple decided to consider bidding on and buying their first work of art!
Over dinner that night at Chops, the upscale restaurant on Odyssey of the Seas, Jeff and Lorelei checked out Park West's website and saw a touching story about Tarkay. They learned how the late artist was liberated from the Mauthausen-Gusen concentration camp and that he was a supportive mentor to many other artists during his life. This all served to accelerate their process of falling in love with Itzchak Tarkay! While on the Park West site, they also peeped additional paintings in the collection, including "Joanna," which immediately took Jeff's breath away.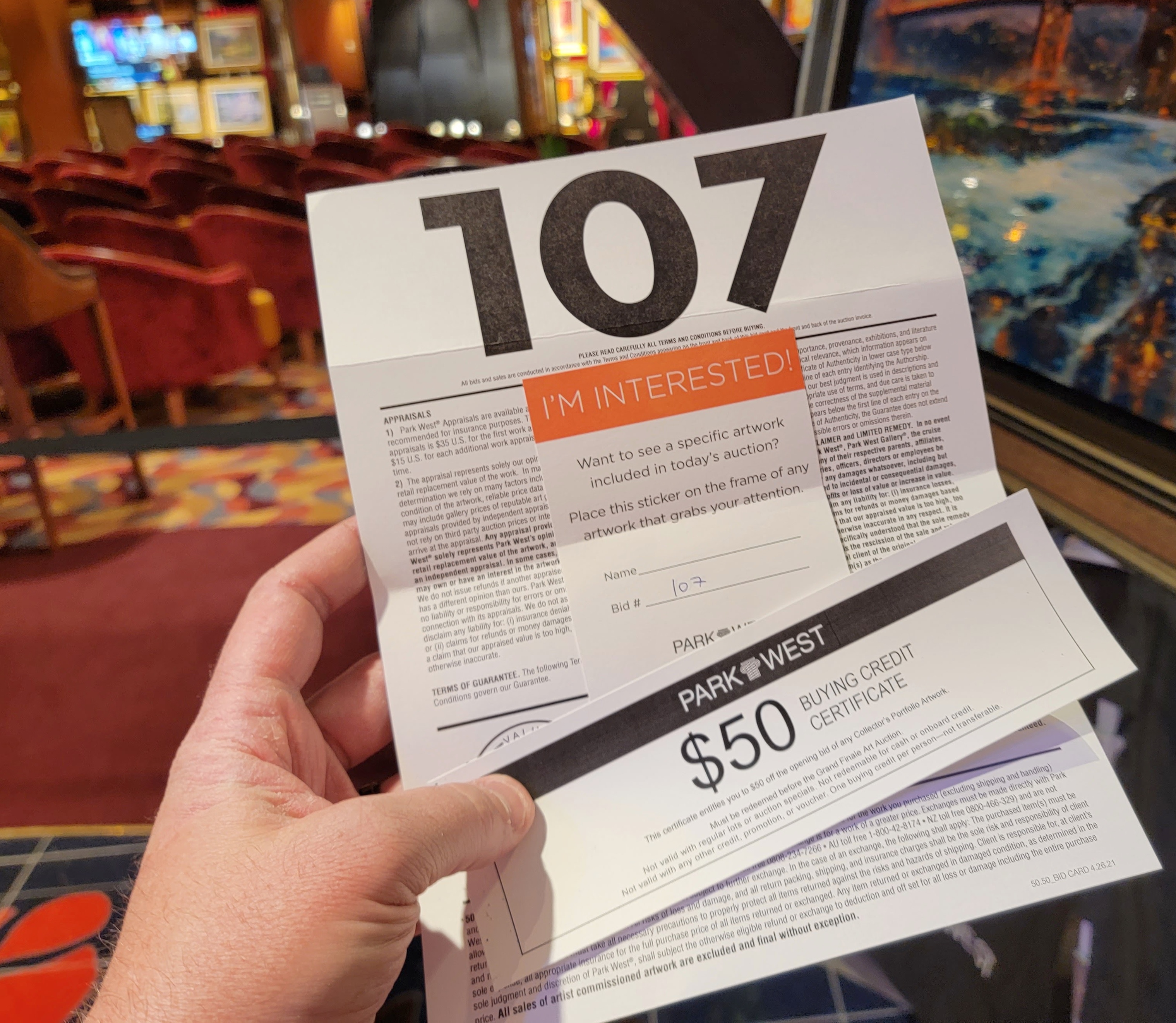 At the auction, "Colorful Pose" sat gloriously on an easel. Lorelei and Jeff were drawn to it as if magnetized. Meg explained and then revealed the pre-auction reserve price for the Tarkay they were smitten with, putting their bid card #107, "I'm interested" sticker on the frame.
Soon after Jacques' presentation to the crowd about the intricacies of the auction, the Tarkay was on stage and Jeff's bid card was in the air. The gavel hit the podium, and they had bought their first work of art! Jeff noted that the experience was, "Dizzying but joyous," adding that, "All I could think about and say, over and over again, was 'I can't believe we just bought that beautiful Tarkay!"'
Over the next 5 days, Jeff and Lorelei would often pop into the Gallery, say hi to the Park West team, inquire about, be shown, and acquire three more Tarkays, including "Joanna" and "Autumn in the Country" – one of the figurative artist's landscapes that captured Lorelei's imagination.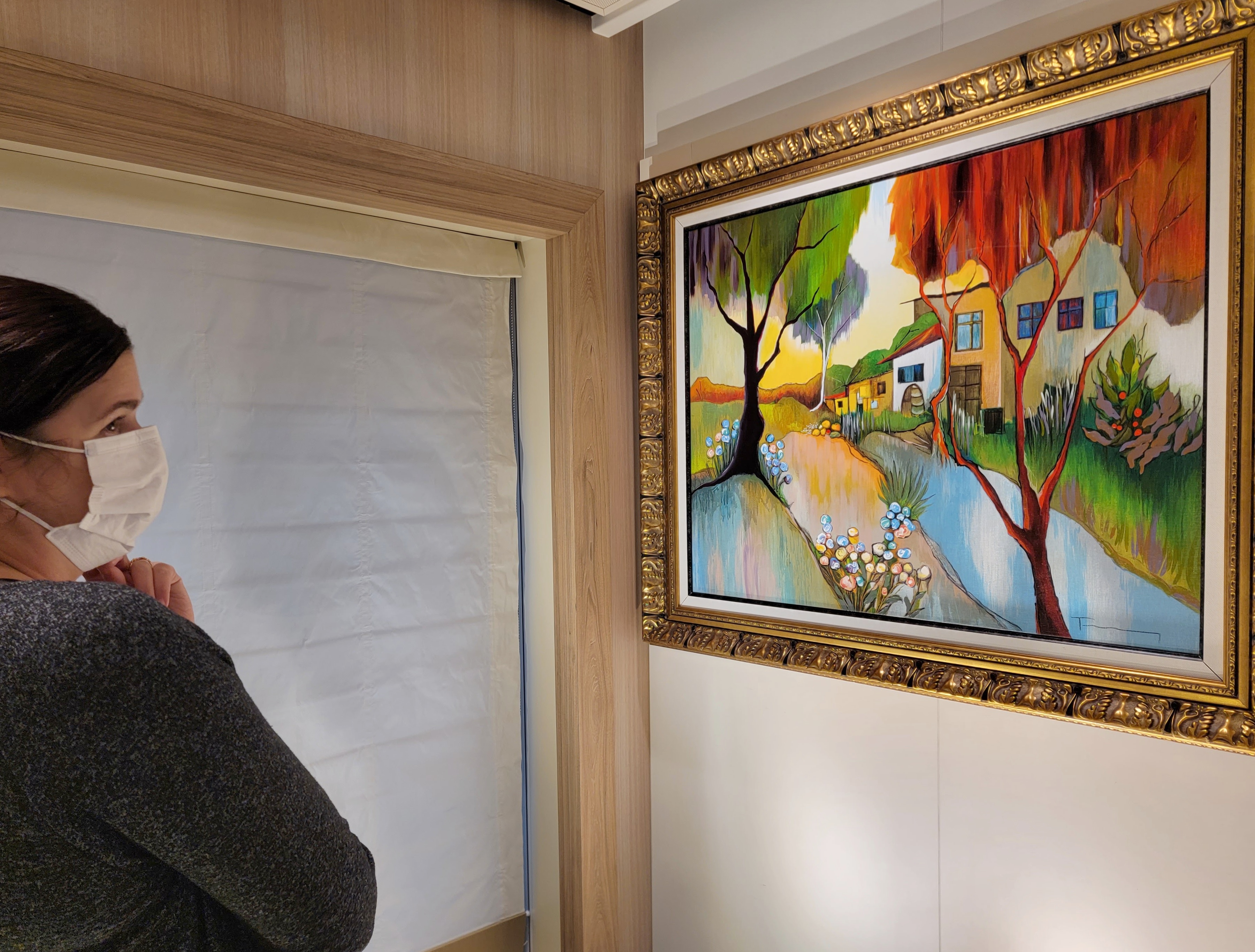 They were Park West collectors now and remain over the moon to have discovered Park West Gallery, meet Meg and Jacques, and soon, to have four stunning, colorful, evocative Itzchak Tarkay paintings hanging in their apartment!
The couple's two-bedroom NYC East Village apartment is decorated with big canvas book art from Lorelei's career as a multi-store manager for Barnes & Noble, a smattering of Jeff's framed English football posters and club scarves, Etsy fan art of their favorite TV shows, glass prints from their wedding photos, and vinyl album art on shelves above the turntable. It's a nice, warm space but there's no fine art on the walls. Not yet, at least! Come late March/early April, when the four reframed paintings arrive from Park West, their apartment will become a de facto Tarkay gallery in Alphabet City!
2022 will be a banner year for cruising and art at sea, thanks to exciting new Park West partnerships. Read all about the new ships with Park West galleries to explore, fall in love with art and artists, and start collecting fine works of art!
To add a breathtaking Itzchak Tarkay work of art to your collection, register for our exciting online auctions, contact our gallery consultants at (800) 521-9654 ext. 4, or email us at sales@parkwestgallery.com
Related Articles