Auctioneer Spotlight: Meet Johan Reichel & Annemie Davel
Park West Gallery's art auctioneers spend their days traveling from port to exotic port, holding auctions and art history seminars to get people excited about art. That sounds like a pretty amazing career, right?
In May's spotlight, we invite you to meet Johan Reichel and Annemie Davel. Johan and Annemie were brought together by their passion for art and love for traveling, and together, they've helped collectors around the world discover artwork they'll treasure for the rest of their lives.
This auctioneer duo recently shared with us the origins of their art careers, some great places they've traveled, and what their life is like when not at sea – enjoy!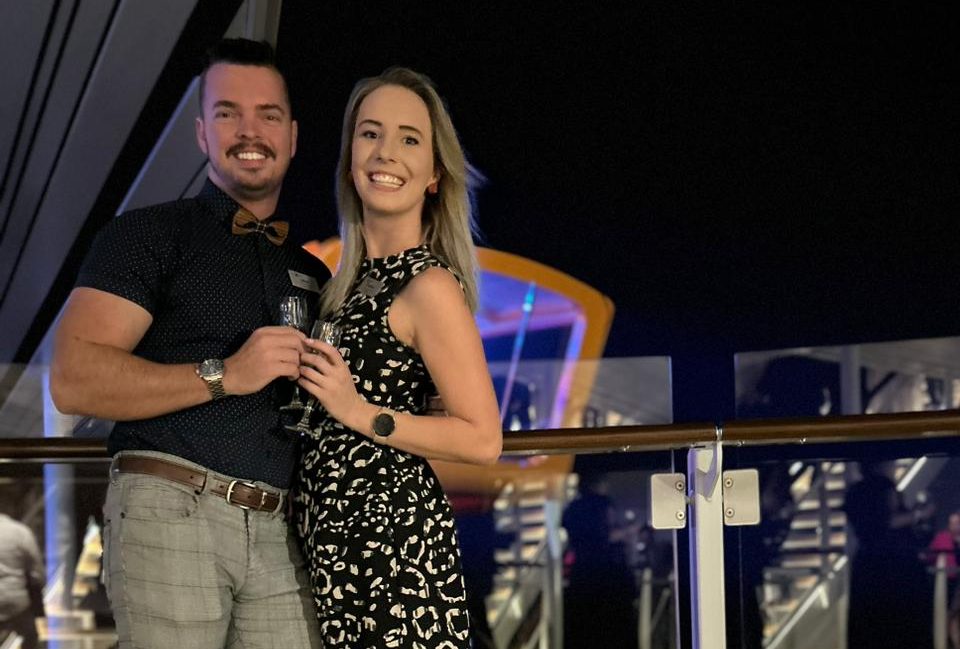 Previous ships as an Auctioneer:  Carnival (CCL) Imagination, CCL Dream, Royal Caribbean (RCI) Independence, RCI Freedom, RCI Vision, Princess Sky, Celebrity (CEL) Reflection, CEL Apex
What is your current ship?  RCI Quantum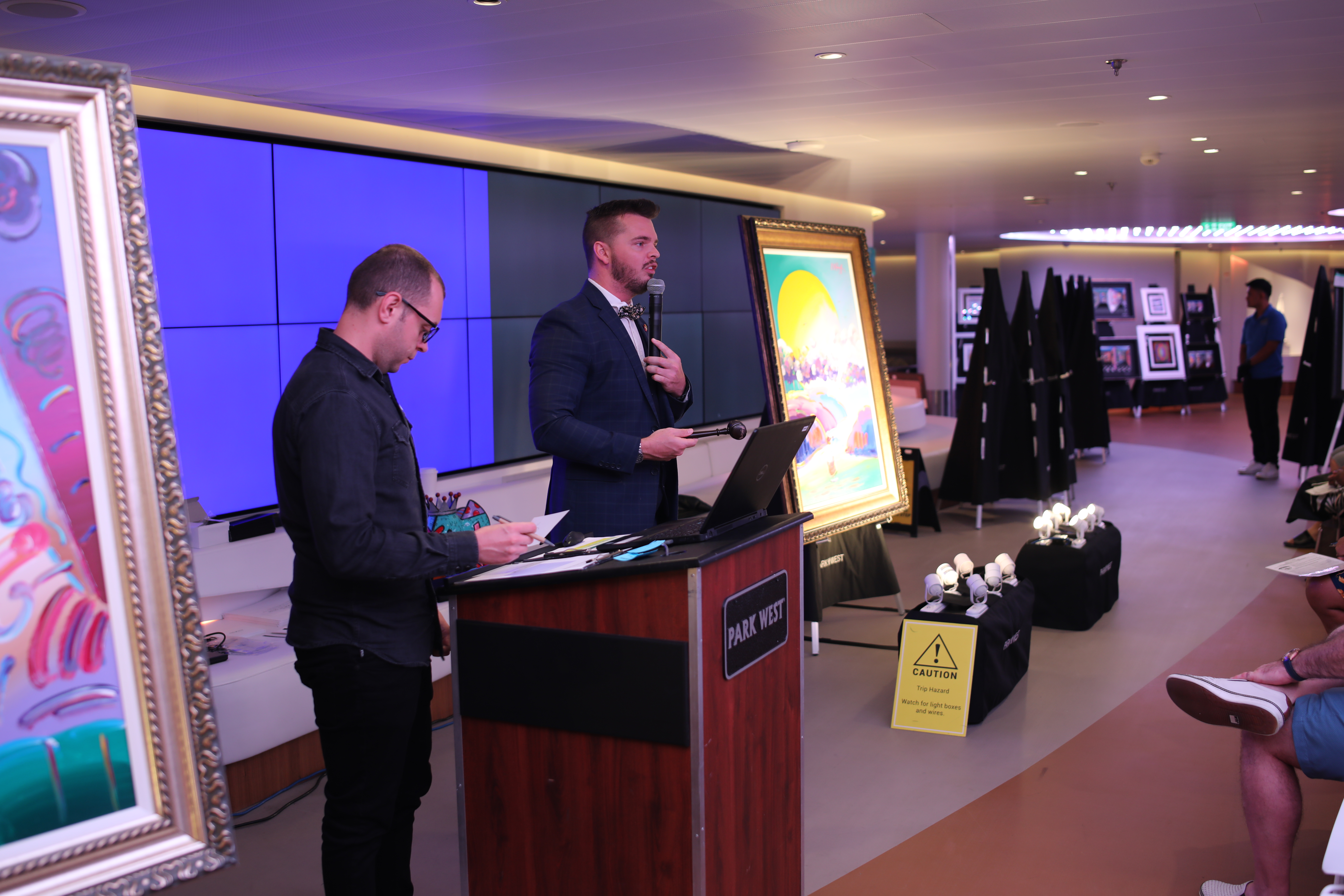 Where is your hometown?
Johan: Johannesburg, South Africa
Annemie: Pretoria, South Africa
When did you start working as an international art auctioneer?
Johan: I started working for Park West and became an auctioneer in 2018. I have always had an interest in art and love of travel—so when I was introduced to Park West, it seemed like the perfect chance to see the world and work with some of the biggest names in the art world!
Annemie: I started my career with Park West in 2018 as an art associate and worked my way up to Gallery Director before becoming Johan's assistant in early 2022.
What did you do before auctioneering and how did that transition into your current career?
Johan: I initially studied to be a structural steel draftsman. I was always interested in the art world and loved to travel, so I completed a fitness diploma to work onboard a cruise ship. During one contract, I made friends with the art Park West art team, and their job seemed like the perfect chance to see the world and work with some of the biggest names in art. A few months later, I started my career as an art dealer onboard cruise ships.
Annemie: According to my parents, I was born with little wheels under my feet and pencils in my hands. After my studies, I started my ship career in the spa not knowing what opportunities lay ahead. I enjoyed every opportunity to meet new people, and this is where I got introduced to Park West. I fell in love with the idea of meeting and talking to guests who shared my interests.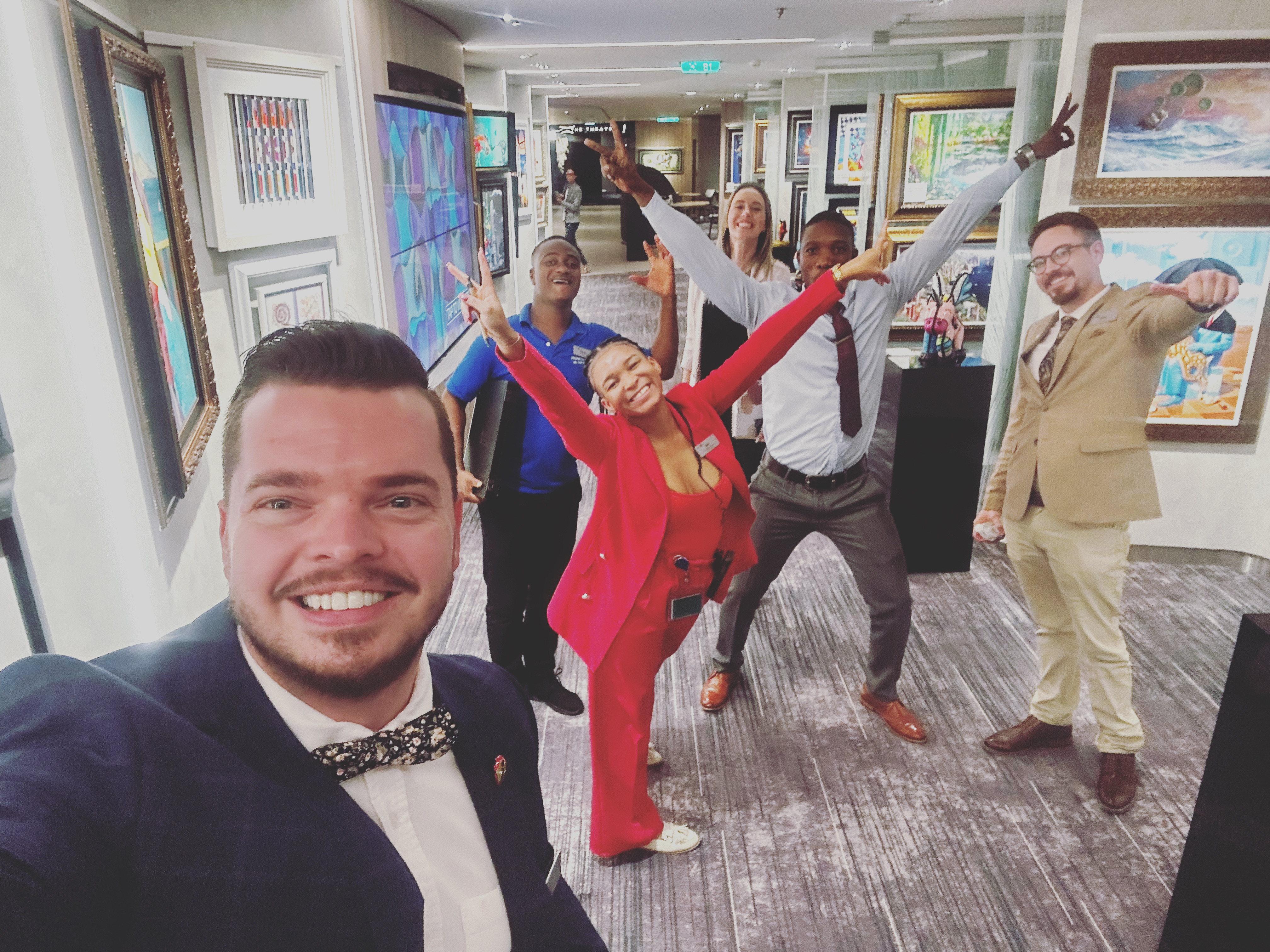 What is your favorite client memory?
Johan: We have so many favorite memories from previous collectors that we stay in touch with. I believe one of our favorites would be Todd & Gloria, who we met about one month before we got engaged. I helped them choose their favorite art, and they helped me choose a ring for my soon-to-be-fiance Annemie without her realizing it. They ended up being good friends and also added a lot of artwork to their collection
Annemie: It's difficult to choose a specific client memory because so many collectors have made an impact on my life. Some guests really make you feel like family. Over the years, it has been wonderful helping clients all around the world find the best artwork for their collections. However, one memorable couple we met was Gail & Bill on Celebrity Reflection. We would speak to them for hours about art and all the future trips they have planned with Park West. We still keep in touch, and hopefully, our paths will cross again soon.
Out of all your adventures around the world, what has been your favorite port?
Johan:  There are so many that it's almost impossible to choose one. One that I always love returning to would be Aruba for the beautiful beaches and culture.
Annemie: After seeing so many countries and cultures, it's almost too hard to choose. My favorite view (while onboard during the covid pandemic and not allowed to get off the boat) has to be the "White Cliff of Dover." My favorite port would be any French port. The seafood is just wonderful!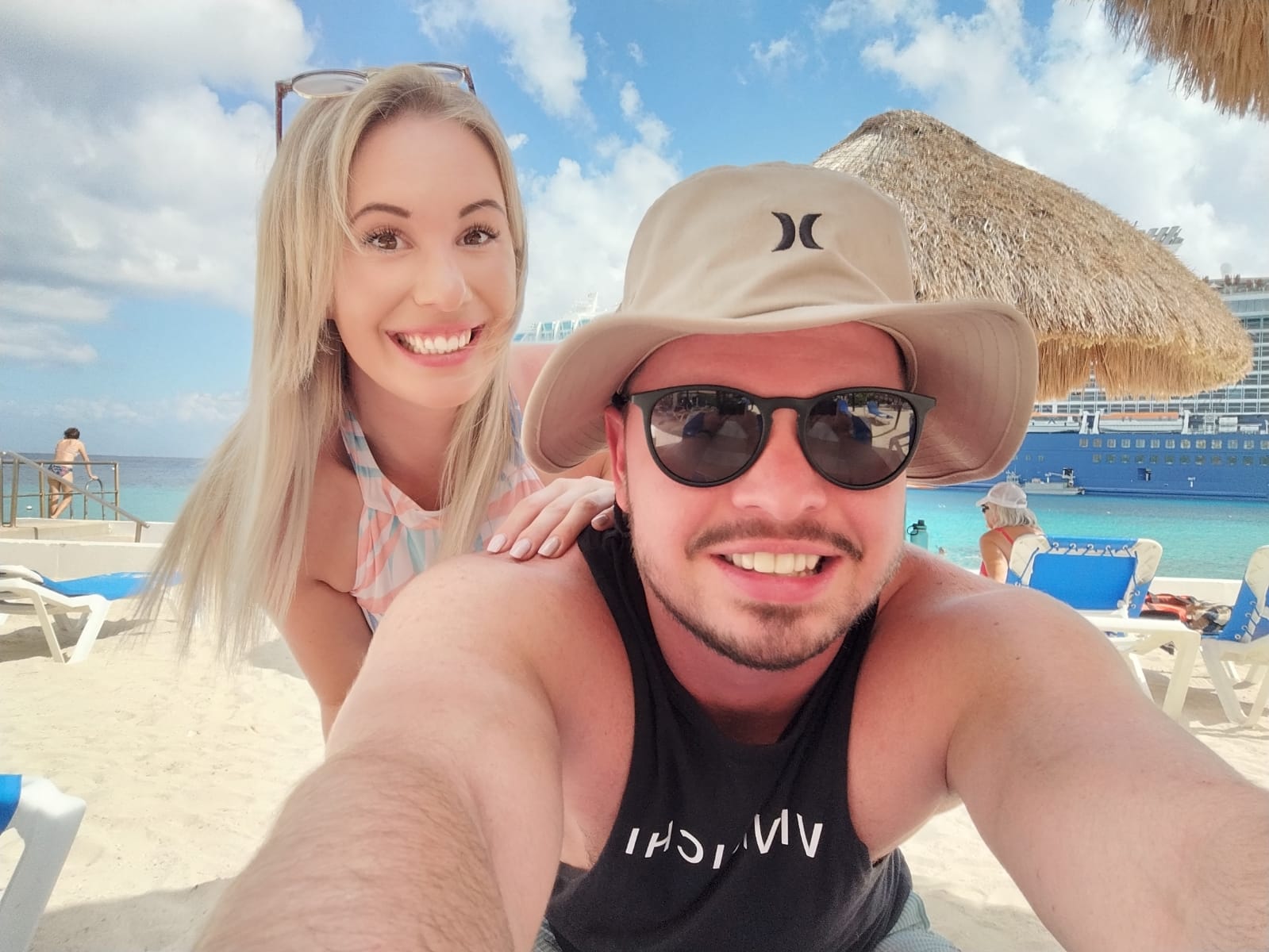 What does a day/life look like when you're at home or not working?
Johan: Visiting family and golfing with my dad are some of the highlights every time we go home. Like many other South Africans, when we go home we like to fire up a braai (BBQ) and have as much local food as possible!
Annemie: My time at home is well spent with local food and family time. We take at least a week of our vacation to visit Cape Town, which is one of our favorite places for local food, beautiful sceneries, and wine farms
Tell us one thing about living and working at sea that would surprise most people.
Johan: Possibly the funniest question we get asked is, "Do the crew sleep onboard, or do we go home every night?" For anyone that wonders, yes we do sleep onboard. Fuel prices are far too high to fly in on the Helicopter every morning.
Annemie: Most guests ask us, "Living in a small space and working together, how does that go?" Well, we got used to sharing tiny spaces a long time ago. Like any other couple, there are challenges, however, there is nothing that can't be fixed with a little chocolate and popcorn.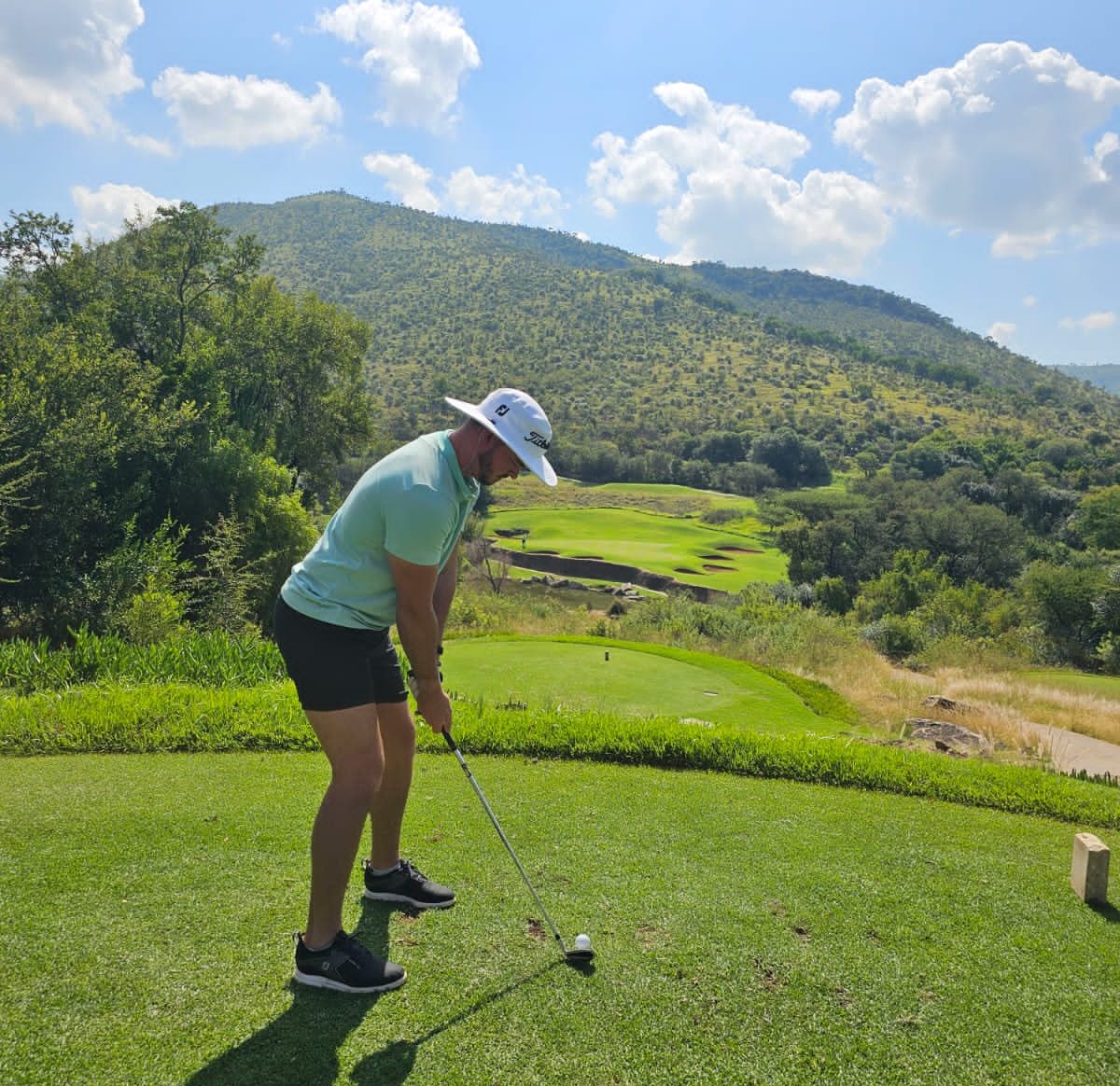 Is there anything else you'd like to share about yourself or share with collectors?
Not many people understand how unique it is to work onboard a cruise ship. You get so used to the day-to-day life at sea that no other opportunity at home could ever be this exciting or rewarding. It is hard to settle down at home when you know you could be cruising around the world together with a terrific company like Park West.
Visit Art Auctions Abroad to start your career with Park West Gallery on our exciting cruise ship programs!
For the latest art and auctioneer news, follow Park West Gallery on Facebook, Twitter, and Instagram.