Contemporary Artist Marcus Glenn Dazzles Las Vegas Fans & Collectors
There is no shortage of art in and around fabulous Las Vegas. Two of the best art galleries on the Las Vegas Strip are Park West's free-to-the-public museum and gallery locations in the Forum Shops at Caesars Palace. Through their shining glass doors, guests will discover a plethora of fine art (including Pablo Picasso's ceramics, Peter Max's Pop art, and Vegas-native Michael Godard's devilishly playful olives), and once a month, meet famous contemporary artists face-to-face!
One of these acclaimed artists—mixed-media mastermind Marcus Glenn—recently flew west from his Detroit home to host a special exhibition at Park West Vegas. Using a sundry of paper, fabrics, and other materials (either found locally or passed down from his family), Glenn creates textured works of art that evocatively blend jazz, vibrant color, and joyful movement. He invites collectors into fascinating new worlds where piano players tickle ivories that dance across the canvas, jazz ensembles burst off the wall, and museum-goers admire the work of Itzchak Tarkay and Pablo Picasso.
Those who attended Glenn's exhibition at Park West Vegas enjoyed a presentation of his world-famous collage paintings and brand new sculptures. They also had the chance to meet the artist, ask questions, watch him paint live, and win some incredible prizes. One lucky fan even walked away with an original limited-edition, signed artwork from Marcus Glenn!
Opportunities to be in the presence of one of the most widely collected contemporary artists do not come along often, but when they do, Park West is usually involved! Each month, we ask one of our amazing artists to visit our Las Vegas and Honolulu galleries, allowing them to have exclusive, personal, and memorable experiences with our local communities! Our artists love to interact with their fans, talk about art, and share their talent with all of their collectors, whether they just began collecting or are lifelong art aficionados.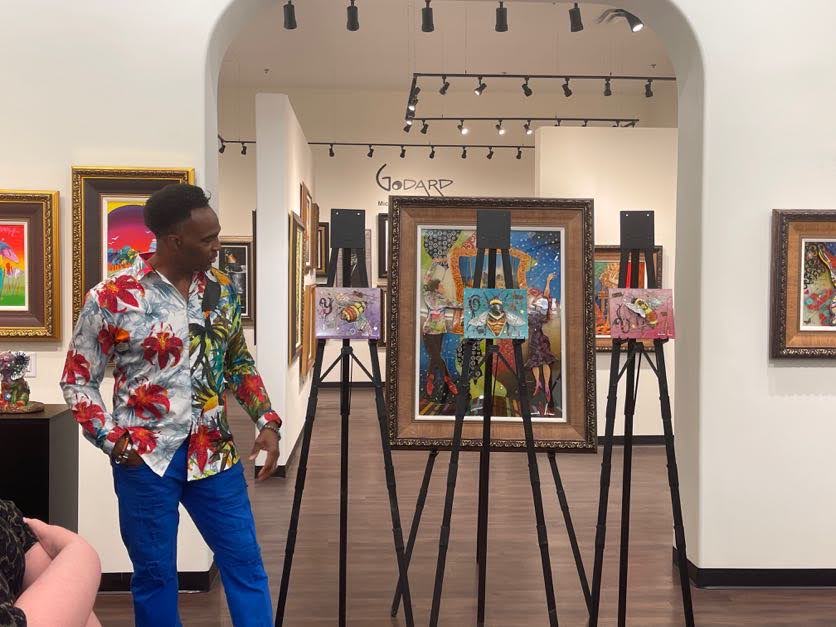 If you didn't meet Marcus Glenn at Park West Vegas, don't worry! You can still collect his artwork at one of Park West's live-streaming online auctions and possibly find yourself at a VIP auction weekend with the artist himself!
If you're interested in becoming a Park West VIP, collecting works of art by Marcus Glenn and other fine artists, and joining us for future exclusive weekends, contact our gallery consultants today at (800) 521-9654 ext. 4 or sales@parkwestgallery.com
Related Articles