Five Ways You Can Enjoy the Arts in Las Vegas, Nevada
From fast car driving at the Las Vegas Motor Speedway to watching the NHL's Golden Knights play in a glittering new arena, there's no shortage of fun things to do during a visit to Las Vegas. For art lovers specifically, Las Vegas offers up a jackpot of winnings with street art, sculpture, paintings, visual arts, and more up and down the famed Strip and beyond. Here are five ideas on how you can spend a few art-filled days and nights in Las Vegas.
1. The Park West Fine Art Museum & Gallery
Naturally, the Park West Fine Art Museum & Gallery Las Vegas should be your first and second stops on your artful Vegas tour! Both museum and gallery locations can be found inside The Forum Shops at the spectacular Caesars Palace. Our level one location can be found near the Casino Entrance/Valet Parking by the Spiral Escalator, close to RPM Italian, and our level two is right above it near the Spiral Escalator.
Our two museums and galleries are situated in what is known as "The Shopping Wonder of the World," providing visitors with a one-of-a-kind experience by showing off original masterworks from historical icons of the art world, including Rembrandt, Renoir, Dalí and Picasso. In fact, Park West Las Vegas is currently displaying selections from the largest collection of Picasso's ceramic works on Earth! In both of our Las Vegas gallery collections, you will encounter staggering works of historical significance and a huge selection of original artwork for sale from popular artists like Peter Max, Mark Kostabi, Nano Lopez, Kre8, and Las Vegas' own Michael Godard.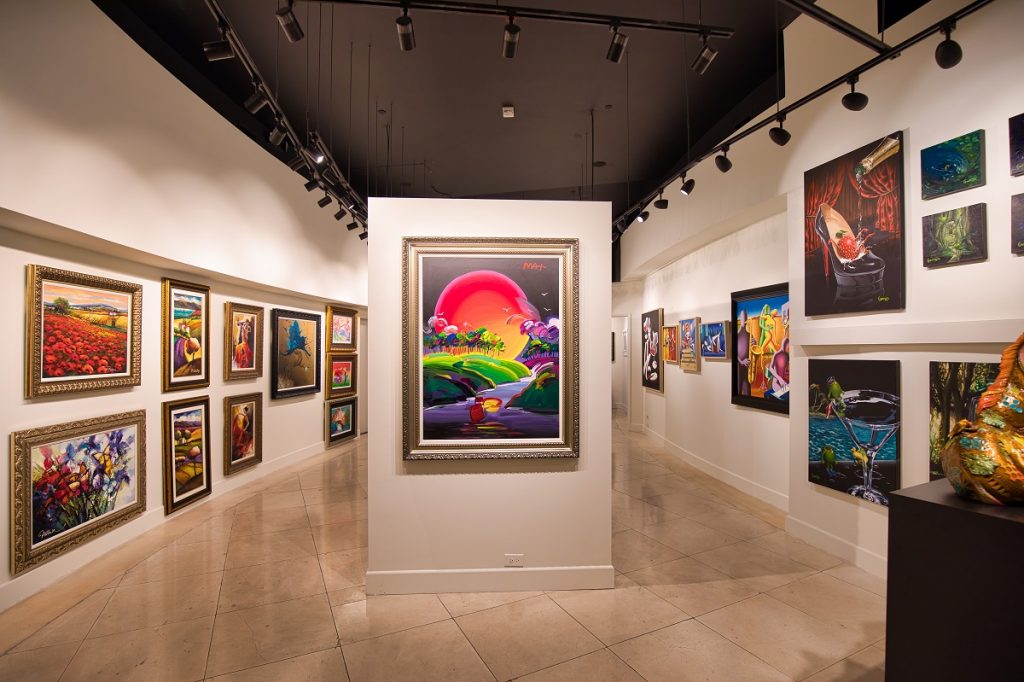 2. FlyOver Vegas
The Strip's newest attraction is, in and of itself, a work of art. Experience the visual splendor of both the wondrous American West and the magic of Iceland as you are transported to some of the most spectacular sites on Planet Earth. As soon as you enter FlyOver, you'll wander through an immersive multimedia environment created by Moment Factory. The visually mesmerizing experience is filled with some of America's most extraordinary scenery, ranging from the neon lights on Las Vegas Boulevard to Zen-like slot canyons carved right from nature.
3. Meow Wolf
The newest mind-bending, interactive art experience from Meow Wolf is now open in Las Vegas. This unpredictable, surrealist supermarket known as "Omega Mart" is a virtual Vegas buffet of art. Participants explore an extraordinary satiric marketplace that bursts into surreal worlds and unexpected landscapes. It's centrally located in AREA15, an immersive art and entertainment district located minutes from the Las Vegas Strip. Meow Wolf's Omega Mart is family-friendly and unlike anything else in the city, which makes this a great place to check out on your artful Vegas itinerary.
4. Downtown Las Vegas Arts District
This 18-square block area of Downtown Las Vegas (also known as 18b) is home to galleries, shops, artist studios, and more. Also, on their popular First Fridays, it's a must visit locale to engage with emerging talents, taste local cuisine from food trucks, and listen to innovative music. For over 17 years, this monthly community event has uplifted local artists and breathed life into the Vegas art community.
5. Seven Magic Mountains
Located outside of the city on Interstate 15, this vibrantly colorful desert art installation is massive, photogenic, and waiting to be discovered by visitors coming to or leaving Las Vegas. Comprised of seven towers of colorful, stacked boulders standing more than thirty feet high, Seven Magic Mountains is a creative expression of human presence in the desert that punctuates the Mojave with a poetic burst of form and color. With no admission fee and no reservations needed, this creation by artist Ugo Rondinone, which opened in 2016, will hopefully delight travelers for many years to come.
Looking to experience art the next time you're in Vegas? Don't miss visiting both locations of the Park West Fine Art Museum & Gallery! They're free-to-the-public, open seven days a week, and a whole lot of fun! Plus, Park West Vegas was voted Vegas Magazine's "Best New Fine Art Gallery" for 2021!
You can find more information about visiting here: https://www.parkwestgallery.com/lasvegas/
Follow Park West Vegas on social media