Park West Gallery Congratulates Lisa Hershberger on Her Retirement After 27 Years
It's the end of an era at Park West Gallery. Lisa Hershberger, the company's long-time Director of National Phone and Internet Sales, is retiring after 27 years with Park West. Lisa is well-known and beloved by Park West clients—many refer to her as the "the calm voice on the other end of the phone."
"Lisa has been an integral part of the Park West family for over 25 years," said Albert Scaglione, Founder and CEO of Park West. "She's a consummate professional and, throughout the years, has helped thousands of clients bring home works of art that will stay with their families for generations. I will greatly miss her intelligence and kindness, and I wish her all the best on everything yet to come."
Lisa first started with Park West back in 1995. She received her Bachelor of Arts, Fine and Studio Arts, at the University of California, Berkeley, and completed a year of Special Studies in Illustration at the California College of Arts and Crafts, in Oakland, California. She worked at several art galleries before eventually connecting with Park West Gallery.
Lisa was originally hired to assist Park West with expanding its national sales department, which would be run over the phone as email was still an emerging technology at the time. So, as Lisa began to connect with collectors all over the world via phone, she became a vital part of the team that helped grow Park West into the largest art dealer in the world.
She worked hand-in-hand with every department of the company, advertising traveling auctions, helping clients secure artwork, and even troubleshooting framing or shipping issues. As the company began to expand onto cruise ships and VIP events at hotels around the world, Lisa witnessed the exponential growth of Park West firsthand. "The first year we were on ships," Lisa remembers. "I think we tripled in size that year."
Even with all of the advances, Lisa remained a constant for Park West clients, connecting with them over the phone or by email and helping them find the perfect work of art. For years, she coordinated international and gallery sales, acting as art consultant for collectors who visit the Michigan gallery in person, call by phone, or reach out via email.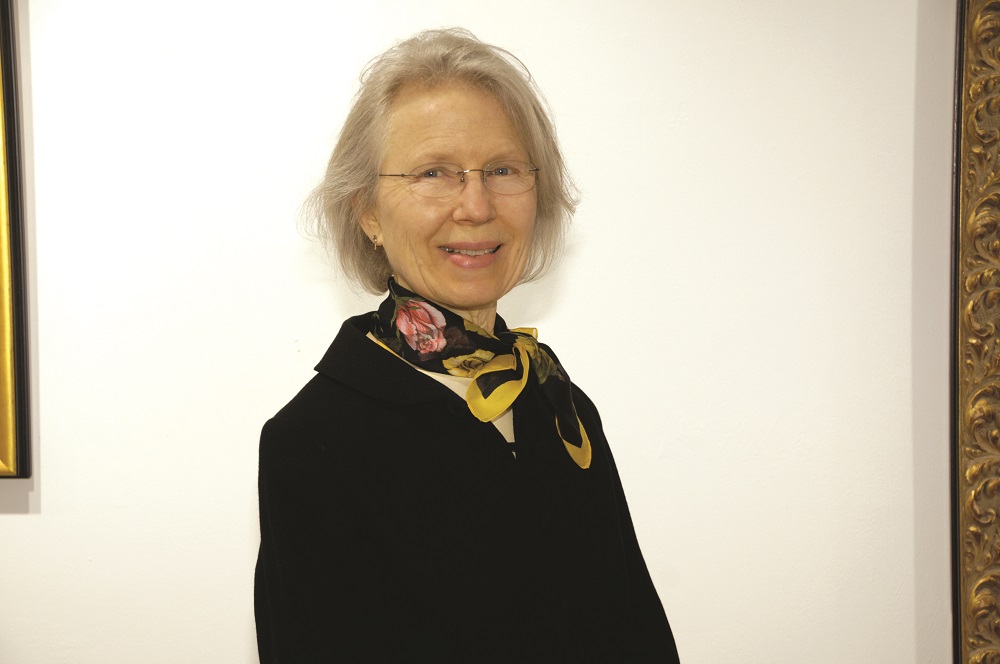 Several years ago, Lisa was asked who her favorite Park West artist was. She replied, "I don't have a favorite. When I stand in front of a painting, it becomes the focus of my attention and speaks to me—or perhaps doesn't, since not every work of art is a masterpiece taking on a life of its own but is rather a point in development.
"The standard of craftsmanship of Park West artists is so high that their ability to express their vision is almost uniformly excellent. Beyond that, there is the direct impact of the image on the viewer. No matter what kind of art you may have liked when you arrived here, exposure to our gifted artists will broaden your taste widely in time."
When asked about Lisa's time at Park West, Senior Gallery Director Morris Shapiro called Lisa "one of the most extraordinary people with whom I've ever worked in my 40+ years in the art world. Lisa has educated countless collectors and taken them tirelessly through the labyrinthine complexities of the art world. Her knowledge is in a league of its own. Her patience and professionalism have been unshakable. I am honored, and have been blessed, to call her a friend and colleague, and she will be deeply, deeply, missed by our clients, and the entire Park West family."
The family aspect of Park West is one that will be particularly missed by Lisa.
She told us, "This is a really special group of people here that I've worked with all these years. They've been my family this whole time. This is a family-owned business, and Albert and Mitsie have taken such good care of me. I owe this place a lot. It made my years here very heartwarming and a wonderful place to be."
Everyone at Park West Gallery—from our staff to our clients around the globe—congratulates Lisa on her amazing career and wishes her the best of luck in her new life adventure! Thank you, Lisa!