Park West Auctioneer Spotlight: Laura Cocos and Alexandru Preduna
Park West Gallery's art auctioneers spend their days traveling from port to exotic port, holding auctions and art history seminars to get people excited about art. That sounds like a pretty amazing career, right?
Laura Cocos and her partner Alexandru Preduna would agree with that statement—they're two of Park West's cruise ship auctioneers currently stationed onboard the Emerald Princess.
Laura and Alex make a tremendous team. Their depth of knowledge and passion for art have endeared them to passengers around the world. For our April 2022 Spotlight, we sat down with this dynamic duo to talk about how they got started, some of their favorite client memories, and what it's like working on a luxury cruise ship. Enjoy this introduction to Laura and Alex!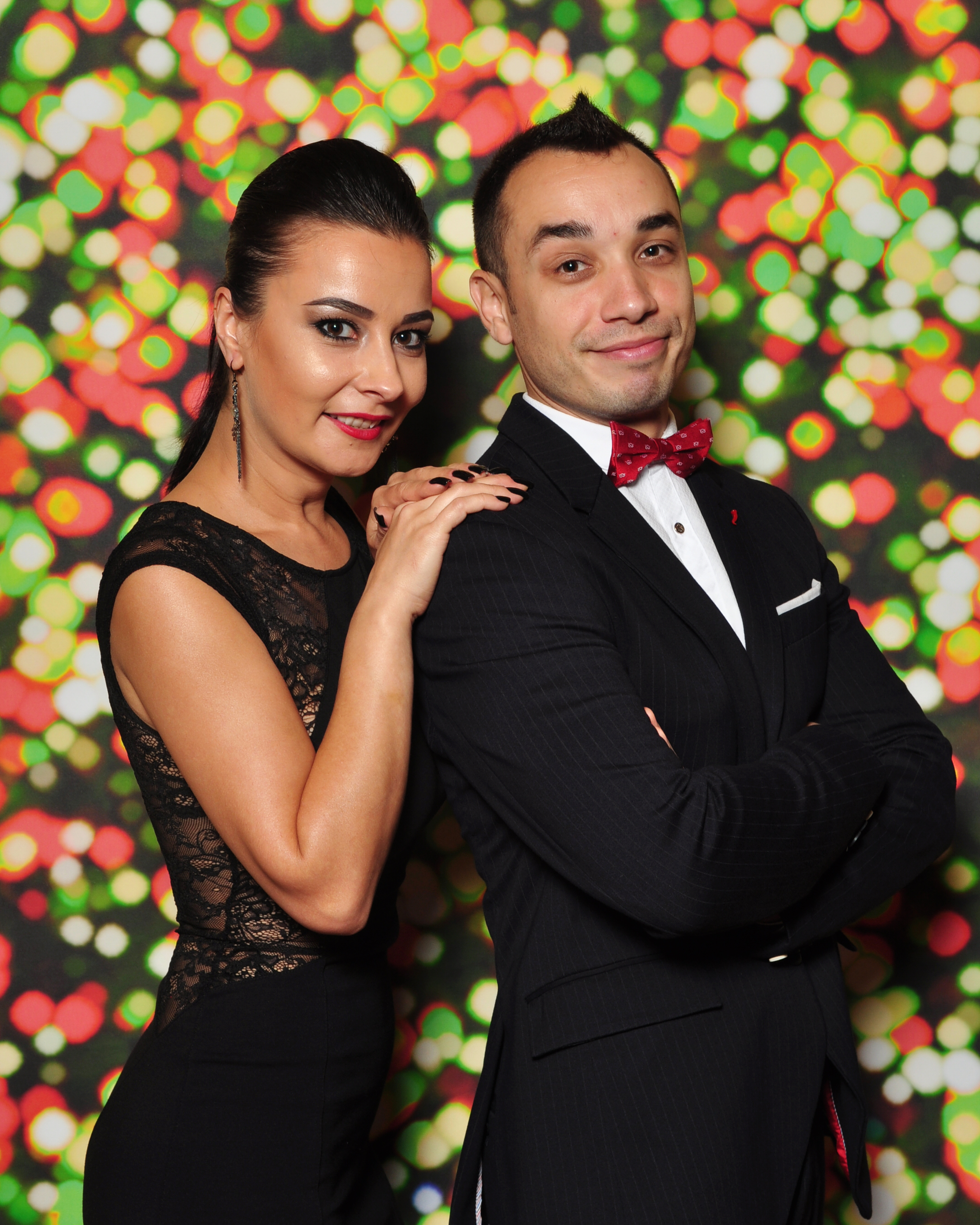 Previous ships as an Auctioneer:  CCL Fantasy, RCI Brilliance OTS, RCI Mariner OTS, RCI Freedom OTS, PCL Emerald.
Current ship: Emerald Princess
Where is your hometown? 
Laura: Constanta, Romania
Alex: Bucharest, Romania
When did you start working as an international art auctioneer? 
Laura: I started back in July 2013. Before I began this unimaginable journey, I was an entrepreneur in the wellness industry and also volunteered at an animal shelter. My background in management and marketing helped me adapt faster to ship life.
Alex: I joined Park West in September 2017. Before that, I used to work as an AV Technician—8 years on land and 2 years on one of the cruise lines. When I first joined ship life, I was fascinated to see art galleries onboard. I remember the first time I walked into one, I was amazed by all the colors, styles, and artists that were on display. Now looking back, I can actually say that yes, we do have something for everyone! I have to admit that the first moment I saw the art gallery, I felt drawn to the idea of working there. Then I met Laura and everything came together!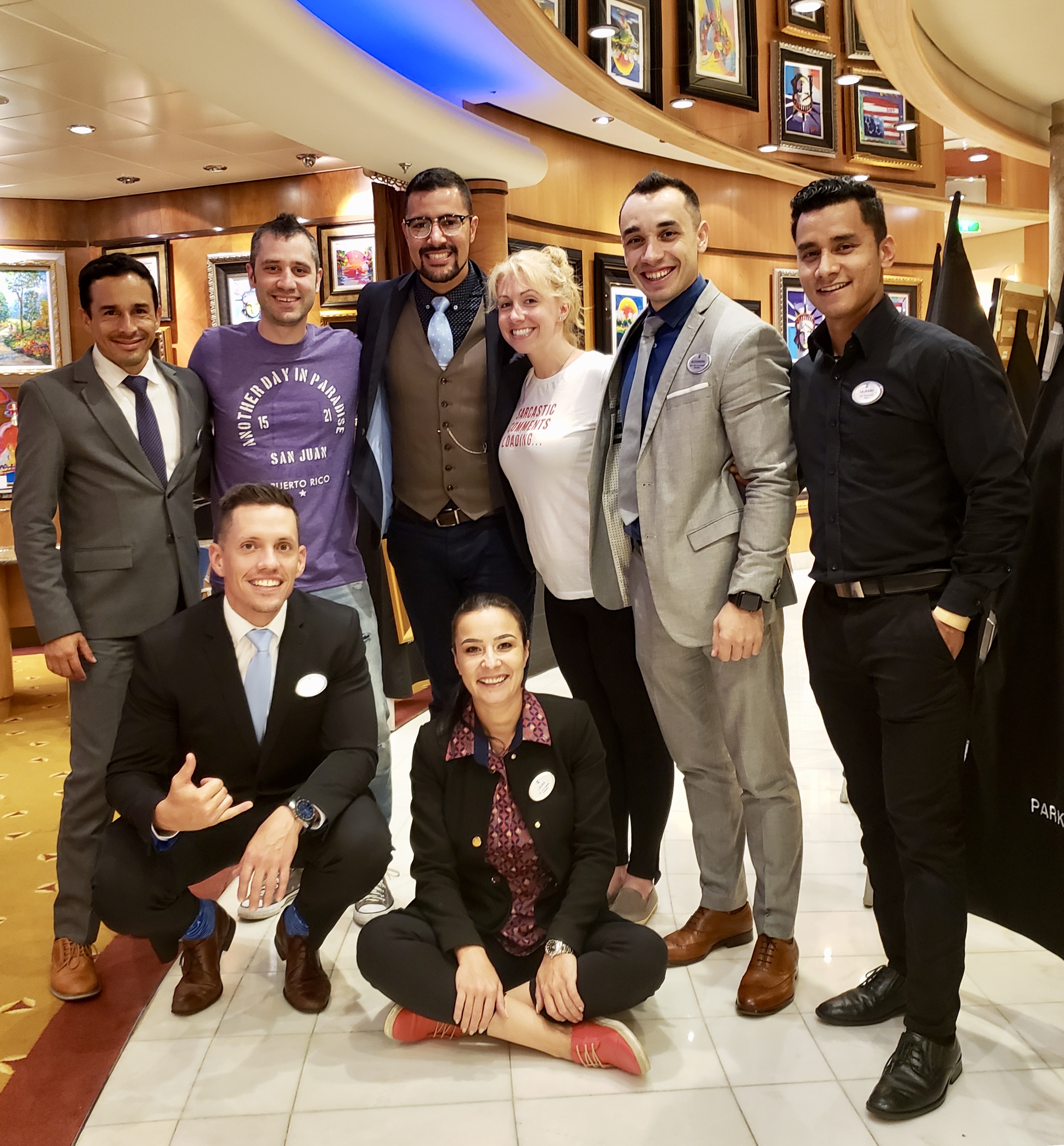 Who is your favorite Park West artist and why? 
Laura: Peter Max without a doubt. My collectors always tell me that when I talk about him on the stage my eyes light up. I never realized what a huge impact Max had on me until one day in 2017 when one of his works went to its forever home and I was so sad thinking that I would never see that artwork again. Luckily for me, the new owners were fabulous people and they sent me a couple of pictures of the art hanging on the wall! I could write pages on why I respect and admire Max's work.
Alex: There are so many, however, I have to say Chris DeRubeis because of the unique way he sees the art world, his talent for manipulating metal, and his unique style, "Abstract Sensualism." I also like Michael Godard because of all the funny messages hidden in his art and also because of his philanthropy. Lastly, Romero Britto … what's not to love about his "Happy Art" style? Every work brings a smile to your face, that's why we decided to purchase two of his sculptures for our own collection!
What is your favorite client memory?
Laura: Back in 2015 I had the pleasure of meeting a very special soul. An older man decided to come on a cruise alone in remembrance of his late wife. He booked every shore excursion and went to each place that they had visited on their last cruise together. I remember he was in the art gallery every day and would tell me all these fascinating stories about himself and his late wife. He ended up collecting a Peter Max "Vase with Flowers" painting, as his wife loved flowers. It always amazes me how the memory of one person can stay with you forever.
Alex: I recently met an outstanding couple who are part of Park West's VIP program. Whenever you think you've seen it all, the universe proves you wrong.
I have always wanted a Navigational Chart mapping out all of the ports Laura and I have visited together while on a ship and display in our home. This amazing couple already owned four different Navigational Charts from their previous cruises, however, they decided to bid on this ship's Chart and at the end of the cruise and gifted it to me! I was so surprised and grateful. I asked them to sign it, and now whenever I am home I will look at that chart and always remember them.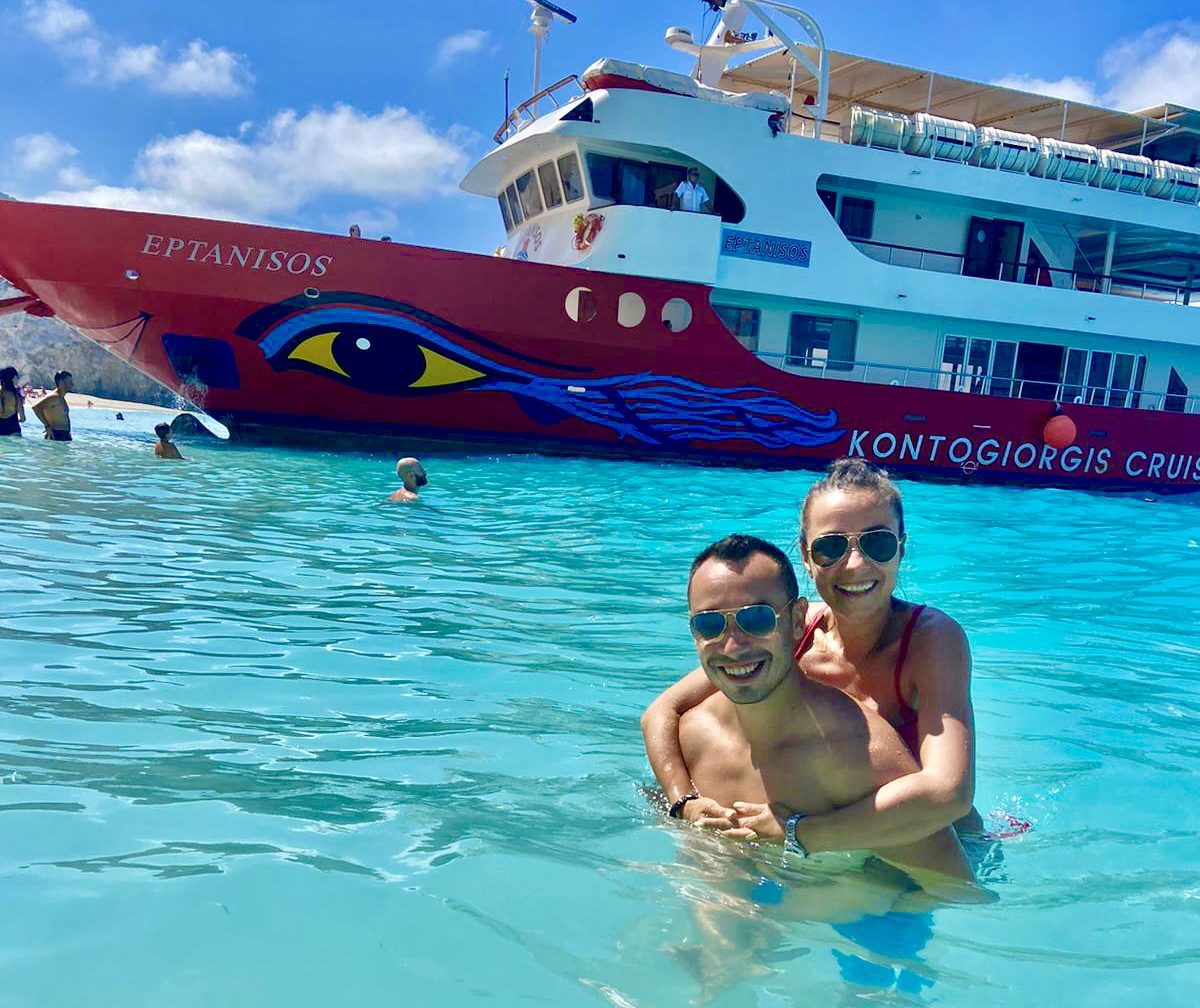 Out of all of your adventures around the world, what has been your favorite port?  
Laura: Istanbul, Turkey. I am fascinated by their culture and their history. I found Istanbul to be a magical place. Maybe it has to do with the fact that cats are sacred there. You will always find a cat or two in every store or restaurant, and I am obsessed with cats and dogs!
Alex: Again, very hard to choose! First, I will say Yucatan, Mexico as it is surrounded by history and legacy. I am fortunate that I had the opportunity of seeing one of the 7 Wonders of the Modern World, Chichen Itza, with Laura on our first excursion as a couple! My other favorites are the Greek Isles of Mikonos, Santorini, and Lefkada. The islands are amazing with clear blue waters and gorgeous food.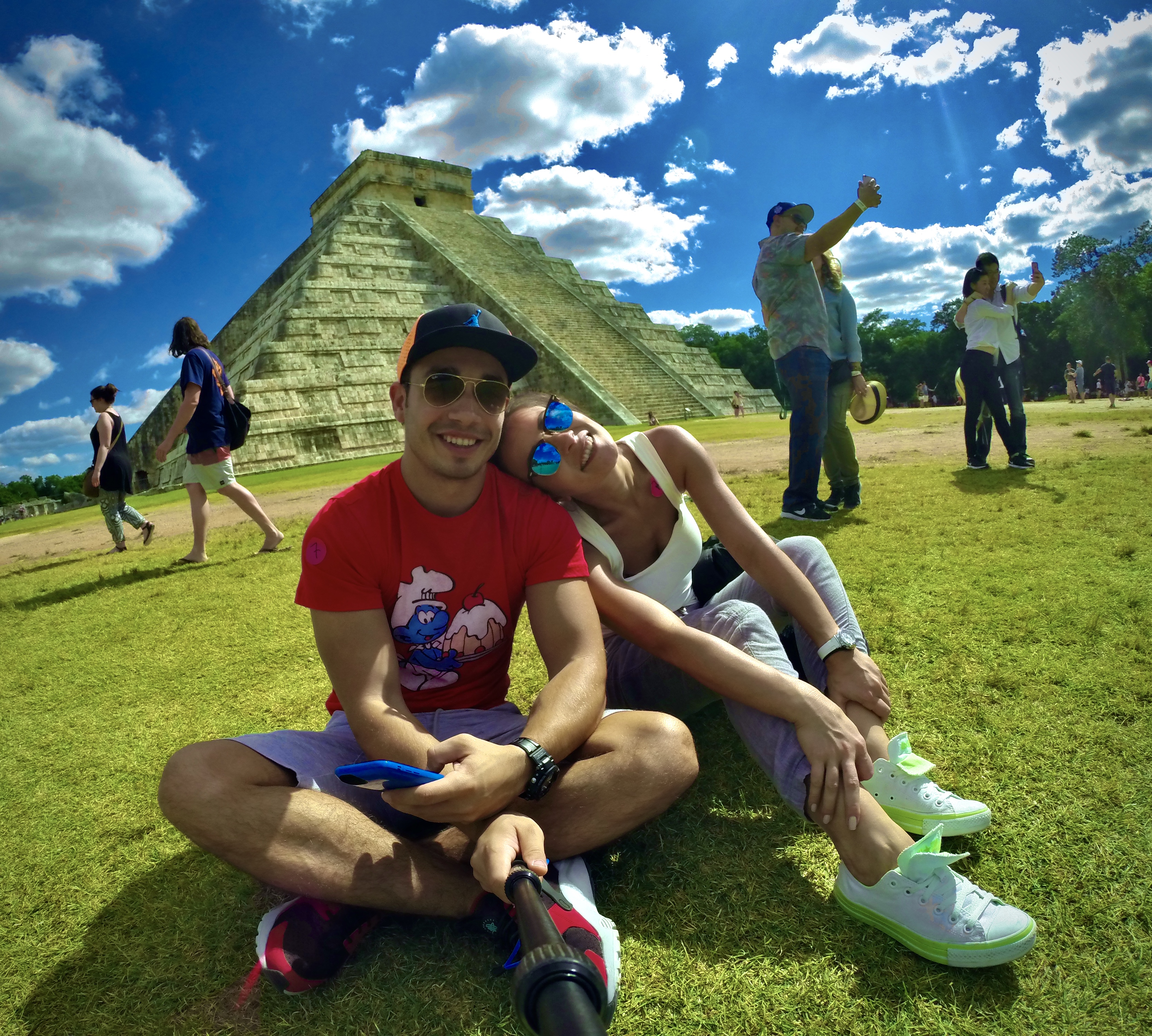 What does a day/life look like when you're at home or not working?
Laura: I love spending time with my mom, dog, and four cats. I love my family and try to spend as much time with them as possible.
Alex: I am very passionate about motorcycles, cars, and every sport that involves adrenaline—sky diving, bungee jumping, zip-lining, etc. When I'm riding my motorcycle, especially on mountain roads, I forget about the quotidian life and enjoy every second. I also like going to the gym, running, and skating.
Tell us one thing about living and working at sea that would surprise most people.
Laura: Working and living at sea made me miss doing the dishes or even cooking—things I hated doing before I started working on cruise ships!
Alex: You learn to appreciate the internet speed back home. You could easily take a power nap while waiting for a small app to download.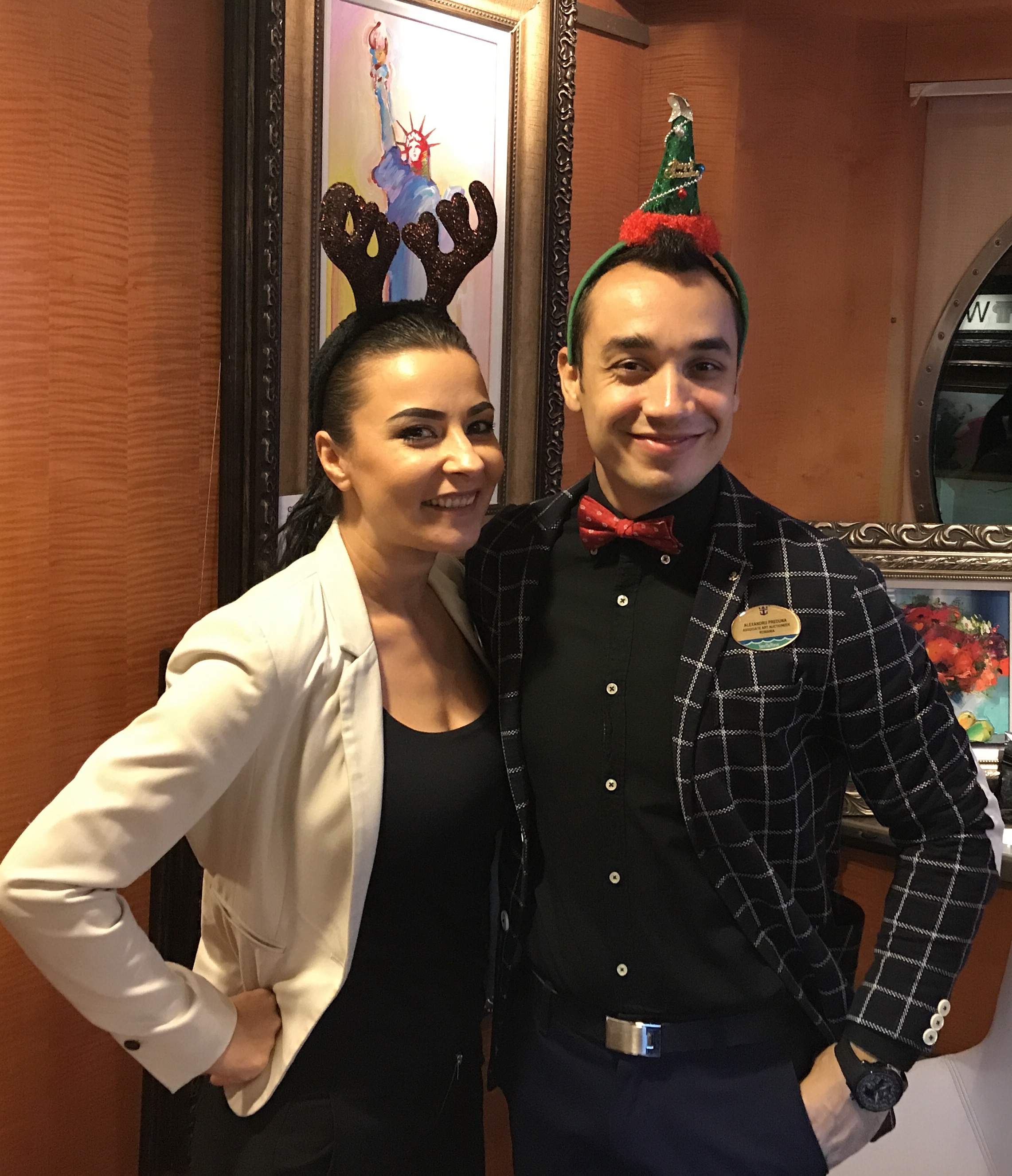 Is there anything else you'd like to share about yourself or share with collectors?
Laura: I've been working for this company for almost 9 years, and I can honestly say it has been a unique experience that has changed me in so many ways that never would have been possible in a job on land. I think I am part of that small percentage of people who can say that they truly love their job. That is something to be proud of and grateful for.
Alex: As Laura said, working on ships for so many years has changed the way I see life. I've learned that you should live every day to the fullest and do the things that you love—buy the things you want and enjoy every encounter because you never know what tomorrow might bring.
For the latest art and auctioneer news, follow Park West Gallery on Facebook, Twitter, and Instagram.
Interested in learning more about starting a career hosting art auctions on cruise ships? Visit Art Auctions Abroad for more details.
Read about more of our incredible art auctioneers: