Park West Auctioneer Spotlight: Mate Mateescu and Carina Wagner
Park West recognizes that art collecting is a very personal experience. That's why we have the best onboard art teams to assist our collectors with every step of the collecting process!
For the first auctioneer feature of 2022, we'd like to introduce the dynamic duo of Mate Mateescu and Carina Wagner who have been auctioneers with Park West for many years. Enjoy this interview where they discuss their lives at sea, favorite client memories, and what they do when resting their sea legs.
Previous ships as an Auctioneer:  
Princess Cruise Line (PCI) Sea, Norwegian (NCL) Spirit, Royal Caribbean (RCI) Brilliance, Royal Caribbean (RCI) Adventure, Norwegian (NCL) Epic, Celebrity (CEL) Eclipse, Royal Caribbean (RCI) Explorer, Norwegian (NCL) Escape.
Current Ship:
Norwegian (NCL) Escape
1. Where is your hometown?
Mate: Suceava, Romania.
Carina: Cluj-Napoca, Romania.
Mate & Carina: Let's just say that we are from Transylvania, and we do get asked it a lot, so we are going to say it… yes, we are vampires!
2. When did you start working as an international art auctioneer?
Mate: 2014.
Carina: 2017.
Mate & Carina: Our main profession is professional stage acting. We both graduated with degrees in Theatre and Film from the University of Cluj-Napoca Romania, so, with our background being already full of art history knowledge, we had a very smooth transition to Park West. I (Mate) started to work as a professional art dealer in 2014, and, after I met Carina in 2015, we started to travel the world and work together. We are both very passionate about art, acting, traveling, and meeting people. We believe that our extrovert personalities and passions grow beautifully together while performing our fantastic jobs onboard the ships. We don't even consider it a job anymore—it's a lifestyle.
3. Who is your favorite Park West artist and why?
Mate: Rembrandt. The dramatic relationships that he portrays and the effect he creates through his work, as well as his life story, are very touching to me. Rembrandt knew how to be honest in his artwork and is one of the very few artists who can transpose me into that time period. The portraits he created tell a story and, if you take time to deconstruct his works of art, you will find more than meets the eye.
Carina: Picasso, because this artist, from my point of view, is the most complete. He is the best example of "If you do it, do it right, or don't do it at all." Picasso's life story is so honestly painted into his art—we can see all of his psychological and emotional transitions… his good parts and his bad parts, his past and his future. He was a great artist and businessman who was fortunate enough to be born at the right time so he could cascade into the phenomenon we know today, but also smart enough to know how to give himself exposure in a time before social media.
4. What is your favorite client memory?
Mate:  I have gathered an enormous number of great memories from our cruises with great people with whom I still keep in touch. One of them that I always remember is—I was presenting a seminar about Yaacov Agam, talking about the kinetic art that he co-founded, implementing the 4th dimension in his art. I love to involve the audience in the seminars, so I asked "Who can tell me what the 4th dimension is?" An answer came from the back of the room from a gentleman who said "MONEY!" Everybody went silent in the room for a second, then we all started laughing. And I said, "Well, actually the 4th dimension is TIME." And the gentleman replied, "That's what I said, too. You all might be laughing, but TIME is MONEY."
Carina: There was one gentleman that gave me a great life lesson on a recent Princess Cruise. He was old enough that I could count through his wrinkles all the joy he had in life. He told me that his wrinkles are there because of how much he laughed in life and he is very proud of it. He told me the story of his life, how he met his wife, how they lived together, and how she eventually passed away. He was traveling alone now on the same ship they used to cruise together on. By the time he got into this point of the story, I was already crying like a baby and he asked me why I was crying. He was telling me how lucky he is that he got to live so long and happy with his wife, and I was crying because she was no longer here. And he said "You need to be happy for what you have! Not to be sad for what you don't."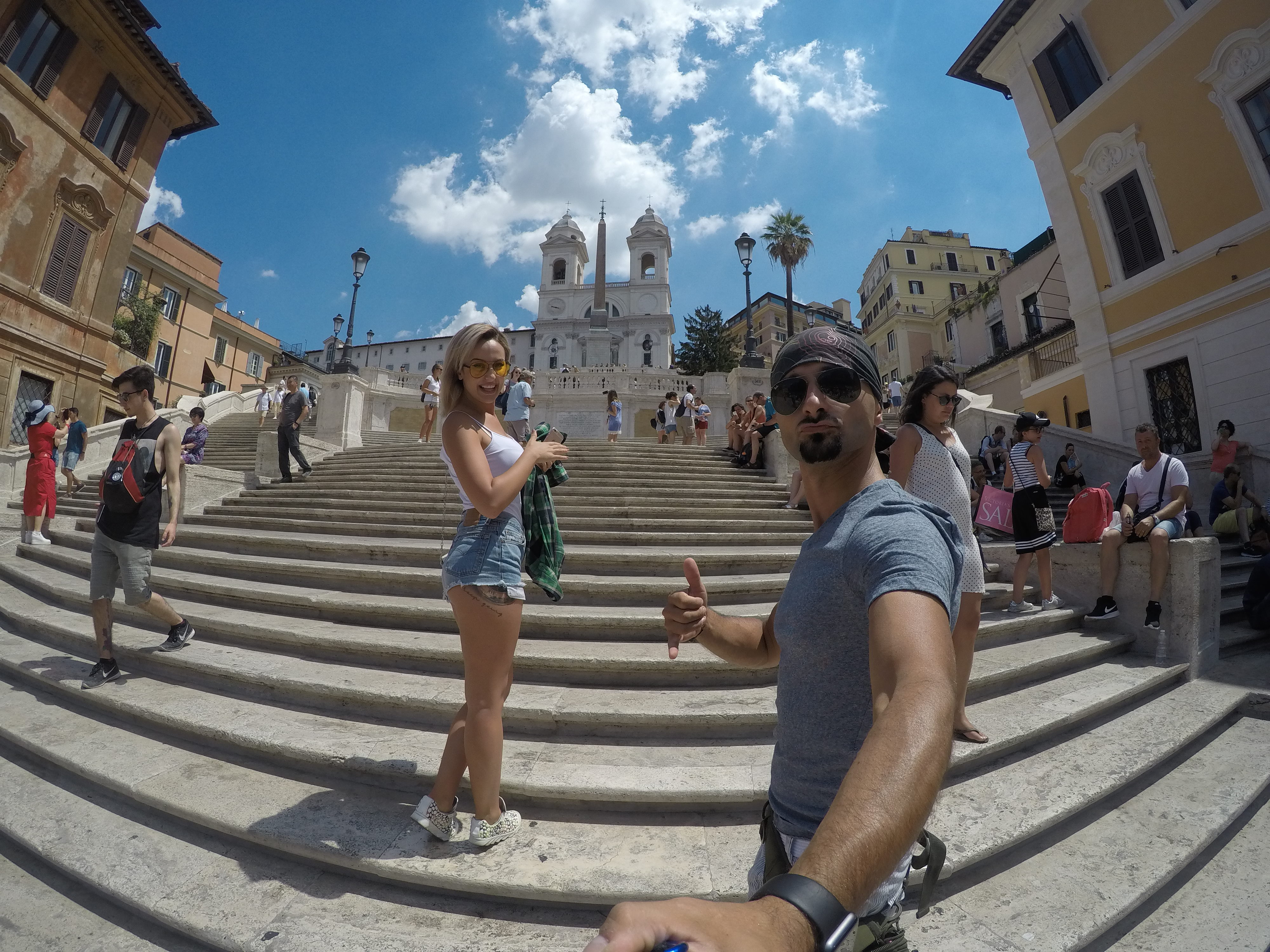 5. Out of all of your adventures around the world, what has been your favorite port?
Mate: Venice for the history and feeling and San Francisco has been on my list as one of my favorite places, too.
Carina: Venice, San Francisco, Honolulu, and Sydney.
6. What does a day/life look like when you're at home or not working?
Mate:  It is all about quality time with loved ones and doing all the things that are more difficult to do while we are on the ship. I like riding my motorcycle in the sunset without worrying that "my home" leaves at 5:00 pm and all aboard is 4:30. I love to cook and get creative around the house. I am an adrenaline junkie, as well… so yes, our home time gets quite busy.
Carina: I am even busier when we are at home. We like to do everything together—we always find something to fix in the house, from little things to completely changing the flooring or furniture. We like to go out in nature and ride bikes, have dinner in nice restaurants, and gather together with friends and family to play games while Mate is cooking.

7. Tell us one thing about living and working at sea that would surprise most people.
Mate: Working at sea, you truly start to appreciate the small things in life. And it has taught me that the grass is always going to be greener on the other side. When I am on a ship, I miss home; when I am home, I miss being on the ship. Being on the ship teaches you to live in the now and make the best out of it. One thing that would surprise most people is the fact that that we have safety duties on the ship, so in case of an emergency, the art team could save your life.
Carina: I would say that most people are surprised by the number of places we get to visit and the number of friends we have after living on board for so long. The difference in working in a traditional job back home is you might go to work for a few hours, interact with your colleagues, and then go home and completely detach from them. Here, you live and work together nonstop. You get to accept everything you like or dislike and really start getting to know the people around you—for real. You know instantly when they are sad or happy, just like in your own family. I would say that the relationships between people that live and work together on ships are stronger than any other friendship and way more real because you need to be there for the other person no matter what.
8. Is there anything else you'd like to share about yourself or share with collectors?
Mate:  Given the fact that we had been caught on the ship by the lockdown, we had a lot of fun reinterpreting some famous works of art (which you can see below). We wanted to make people smile and we figured out that Picasso was right when he said "Art is a lie that makes us realize the truth!"
Carina: I only want to thank every one of you that ever interacted with me on this beautiful journey. I am who I am today because of all of you; because of the stories you shared, the questions you gave me the opportunity to answer, or simply—your smile. Thank you! I could not be happier for the life and job I have.
For the latest art and auctioneer news, follow Park West Gallery on Facebook, Twitter, and Instagram.
Interested in learning more about starting a career hosting art auctions on cruise ships? Visit Art Auctions Abroad for more details.
Related Articles