Park West Auctioneer Spotlight: Morne Strauss and Kelly McLoughlin
Park West recognizes that art collecting is a very personal experience. That's why we have the best onboard art teams to assist our collectors with every step of the collecting process!
For this month's auctioneer feature, we'd like to introduce the dynamic duo of Morne Strauss and Kelly McLoughlin who have been auctioneers with Park West since 2013. Enjoy this interview where they discuss their lives at sea, favorite client memories, and what they do when resting their sea legs.
Please list your previous ships as an Auctioneer:
Royal Caribbean (RCI) Enchantment, Celebrity (CEL) Summit, RCI Rhapsody, RCI Vision, RCI Radiance, Norwegian (NCL) Jewel, RCI Mariner, RCI Brilliance and RCI Adventure
Please list your current ship as an Auctioneer:
Celebrity Millennium
Where is your hometown? 
Morne: Jeffrey's Bay, South Africa
Kelly: Jeffrey's Bay, South Africa
When did you start working as an international art auctioneer?
Morne: I started my journey with Park West in July of 2013. Before Park West, I was a student studying marketing and advertising. One of my close friends was an Art Auctioneer for Park West and every time he came home to South Africa for vacation, we would have a conversation about his job. Finally, I decided to make the transition into the art world and went to my first training in Miami. This ignited a passion for the art world and now the first thing I do when I go to a new city/town is visit the local art museums and galleries. I've been fortunate enough to travel to 70+ countries and I love sharing my knowledge of the art world with our collectors every week, whether it's at an art auction or a seminar. "The main thing is to be moved, to love, to hope, to tremble, to live." – Auguste Rodin
Kelly: Art has always been a constant in my life. It was one of the things I grounded myself with growing up, so it was only natural that I went on to study it in university and work in some kind of artistic field. A few people I knew from university went on to work for Park West and after the first week, they were all hooked. The job really does sound too good to be true and I fell in love from the get-go. The exposure you get to all different kinds of artists, movements, and mediums is thrilling, and you get to travel the world! I think it's done wonders for my experience in art, but also as a young woman in general.
Who is your favorite Park West artist and why?  
Morne: There are so many artists that I love and enjoy from Park West, it is so difficult to choose one. At the moment, I am really enjoying the art of Kre8. His style is so unique and expressive of modern life. I love the way that he juxtaposes colorful abstract painting against a monotone black and grey background!
Kelly: It's so difficult to choose just one! There are so many great artists that I generally find that I have a favorite piece from each of them. If I absolutely had to choose one, it would be between James Coleman, Ashton Howard, or Alexander Grinshpun. All three have very different styles and subject matter, but I could stare at them till the cows come home.
What is your favorite client memory?
Morne: On my very first cruise as an art auctioneer, I had a client on board who collected four Peter Max artworks from me, and two of those were part of Max's 9/11 suite. What made it really special was that the lady was completely blind. She sat through my auction and the story behind the Peter Max artworks moved her so much and she realized the significance of his work. That is when I realized that there is so much more to art than just aesthetics.
Kelly: I once met a woman onboard who came to the gallery every day without fail. We would chat about the artwork and artists, and get to know each other in general. She took a particular interest in Peter Max and his Statue of Liberty image. She never told me why she liked the image so much, but she would become emotional every time she saw it. Eventually at the end of the cruise she decided she could not live without it and collected it. I asked her one last time why it meant so much to her and she told me about her battle with cancer and how she survived. She was announced cancer free that day and the image of the statue, a symbol of freedom, became a visual representation of her battle. My heart swelled with happiness because she had been liberated from something so dreadful and didn't want to forget her struggles, but instead wanted to acknowledge them as successes. Now, she has a visual reminder of her strength and how hard she worked to get her life back.
Out of all of your adventures around the world, what has been your favorite port? 
Morne: This is one of the toughest questions to answer. I have been to over 70 countries and each city or port has something that makes it unique. If I have to choose one, I would say Bora-Bora in French Polynesia. It's one of the most remote islands in the world, and in my opinion, it's the closest you will get to paradise on Earth!
Kelly: I don't think I can say I have a favorite port, but I can definitely say the Mediterranean has always treated me well. I mean, who doesn't want to go to the Mediterranean? I have made some of my most precious memories there, from walking the streets and stuffing my belly full of pizza and pasta with my best friend, to seeing some of the most immaculate historical sites with the love of my life. It really is a magical part of the world and I will always hope to go back.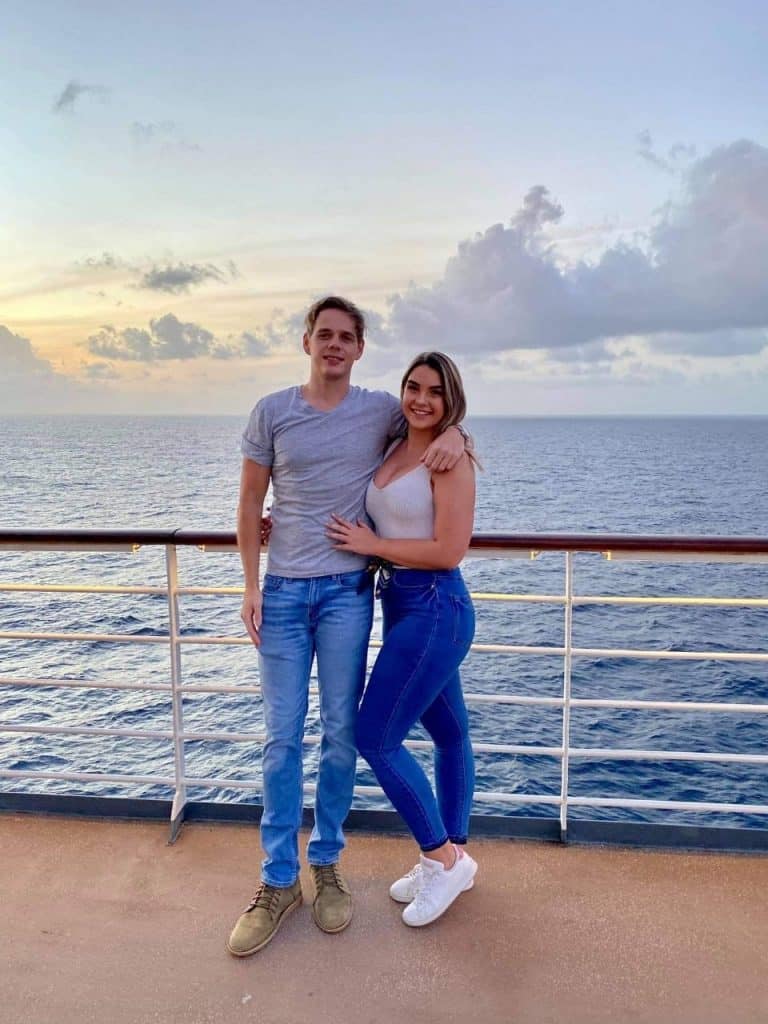 What does a day/life look like when you're at home or not working?
Morne: I always wake up for a sunrise surf session. It's the best way to get the day started. I live a very active life style and train at the gym daily. At the end of the day, I like to take a beach walk with Kelly and our dog, Charlie. I also love spending time with friends and family. Having a braai (BBQ) is a weekend essential.
Kelly: To be honest, Morne and I's life pretty much revolves around our pets. We are typical millennial fur parents, so from the moment we wake up to the second we shut our eyes at night, we are fussing over our dog, Charlie, and cat, Skyler. I love a good beach walk, so I go at least once a day and twice if I can squeeze it in. I also love to cook, so a good portion of the day is dedicated to feeding our little family. Family is also something I hold dear. I have two sisters and I am very close to my parents, so when they are around, I try to spend as much time with them as possible.
Tell us one thing about living and working at sea that would surprise most people.
Morne: People back home always ask if we get bored living and working on a ship. Living on a cruise ship is like staying at a luxury resort. There is so much to do like enjoying different specialty restaurants or watching shows in the theater. We also get to enjoy the excellent entertainment on board.
Kelly: I think the most surprising thing about working and living onboard would be the relationships we've formed. I have had the pleasure of working on cruise ships for a few years now and I have made lifelong friends who have become my family. I was also lucky enough to meet my partner onboard. This job offers so many benefits and has added so much value to every aspect of my life.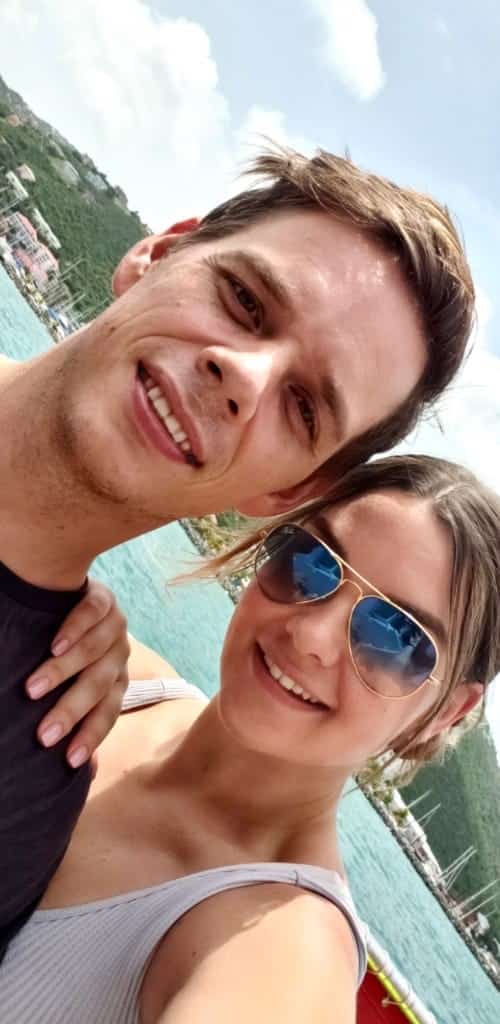 Is there anything else you'd like to share about yourself or share with collectors?
Morne: 2020 into 2021 was a long and difficult time for everybody involved in the cruise industry. I'm extremely excited to be back and doing what I love, which is giving our guests a memorable auction and vacation experience! We are looking forward to seeing you soon on one of our ships!
Kelly: I think it's safe to say they we are living in unprecedented times and so much of our freedom has been taken away. I am so grateful that we are finally back at sea doing what we love. It is truly wonderful to see all of our collectors again. They are what makes this job worth it all.
For the latest art and auctioneer news, follow Park West Gallery on Facebook, Twitter, and Instagram.
Interested in learning more about starting a career hosting art auctions on cruise ships? Visit Art Auctions Abroad for more details.
Learn more about Park West's world-class auctioneer program: