Park West Auctioneer Spotlight: Jacques Willemse and Gabrielle Frake
Park West's onboard art teams take great pride in building meaningful relationships with our collectors. For over 50 years, they've experienced firsthand just how personal art collecting can be. That's why, every month, we take time to dive into the lives of our top auctioneers!
For our October Auctioneer Spotlight, we're highlighting the fantastic duo of Jacques Willemse and Gabrielle Frake! We invite you to learn more about them, including some of their favorite Park West moments, what life at home looks like when they aren't traveling the world, and how they became international art auctioneers with Park West!
Please list your previous ships as an Auctioneer:
Carnival Sensation, Holland America Maasdam, Regal Princess, Emerald Princess, Grand Princess
Where is your hometown? 
Jacques: Pretoria, South Africa
Gabrielle: Defiance, Ohio
When did you start working as an international art auctioneer?
Jacques: I have been part of the Park West family now since 2015, and have been loving every second of it! Before I joined Park West I worked in personnel recruitment and as an in-house trainer for most of my career, so I have always been working with people from all backgrounds. Doing so from a podium and combining that with a love for art and creativity in all forms was something that seemed very intriguing. On top of that, I get to travel the globe and meet some of the most interesting people on a daily basis…I was sold immediately!
Gabrielle: My mom is a brilliant artist, and she always encouraged us to be creative and to appreciate art. We visited museums and art festivals a lot, and I've carried that love for art with me all my life. I took art history courses in college, and taught art classes for kindergarteners. Before Park West, I worked in the Human Resources department for Carnival Cruise Line, and I loved visiting the onboard art galleries. Coming to Park West, where the best artists in the world can be found, was a natural progression.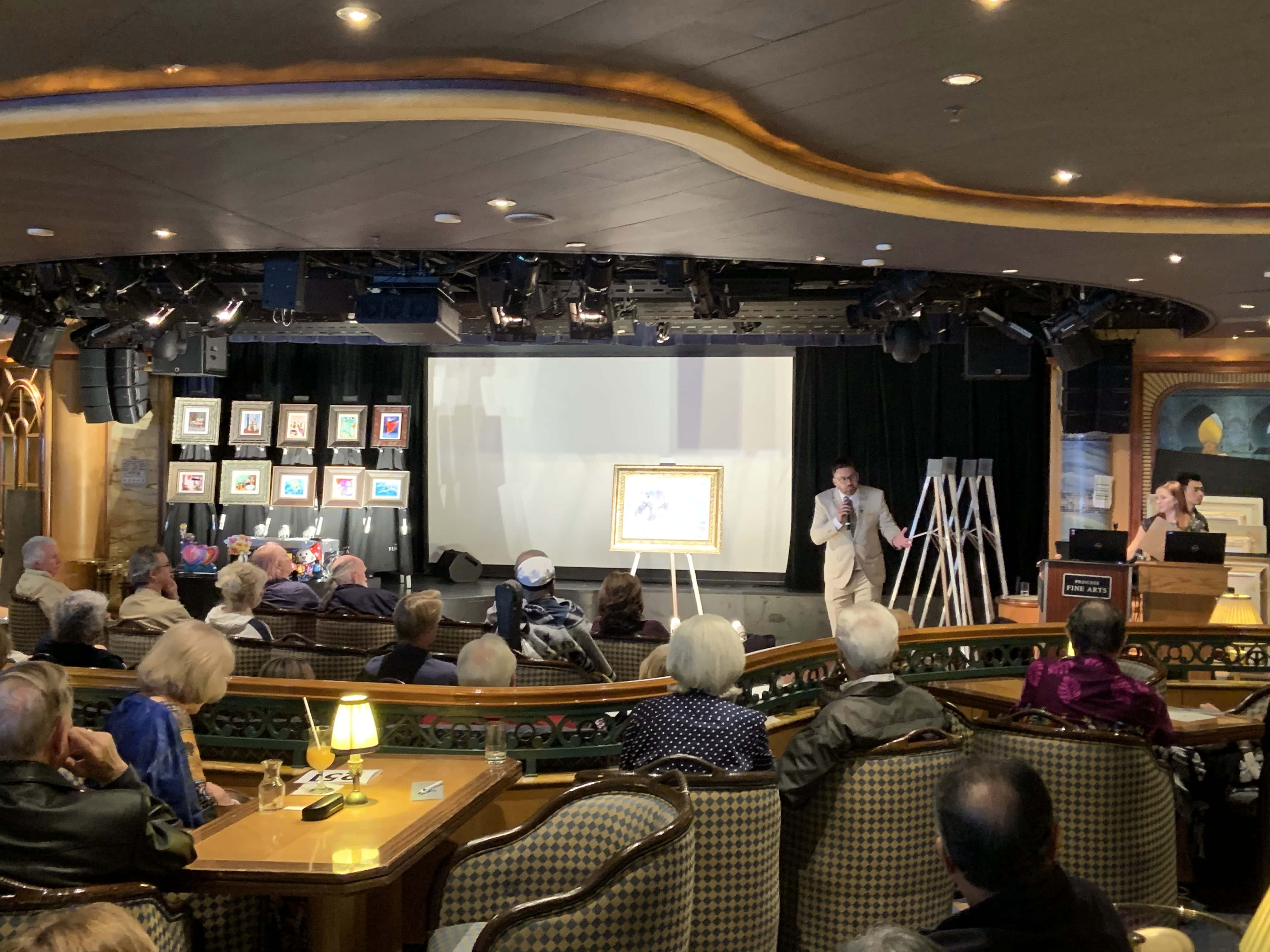 Who is your favorite Park West artist and why?  
Jacques: WOW, this is probably the most difficult question of the lot, as it's like asking someone which of their kids do they love the most…Each of our amazing artists brings their own unique flair to our collection. Pablo Picasso has one of the most amazing life stories, Yaacov Agam shows us the pinnacle of intellectual art, Romero Britto's amazing reach into the commercial world must always be respected… but if I have to choose, Michael Godard's satirical sense of humor and deep underlying messages is something that I have grown extremely fond of!
Gabrielle: Nano Lopez is one of my very favorites, he brings such life and a sweet personality to each of his sculptures. Another favorite is Alexander Grinshpun, his color palette just sings to me. Pablo Picasso is one of the master artists I can't get enough of. In Barcelona, we visited the Picasso Museum twice just to soak it all in.
What is your favorite client memory?
Jacques: There are so many amazing memories from my years in the gallery that it would be impossible to choose a favorite. I have met so many awesome collectors and have become close personal friends with a lot of you (you know who you all are, haha). But every time I have someone come up to me and tell me that they loved one of my auctions or seminars and they have learned something new is always special to me. In the end, this is why we do this job: if I can help someone look at art in a different way or learn something new, I feel fulfilled in my role.
Gabrielle: One precious memory was of a couple who own a medical clinic. They began collecting art not just for themselves, but to hang in their clinic as they wanted to make their waiting and exam rooms warm and soothing and less antiseptic and impersonal. Knowing that their artwork was going to help them help others was heartwarming and it was such an honor to help them find the perfect collection.
Out of all of your adventures around the world, what has been your favorite port? 
Jacques: I definitely think I was born in the wrong country, as my favorites have to be the Hawaiian islands and San Francisco as home port!
Gabrielle: Honolulu, Hawaii just can't be beat. It's a quick trek to one of the most beautiful beaches in the world, everything you need is close by and they have Spam for breakfast. It's perfect!
What does a day/life look like when you're at home or not working?
Jacques: Just spending as much time as possible with my family and especially my 7-year-old little princess. And of course, getting sufficient rest before the next contract!
Gabrielle: When I'm home, I'm usually spending time with my family. I have two nieces that are so precious. I also love to kayak on the river near my home. When we visit South Africa to visit Jacques' family, I love to see the wildlife at Kruger National Park, and rhinoceros and lion sanctuaries. I can't wait to go back and see the beaches with penguins!
Is there anything else you'd like to share about yourself with collectors?
Jacques: Just a massive thanks to each and every one of you. As Principal Auctioneer for Park West Gallery, I have been extremely blessed in so many ways and getting to know all of you and be your personal art concierge has been one of those big blessings. You may only see the auctioneer on stage, but let me tell you, it takes more than just a smile and a bid chant to be successful in this industry. Of course, I'm talking about the amazing people that I have had the pleasure to work with. In my years with Park West, I can connect my success directly to the fact that I have been privileged enough to work with and lead some of the most highly skilled, hard-working and knowledgeable Gallery Directors, Associates and Preparators in the business. Combine that with having an amazingly supportive management team and wrap a giant red ribbon around it in the form of the most charismatic, intellectual and driven leader I have ever met in our founder and CEO Albert Scaglione, and you have an indestructible recipe for success. Lots of love for all of you!
Gabrielle: Art is so incredible. What you surround yourself with will influence you, even without realizing it. And we've met such wonderful people! I'm so grateful for the chance to help amazing people find art that speaks to them and will add so much to their lives.
For the latest art and auctioneer news, follow Park West Gallery on Facebook, Twitter, and Instagram.
Interested in learning more about starting a career hosting art auctions on cruise ships? Visit Art Auctions Abroad for more details.
Learn more about Park West's world-class auctioneer program: