Park West Auctioneer Spotlight: Jade and Kayla Curtis
Park West collectors often tell us that the highlight of their collecting experience is the lasting friendship they develop with our Art Teams. Our Art Teams say the same about our forming connections with collectors! That's why, every month, we take time to dive into the lives of our top auctioneers to learn more about them!
For our July auctioneer spotlight, we'd like you to meet the amazing auctioneer duo of Jade and Kayla Curtis! Jade and Kayla took their passion for adventure and love for inspiring others on board with Park West several years ago and have helped collectors around the world discover artwork they'll cherish for the rest of their lives. They recently shared with us some of their favorite Park West moments, artists whose artwork really catch their eye, and talk to us about their life when not on the seven seas.
Previous ships as an auctioneer:
Carnival (CCL) Inspiration, CCL Valor, CCL Glory, CCL Vista
Where is your hometown? 
Jade: Kempton Park, South Africa
Kayla: Kempton Park, South Africa
When did you start working as an international art auctioneer?
Jade: Prior to joining Park West, I was in sales selling insurance. I had a friend on a cruise ship who mentioned the position to me on one of his vacations, I couldn't believe it was real! I had always had a passion, or rather an appreciation for art, and for those of you that know me I can very easily talk the paint off the wall and often jokingly tell people that my father chose my subjects for me hoping I would become an engineer.
One day he realized I was a lot better with my mouth than I was with my hands and he said "my boy, just go and sell something." I thought enriching people's lives with culture, story, imagination, and hope was a winning recipe, my dad seemed to think so too. I think it was roughly two days later after my friend informed me of Park West when I came home from work and told Kayla that I was applying that evening, and we never looked back. It's hard to imagine life any other way now!
Kayla: A few years ago I took a cruise in South Africa with my mom and I loved every minute of it. Since then, I always spoke about how I would love to work on cruise ships, but I was always nervous to leave South Africa. Friends of mine and Jade's worked on cruise ships and told us for years that we should join.
One day after Jade had spent a lot of time with our friend finding out all about Park West, he looked at me and said: "I applied with Park West so you should too." I was so nervous that this was actually happening but I am so grateful that we took the leap of faith and decided to step out of our comfort zones. It was the best decision we could have made.
Who is your favorite Park West artist and why?  
Jade: This is always a very difficult question as I appreciate so many artists for a multitude of different reasons, such as Michael Cheval and Peter Max. However, the masters hold a special place in my soul, for instance, Francisco Goya to me is truly breathtaking. Not only the virtuosity and ingenuity in the craft itself but the content of what he portrays. To many people, it's very dark and scary, but to me, its engrained in history, story, and culture.
Many people refer to his painting "The Third of May" as the birth of modern painting due to the social satire and commentary like fashion he portrayed kings, queens, royalty, and people through his art. His story amongst many others such as Rembrandt is riddled in tradition, triumph, loss, and tragedy, not only did they pave the footprints for generations to come, they truly lived to expand the world of art.
That being said, Salvador Dali is still one of my all-time favorites. He truly challenged the subconscious mind and sparks imagination within the viewer, almost never seeing or perceiving the same thing through his art, it's truly magical. Not many people I believe have the ability to transport you into another realm where anything you can imagine is real, as the great Pablo Picasso once said.
Kayla: Oh this is such a toughie! I have so many favorites and have a different appreciation for them all. If I had to choose it would be Slava Ilyayev and Joan Miro. These two artists are so different and there is something so incredible about them both. Artwork by Slava Ilyayev is so capturing, romantic and an absolute beauty to the eye.
With Miro, I feel that many people will "look" at his artwork but they don't always "see." To me, the more you look at a work of art by Miro, the more you see. His artwork enables you to use your imagination and interpret the artwork in so many different ways. Each person will see something different and that is what is so incredible. It's mesmerizing!
Do you have a favorite client memory?
Jade: There are far too many to realistically put on a piece of paper for that matter, however, there is one in particular that happened fairly recently that brought a lot of perspective into why we do what we do, and more importantly why we love it so much. I met a collector onboard the Carnival Breeze my first year with Park West in 2018, I was still a Gallery Director at this point and happened to be hanging artwork on the wall when I saw a wonderful lady enamored by a Bernard Louedin. That being said, I introduced myself and proceeded to ask if they were familiar with the work and took them on a gallery tour.
The husband and I stumbled upon a Peter Max mystery that we had done earlier at the auction and several hours later they became the proud owner of three Peter Max Serigraphs and a Fanch Ledan, a mystery my fearless mentor called "Inception." Almost two years later I was on the Carnival Vista, now the auctioneer and the same couple walks through the door. Immediately we picked up right where we left off as if it were the day prior. Later, I helped them collect the work of art that started it all, the Bernard Louedin amongst their very first canvas Max and several other pieces, really becoming astute collectors in that time, as well as lifelong friends in the process. Being there from the start and watching both their passion and appreciation develop for the art world was incredibly rewarding.
I have had incredible opportunities to meet people in the art gallery, the people you meet and the relationships we develop are the very reason that makes our jobs so special. Helping collectors make the most informed decision and taking care of them is in the Park West family DNA.
Kayla: We meet so many incredible people from all over the world and get to form connections with each of them so this one is a difficult one for me. However, there is one collector that has a very special place in my heart. We were doing a 7-day cruise on the Carnival Glory and I met the most wonderful lady. She and I spent a lot of time together during that cruise, we just connected instantly. She was hoping to collect a few artworks as it was her dream to turn her home into a beautiful wedding venue. Throughout the cruise, I helped her collect incredible artworks to help her turn her dream into a reality.
After spending a lot of time together, we got to know each other quite well and soon came to learn about each other's likes, dislikes, and favorite artists. I told her that since I started with Park West I set a goal for myself that I would one day collect my very own Slava Ilyayev painting. The cruise started coming to an end and it was one of our final auctions, a Slava Ilyayev painting came onto the stage and this wonderful lady and dear now friend bid on this painting. I was so excited but soon my excitement turned into complete shock. She stood up in front of the entire room and said that she just collected that painting to give to me. I could not believe what was happening and just burst into tears.
Later that evening she came into the gallery and I tried my utmost best to convince her that this painting was hers, but she was adamant that she collected it for me. She kept telling me that when God tells her to do something, she does it. She refused to take no for an answer and she shipped the beautiful painting to my house all the way in South Africa. That is one day that I will remember for the rest of my life. She and I had such a connection from day one and she will always be a lifelong friend.
Out of all of your adventures around the world, what has been your favorite port? 
Jade: My favorite port hands down thus far is Alaska. I love everything about it, from the small quaint towns thriving in culture, to the beauty of the land and the nature within it. If you're lucky enough to experience the Northern Lights while there, it really is a sight to behold and something I would highly recommend.
Kayla: Victoria, Canada! There's so much about Victoria that I love so much. The very first time I got off the ship to explore Victoria I fell instantly in love. The beautiful gardens, the bands on the street, the friendly people, and the overall atmosphere just sucked me in and I never wanted to leave.
What does life look like when you're at home or not working?
Jade: For me, it's relatively simple, I love breakfast and I really enjoy food. My first meal every time I land from a long contract is a Mugg and Bean breakfast, with extra everything. That's usually where it starts, anything that gets the heart racing, gets the blood pumping, and stirs up adventure and travel, I'm all in! For the most part, as long as I'm surrounded by friends, family, and my wife, every day is filled with memories.
Kayla: Being on a ship for a few months at a time really makes us miss the small things. So just being at home surrounded by friends, family and our dogs make every day a good day. Jade and I are always on the go. I would say the one thing we do the most, aside from spending time with friends and family, is finding new, delicious places to eat. We both have a love for food so we're always looking for something new and tasty to eat.
Tell us one thing about living and working at sea that would surprise most people.
Jade: People onboard cruise ships sacrifice an immense part of their lives, something that many people will never get back, something incredibly rare – time. That being said, we get to meet amazing people, develop beautiful relationships that last a lifetime, we are our own support structure and during that moment in time we all share something in common, we are family.
Kayla: For about six months of the year, you never know what day of the week it is. Crew members relate more to "sea days" and "port days."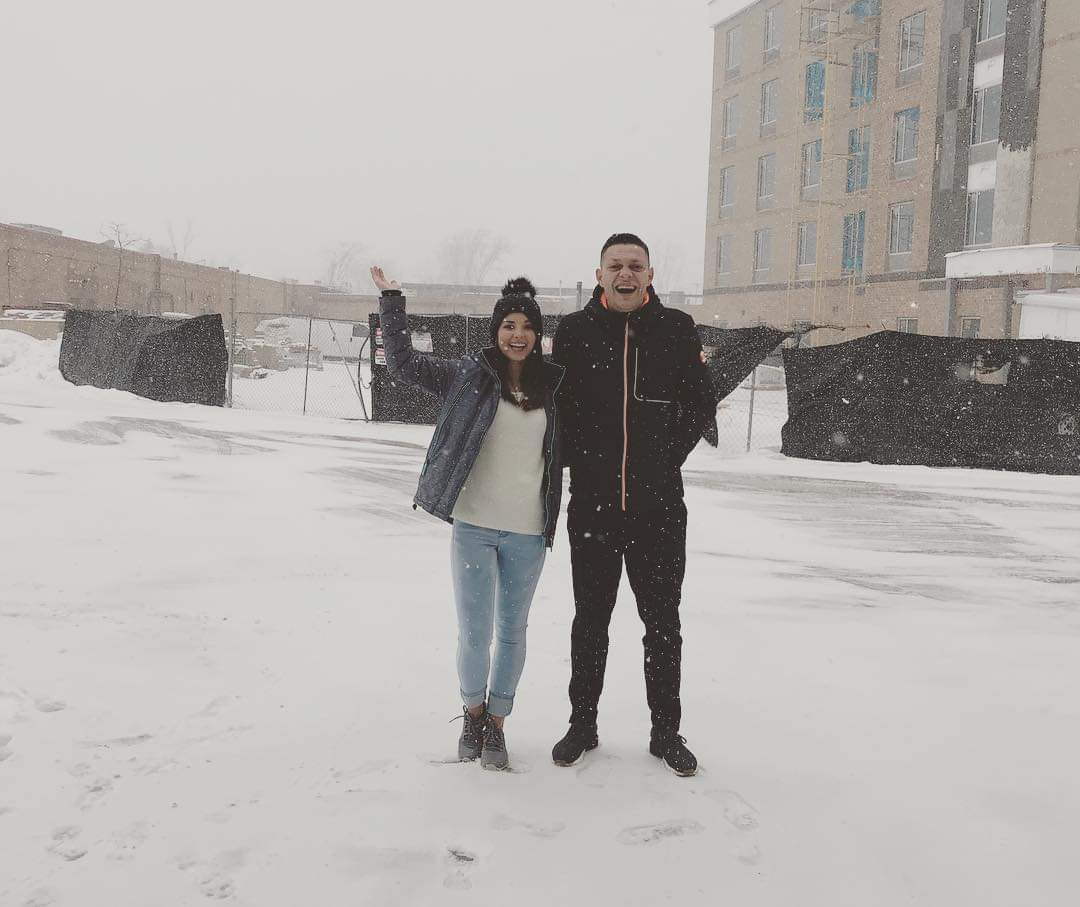 Is there anything else you'd like to share about yourself or share with collectors?
Jade: Not only do I love being on the water, playing a round of golf and riding my bike, I am a huge fan of Star Wars, the MCU (anything Marvel for those of you not aware) and comic books, old school sci-fi computer games, the classics. My taste in music is very similar, 70s & 80s all day!
Kayla: Not many people know this but one of my biggest passions is children. Before I started with Park West I was a pre-school teacher. It has always been a dream of mine to open my very own pre-school. I believe that children are our future and that is why I believe it is important to make a difference in their lives so that they can make a difference in someone else's.
For the latest art and auctioneer news, follow Park West Gallery on Facebook, Twitter, and Instagram.
Interested in learning more about starting a career hosting art auctions on cruise ships? Visit Art Auctions Abroad for more details.
Learn more about Park West's world-class auctioneer program: