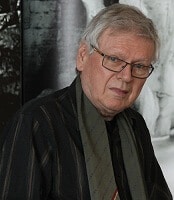 Personal History
French painter, sculptor, illustrator and printmaker, Bernard Louedin was born in 1938 in the city of Rennes, in the northwestern part of France. He began his artistic studies at a very early age with noted painter, Pierre Gilles Xavier de Langlais, and he later studied with Roger Chapelain-Midy. By 1963, he began exhibiting extensively in France, Belgium and Germany, and has continued to exhibit throughout Europe, Japan and North America. By 2002, his works had been mounted in 75 worldwide exhibitions.
READ MORE +
His works have been featured in more than a dozen books about art and artists. Nine monographs have been published on his work alone, including the hardcover book, Louedin; Phillippe le Guillou; la Biblioteque de Arts, Paris, 2002. Two films have been created featuring his art and life, and numerous articles have been written about his imagery and techniques.
Louedin's wife, Dominique de Serres is also a renowned fiber artist, and interprets his works and the imagery of other artists, as well as her own imagery, into highly sought-after limited edition tapestries.
Styles and Influences
Louedin's imagery, although dream-like, poetic and unique in conception, draws from influences as diverse as classical Greco-Roman art, Flemish and Northern Renaissance, to 20th century artists such as Yves Tanguy, Joseph Cornell and Giorgio Morandi. Excelling in painting, drawing and sculpture, Louedin is also considered a master engraver, having created more than 300 intaglio editions since 1972.
Exhibitions
His work is included in important public and private collections including the City of Lannion, France, the Nantes Museum, The Hermitage Foundation, Lausanne, Switzerland and the Chateau de Vascoeuil, France.
Louedin and his artwork is featured in the 2017 book, "Bernard Louedin: Paintings and Dominique de Serres: Tapestries.