Park West Auctioneer Spotlight: Divan Van Zyl
When Park West's art auctioneers tell people what they do for a living, a common reaction is "Wait, WHAT?" Meeting a lawyer or an accountant is an everyday experience, but how often do you meet someone who sells fine art on cruise ships all over the world?
Once people get past the initial shock, they're usually filled with questions about the international art auctioneer lifestyle. They want to know about living on a cruise ship, conducting auctions, everything!
That's why we interview one of our amazing cruise auctioneers each month to learn more about their favorite experiences working as a Park West auctioneer. This month we are highlighting Divan, an auctioneer aboard the Carnival Dream!
Please list your previous ships as an Auctioneer:
Carnival (CCL) Fascination, Norwegian (NCL) Star, Royal Caribbean (RCI) Allure of the Seas, RCI Grandeur of the Seas, RCI Voyager of the Seas, Crown Princess, NCL Jewel, RCI Liberty of the Seas, NCL Jade, Sapphire Princess and NCL Epic.
Please list your current ship as an Auctioneer:
CCL Dream
Where is your hometown?
Somerset East, South Africa, a very small town near the coastal city Port Elizabeth.
When did you start working as an international art auctioneer?

I developed a keen interest in fine art and art history while in my adolescent years and found myself enamored with the great masters that shaped art history. Unfortunately, I can't even draw a stick figure, so I pursued other interests like music and photography. I initially started working on cruise ships as a photographer. One day I stumbled into a live onboard Park West art auction and that was it, I was hooked! I joined Park West Gallery in 2014 and am blessed to be in a profession where I can share my passion with others and help people add wonderful artwork to their family collections.
Who is your favorite Park West artist and why?  
My favorite artist is David "Lebo" Lebatard. There is so much to love about his work. Not only are they fun and whimsical, but the inspiration behind the works are interesting. I love how his pieces have many layers of meaning, but on the surface, they speak to people of all ages and backgrounds.
What is your favorite client memory?
There are so many to choose from, but my most cherished memory is meeting a couple while cruising around Australia back in 2016. Part of what we do at Park West Gallery is ignite a passion for art in our collectors, and this couple was so inspired by the art program on the ship that they not only collected numerous works, but decided to establish a platform for aspiring artists in Sydney, Australia! Although they initially exhibited their own private collection of acclaimed and established Park West artists, they were eventually able to help support young artists by giving them a place to exhibit their work. Today, their organization has turned into a beautiful gallery that supports local artists. It is very special to think that our auctions and seminars can have such a far-reaching impact.
Out of all of your adventures around the world, what has been your favorite port? 
Bilbao, Spain. It is the most beautiful city, infused with art and design throughout. From major art installations all over the city, to phenomenal architecture, amazing restaurants, extensive parks to stroll through, and the world-famous Guggenheim Museum.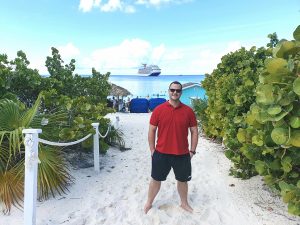 What does a day/life look like when you're at home or not working?
I love making music and often have "jam sessions" with my friends and family. When I am home, I also enjoy being active and can be found on the squash court or in a pool swimming laps. Playing chess is also a hobby of mine. I can spend hours playing chess online. While working on a ship, I love going out in the various ports and enjoying local cuisine. I also love visiting local art galleries and museums.
Tell us one thing about living and working at sea that would surprise most people.
I think most people would imagine working at sea to be a little lonely because you're away from family and friends for months at a time, however, there is often a strong sense of community and camaraderie among the crew on the ships. We support each other through tough times, and we celebrate Christmas, birthdays, and many other events together. Many of the people I've worked with on cruise ships have become close friends.
Is there anything else you'd like to share about yourself or share with collectors?
I am extremely grateful to have been a part of so many clients' journeys to collecting fine art. Whether they're collecting on a cruise ship or through our online auctions, I have met many wonderful people and made countless special memories.
For the latest art and auctioneer news, follow Park West Gallery on Facebook, Twitter, and Instagram.
Interested in learning more about starting a career hosting art auctions on cruise ships? Visit Art Auctions Abroad for more details.
Learn more about Park West's world-class auctioneer program: