Park West Auctioneer Spotlight: Slavio Correia
When guests attend Park West art auctions, they not only walk away with a newfound appreciation of art—they also walk away with lasting friendships.
It takes a special kind of person to head off onto the high seas to spread their love of art to travelers around the world. Slavio Correia is one of those rare individuals, which is why he's a perfect fit for Park West.
This month, we are spotlighting the amazing Slavio Correia, an auctioneer stationed onboard the Royal Caribbean Ovation who has been with Park West for almost 15 years. Enjoy this interview where Slavio discusses his favorite places to travel, artists, and Park West memories!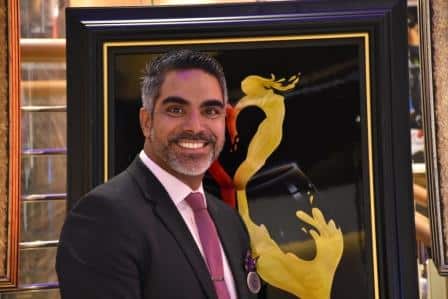 Please list your previous ships as an Auctioneer:
Carnival (CCL) Fantasy, CCL Legend, Celebrity (CEL) Constellation, Holland America Zuiderdam, Golden Princess, Royal Caribbean (RCI) Navigator, RCI Explorer, RCI Liberty, and CEL Edge
Please list your current ship as an Auctioneer:
Royal Caribbean Ovation
Where is your hometown? 
Slavio: I come from a small town from suburbs of Mumbai, India. It's a town close to sea with plenty of trees, a warm and friendly community, fresh seafood and a place I call home.
When did you start working as an international art auctioneer?
Slavio: I started working for Park West in 2008 and took over my auctioneer role in 2015 which I absolutely love and passionate about. I studied interior design, however art history always had been my big passion. I joined Park West because one of my clients back home collected art from Park West during their cruise and introduced me to Park West. I knew then and there that this was my calling, and here I am years later doing what I enjoy most: helping collectors make great memories which they will pass on for generations to come.
Who is your favorite Park West artist and why?  
Slavio: I do have few that I absolutely enjoy and love collecting. Romero Britto has always made that positive impact on me. His art is happy which has inspired me to look at life with a very different perspective. A few other artists I enjoy collecting are Michael Godard and Marcel Mouly. Some of my favorite memories are meeting great artists such as Tarkay, Krasnyansky, Peter Max and so many more.
What is your favorite client memory?
Slavio: I have so many, however, one in particular that I will always remember is about one of my early years as auctioneer when I was talking about Peter Max's "9/11 Suite" during my auction when I noticed that a client was very emotional during this presentation and she asked me if she can hug me. She thanked me for sharing my passion, love and care to everyone I meet. We have been close friends / family since. All our collectors are very dear to me and I am always excited to meet collectors from all around the world who have encouraged me to share my passion and love for art with them.
Out of all of your adventures around the world, what has been your favorite port? 
Slavio: One of the most fun parts of this career is that I get to travel. I have traveled to many countries, however, my favorite region to visit is Alaska. I started my Park West career on a ship in Alaska so this place always has a very special spot for me. I enjoy the nature, food, and also the hikes in certain ports in Alaska. In fact I am currently on a ship in Alaska!
What does a day/life look like when you're at home or not working?
Slavio: Oh, I always enjoy being home with my family. I love everything about the vacation. From taking long walks on the beach, riding my motor bike, cooking and babysitting my nieces & nephews, everything is fun. What I enjoy the most during my vacation is when I travel to places where cruise ships don't take us.
Tell us one thing about living and working at sea that would surprise most people.
Slavio: Living and working on the ship is like being part of a community which is so diverse and yet so blended. Meeting people from different cultures and different backgrounds has been one of the most interesting and exciting things of my career on ships with Park West. I can say that I have a friend or two in almost every country!
Is there anything else you'd like to share about yourself or share with collectors?
Slavio: Vincent Van Gogh once said "I am seeking. I am striving. I am in it with all my heart!" I enjoy every day of my life. Gratitude is very important for me and I am grateful for everything life has given me from my family, friends, and Park West and all my collectors who have been remembering me in their best wishes.
For the latest art and auctioneer news, follow Park West Gallery on Facebook, Twitter, and Instagram.
Interested in learning more about starting a career hosting art auctions on cruise ships? Visit Art Auctions Abroad for more details.
Learn more about Park West's world-class auctioneer program: