Meet the Artist: 10 Questions with Jeff Albrecht
Thanks to his unique "Extreme Colorist" style, artist Jeff Albrecht has flourished in the contemporary fine art world for over 25 years.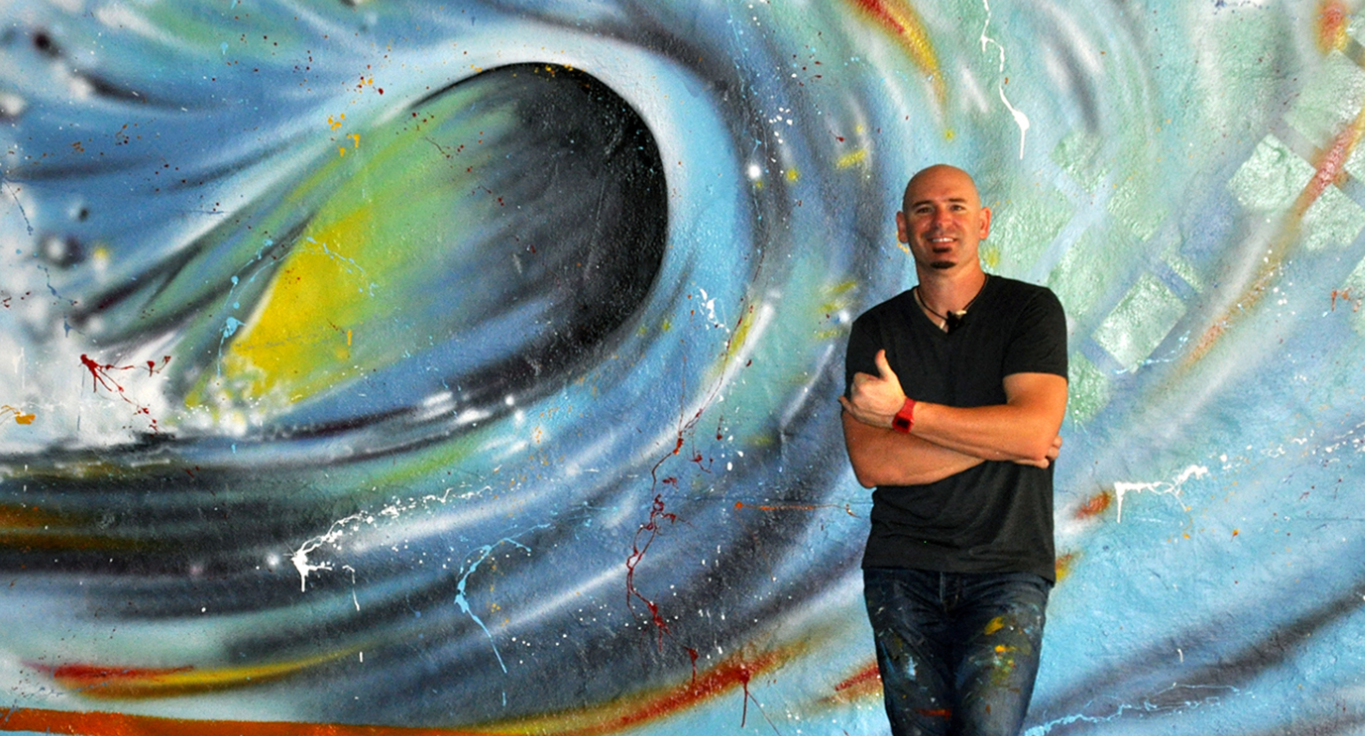 Albrecht has deep roots in his hometown of Fremont, California, where he inspires the next generation of artists by working as a high school ceramics teacher and devotes the rest of his time to his professional art studio.
Throughout his successful career, he's created artwork for a number of high-profile clients including the NFL, the NHL, the Pacific Whale Foundation, and the Maui Ocean Center, just to name a few.
Park West recently had the opportunity to ask this dynamic artist a few questions to learn more about his career, inspirations, and life outside of the fine art world. Enjoy this new and exclusive interview with the one and only Jeff Albrecht!
1. When did you first realize you wanted to become an artist?
I've loved to draw and color since I could first hold a pencil and crayon. When I finally had a chance to take art classes in high school, word of mouth quickly led to little commissions from friends, family, and small business owners. It was less about realizing that I wanted to become an artist… it was more like the passion was there, the tools were available, and those commissions opened doors that I could run through to explore, learn, and grow. It still works the same way today.
2. What inspires your art?
My work is inspired by wonderful people and beautiful experiences that remind me that this life is not about me. I create work that reflects the beauty around me, the way I see and feel, in hopes that others will be uplifted the same way I have been.
3. Have any particular artists influenced your style?
I'm sitting next to a bookcase filled with artist biographies that I've collected since the ninth grade. Everyone from Michelangelo and Caravaggio to Van Gogh and Seurat to Picasso and Klee. I'm sure that every artist I've ever seen or spent time with creeps into my work somehow.
I've admired the use of color by Picasso and Matisse, the technical illustration of Da Vinci and Hopper, the action of Jackson Pollock and LeRoy Neman, and the committed linework of Keith Haring and Basquiat. The other common thread that binds us all together is our conscious effort to explore, play, and make ourselves vulnerable by what we put on canvas and share with others.
4. In your studio, do you have a favorite art supply? A particular paint or a tool that you find yourself returning to again and again?
I have 3 easels that are built into the wall studs which allow me the floor space that I need to move around my small indoor studio. I still have a drafting table that I bought in my junior year in high school for the days where I feel like playing with graphite. My favorite palette to mix paint in is an old piece of Tupperware that I "borrowed" from my mom over 30 years ago… hahaha… she's never going to get that back.
5. What do you want collectors to take away from your art?
I hope that my artwork, stories, and connections with people help to remind them of the beauty that God has placed in and around all of us. I'd love for them to feel happy and excited, the same way that I do when I paint or hang out with friends and family. I'm trying to paint fleeting moments that are meaningful, captured on canvas that collectors can enjoy at the end of a long day.
6. What do you enjoy doing when you're not painting?
I enjoy exploring the outdoors, spending time with friends and family, and eating good food. Best if I can do all three at once!
7. How has your full-time job as a teacher shaped your career as an artist?
Teaching ceramics over the past 20 years has shaped my art career in very unique ways. By day, slinging mud and listening to music with 180 students. By night, creating paintings for Hollywood actors, professional athletes, and collectors all over the world. Two different worlds, very different client bases, a wonderful balance.
The set schedule of teaching has allowed me to have a certain amount of consistency in raising my family. Rather than paint all day and night, I've learned to work efficiently and manage time wisely. I've used the various breaks during the school year for my painting tours, large projects, and events.  In my opinion, one of the greatest benefits that teaching afforded me in my early years was that the salary kept me from chasing after bad opportunities that could have derailed my progress as a professional artist.
I've been able to avoid many of the pitfalls that artists experience out of desperation. Instead, it allowed me to focus on cultivating relationships with artists, gallery owners, and collectors that share similar goals. Last but not least, teaching students to take risks in their work, to play, solve problems, and fail until they find success are lessons that I've carried back into my own studio.
8. What was the first work of art that you ever sold?
The first painting that I ever sold was a 16×20 sunset harbor scene commissioned by a classmate during my junior year in high school. It was to be his Christmas gift to his parents. He purchased it for $50. He described what he had in mind. I found a thumbnail photograph in a travel magazine that I used as reference material. I still have the original concept sketch in an old journal. That project quickly led to another project and so on and so forth…
9. You use a lot of symbols in your art, including a sun motif that is seen in almost all of your paintings. What inspired that specific symbol?
The sun is in all of my work. It's one of the last elements that I add to every piece, as a reminder to myself that everything I'm inspired to paint, every amazing relationship that I've been given, each experience that has impacted my life was not created by me.
It's my way of acknowledging the ultimate Creator and reminding myself that it's not about me. I'm blessed to be gifted with the ability to paint and have avenues to share it with collectors. I don't want to waste what I've been given, and painting the sun keeps me in the moment.
10. Do you have a favorite color?
This feels like a trick question! I'm an extreme colorist! I play with opposite colors and make them bounce off of one another. My favorite color is the one I'm using at any given moment as one color leads to the next. It's kind of like how I order food in a restaurant. I ask the server to bring me whatever they would have, but please don't tell me what it's going to be.
To collect the art of Jeff Albrecht, register for our exciting online auctions or contact our gallery consultants at (866) 648-7405 ext. 4 or sales@parkwestgallery.com.
Follow Jeff Albrecht on social media
Related Articles