Meet the Artist: 10 Questions for Ashton Howard
There are few artists who understand the ocean better than Ashton Howard.
Raised on Florida's Gulf Coast, Howard was fascinated by the sea from an early age. A self-proclaimed "struggling artist" in his youth, he traveled the world seeking artistic inspiration, eventually settling near California's Laguna Beach where he supported his art career by teaching surfing and painting surfboards.
While in California, collectors began taking notice of his remarkable artwork, which captures the light and movement of water in a brilliant new style Howard calls "Fluid Realism."
Today, Howard resides in his native Florida and his artwork is sold all over the world.
We want our collectors to get to know Howard better, so we recently had the privilege of asking him about his art, his inspirations, and the challenges of painting the ocean. We invite you to enjoy our Q&A with the astounding Ashton Howard!
1). When did you first realize you wanted to become an artist?
I can't say that I actually realized that I wanted to become an artist, I just became one. Mid-high school was probably the time this started to happen and certainly into my early 20s. I was creating artwork daily in many mediums but ultimately oil and acrylic painting stole my heart.
2). What inspires your art?
Simply put, the power and beauty of nature. I have always loved the outdoors with such passion. I can't hold in my emotions when a brilliant sunset stretches across the sky, a raging storm passes over, or the feeling you get while standing at the basin of a massive mountain range. We live in a beautiful world.
3). Have any particular artists influenced your style?
Albert Bierstadt—for his grand scale and dramatic lighting of mountainous landscapes. I have always strived to capture such atmospheric perspective in my work.
4). What's the biggest challenge when it comes to painting the ocean?
Capturing a realistic mood and feel in the work. I have developed, over many years of experimenting, an effective way of achieving this through the use of many tools and techniques.
5). You're a lifelong surfer and you've painted custom surfboards for years. Do you have a favorite surfboard—either one you painted or one from your past?
Well, that's funny, there is a painted surfboard hanging over my bed at this very moment. These boards, most are now sold, were little gems in many ways. A surfboard is a beautiful piece of art in its own right, starting as a rectangular chunk of foam and hand-carved by its shaper. Each one is unique before I even touch it and then it's custom painted and hand-glossed. I miss painting them.
6). You're also an accomplished photographer. How has your photography influenced your fine art?
In earlier years, I snapped photos for quick reference to loosely use for paintings. Then, as time went on and technology advanced, I invested in waterproof cameras to photograph waves and ocean views. It became so fun that the perspectives I was capturing inspired my paintings. Then ideas I wanted to paint became challenges to try and capture for reference. Aerial photography has recently entered my realm and has inspired some really cool paintings so far.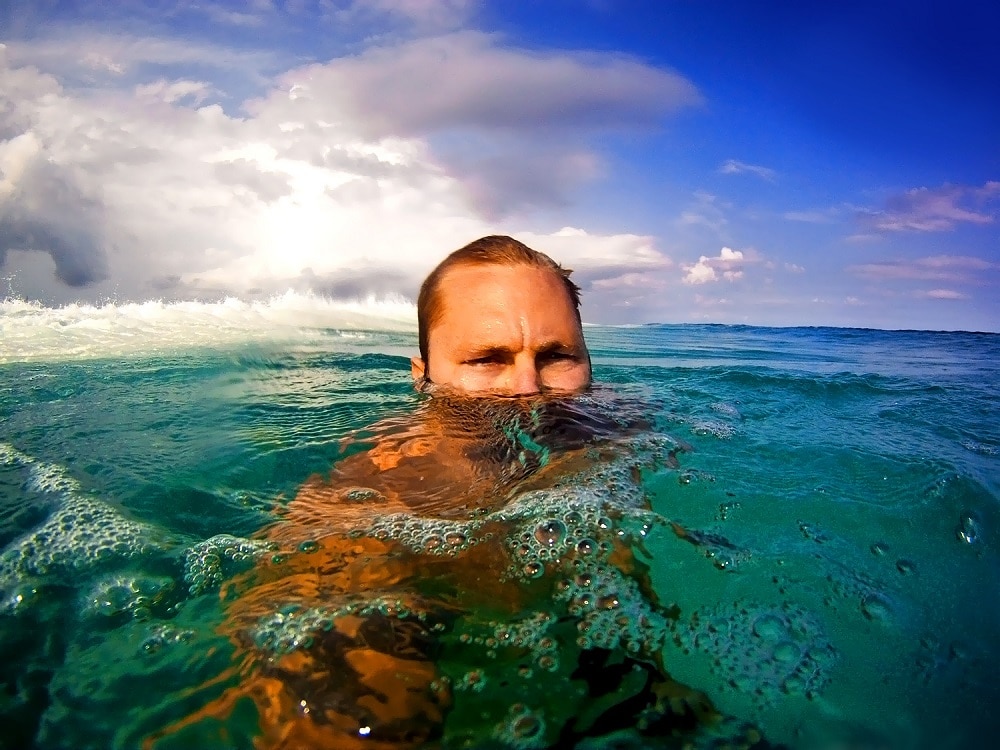 7). In your studio, do you have a favorite art supply? A paint or a tool that you find yourself returning to again and again?
I have some simple things in my studio that have been there for so many years they now bring back great memories. A Windex bottle that is my spray bottle has been in there for over eight years, still sprays better than any bottle I have been forced to use if I am away painting elsewhere. My blue hair dryer is still drying my paintings to perfection for well over a decade.
8). What do you want collectors to take away from your art?
I want them to feel the passion I have for this natural world and its beauty, and I believe they do.
9). What do you enjoy doing when you're not painting?
Spending time outside doing fun stuff. Love to surf, fish, dirt bike, snowboard, and play golf. I am pretty much down to do anything fun and outdoor related. My greatest treasure is spending time with my 2-year-old son Hagan and my wife Emilie. We are lucky to have a close group of friends here at home and get together almost every weekend. Between kids, beach condos, boats, and house parties, there is no shortage of fun here on the Gulf Coast.
10). Do you have a favorite color?
Every shade of blue and green.
To collect the artwork of Ashton Howard, attend one of our exciting online auctions or contact our gallery consultants at (800) 521-9654 ext. 4 or sales@parkwestgallery.com.
Follow Ashton Howard on social media
Related Articles