Creating Oceanic Art and Awareness: 10 Questions with Guy Harvey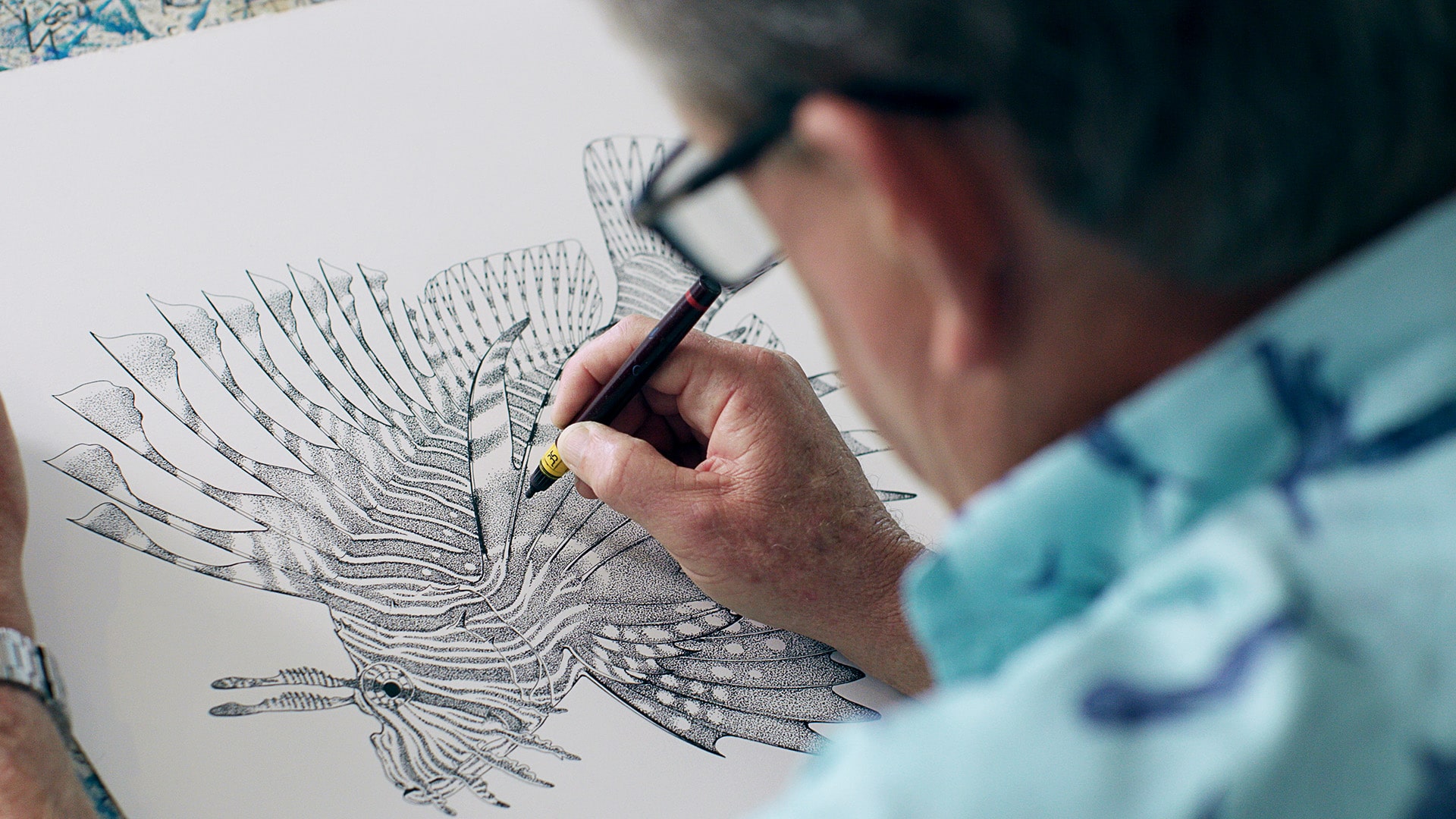 There's a reason why the art of Guy Harvey looks so realistic—he literally dives headfirst into his studies.
Harvey has been one of the world's leading marine wildlife artists since 1988. Known for his signature paintings of billfish, Harvey draws on a background in marine sciences and firsthand studies of oceanic animals in their natural habitats to create captivating scenes of undersea life.
His art has since become a vehicle for raising funds and awareness for wildlife conservation, using proceeds from his clothing line and art to support his Guy Harvey Ocean Foundation.
Needless to say, Harvey keeps quite busy, but generously took time from his schedule to answer our questions about his career, artwork, and passion for preserving our oceans. We invite you to meet Guy Harvey!
1. When did you first realize you wanted to become an artist?
As a young person I always enjoyed painting, particularly when I was in prep school and high school in the UK. However, I pursued a career in marine sciences and finished up with a PhD in fish biology from the University of the West Indies in Kingston, Jamaica, my home island.
Meanwhile, I was perfecting my drawings (of marine life in particular) and became a fish illustrator, which benefited my scientific career. I held informal art shows at fishing tournaments during the early 1980s in Jamaica and in the Bahamas. I realized that painting marine wildlife offered a reliable income and I decided to leave academia in 1986 to paint full time. I went back to academia in 1999 by forming the Guy Harvey Research Institute at Nova Southeastern University.
2. What inspires your art?
I am inspired by being on, in, or beside the water. The creatures that live in the world's oceans are highly evolved, adapted, and beautiful. Being close to them and close to nature is the key to understanding how to paint marine life.
For 30 years I have traveled the Atlantic, Caribbean, and Pacific to fish for—and dive with—marine life to generate first-hand experiences from which my art originates. While I am there, I also take a lot of photos and video footage from which we at the Guy Harvey Ocean Foundation make educational videos for schools.
3. Which artists have played a role in influencing your style?
None, really. I am self-taught and I have developed my own style working in pen and ink, watercolor, acrylic, and oil paint. I also do a lot of underwater photography.
As a mentor, America's most famous wildlife sculptor, Kent Ullberg, is a close friend and has been influential in helping me join the Society of Animal Artists and the Artists for Conservation, which are the two big international wildlife art organizations.
4. What is it that interests you in the larger fish species, such as billfish?
The large pelagic species such as sharks, billfish, and tunas (plus some marine mammals) are fast predatory creatures that inhabit the open ocean. They are difficult to access, so interactions with them are usually short. As predators they are the perfect subject matter for my art and I often tell the story of marlin, sailfish, tunas, and sharks in a predator-prey interaction. These are big animals and they demand a big canvas, which is why I like to paint them life size when possible.
5. How do your studies of marine wildlife inform or enhance your art?
To be authentic, I dive a great deal with billfish, tunas, and oceanic sharks such as mako, white, tigers, hammerheads, oceanic white tips, and silky sharks. These species cannot be kept in captivity for viewing or for study, so I have to access these species in the open ocean.
The billfish, in particular, are my favorite fish to dive with and study their rapid movements, their color changes, and fin arrangements during feeding. During the chase, they often interact with the surface, dragging foam beneath the surface, which creates movement and drama for me as an artist.
6. What do you want collectors to take away from your art?
My work is unique and authentic. I have spent thousands of hours in research of the anatomy, physiology, life history, and ecology of these species, which is unparalleled in the genre of marine wildlife art.
7. Many people love your apparel. What is it like knowing people not only collect your art, but love to wear it as well?
Licensing my art on apparel has been good for business. Most wildlife artists find it tough to maintain a constant income. So licensing art for use on suitable consumer items is a viable option if executed with quality. There is a certain appeal to collectors of my art knowing that their piece has been replicated on apparel and has helped generate funding for our research and conservation efforts.
8. What do you enjoy doing when you're not painting?
Being with my family, fishing, and diving.
9. Do you have a favorite color?
Brilliant blue (Liquitex) as well as turquoise.
10. Could you talk about what the Guy Harvey Ocean Foundation does to help conserve marine wildlife and their environments?
The Guy Harvey Research Institute and now the Guy Harvey Ocean Foundation, funded by the art licensing programs, has conducted research work for the last 20 years under the auspices of the Guy Harvey Oceanographic Center at Nova Southeastern University. Our focus has been on a number of pelagic shark species including tiger, mako, oceanic white tip, blue, and hammerhead sharks. We also work on rays, groupers, snappers, and lionfish. Billfish species in the Caribbean and Eastern Tropical Pacific have been a recent focus. Marine park expansion is also one of our big efforts in the Caribbean.
In the past century, there has been extensive overfishing of many marine species. This needs to change and requires research and work to initiate this change. The data collected on these species over a long period of time tells us about life cycles, reproductive rates, and basic biology and ecology of these species. We are then able to manage the stocks in various oceans in a more sustainable way. The data allows us to be informed and educate people. With that in place conservation can be effected. Without data marine resource, managers are only guessing. Getting out the message that conservation is good for business is very important.
To collect the art of Guy Harvey, register for our exciting live online auctions or contact our gallery consultants at (800) 521-9654 ext. 4 or sales@parkwestgallery.com.
Follow Guy Harvey and Park West Gallery on Instagram!
Related Articles