Meet the Artist: 10 Questions with Slava Ilyayev
For artist Slava Ilyayev, it's not just about expressing color—it's about feeling.
Much like the Impressionists and Post-Impressionists that influence him, Ilyayev creates art to express feeling and emotions. Specifically, Ilyayev uses his trademark lush colors and texture to capture optimism, romance, and happiness in his artwork.
We want Park West collectors to get to know Ilyayev better, so we asked him 10 questions about his art, inspirations, and career as an internationally renowned artist. We invite you to meet Slava Ilyayev!
1. When did you first realize you wanted to become an artist?
My first wish to become an artist started when I was 5 years old. However, I didn't realize that fully until I was 14 years old when I discovered the Russian art of the 19th and 20th centuries and the U.S.S.R. artists of the 20th century.
2. What inspires your art?
I was influenced by Impressionism and Post-Impressionism. They were the best inspiration for my art.
3. Which artists have played a role in influencing your style?
Artists such as Camille Pissarro, Alfred Sisley, Vincent van Gogh, and Sattar Bahlulzade—he was an Azerbaijan Post-Impressionist artist, whom people often called "Azerbaijan's Van Gogh."
4. How did your education in Baku shape your style?
I studied in Baku under different artists. They combined Impressionism with the traditions of eastern art culture and tradition. In the East people love making carpets, which includes different bright colors. These colors come together to create a harmony of eastern art cultures.
Baku is a sunny city. Its sunshine fills the colors of my artwork with light. All of this comes together to make my style.
5. Can you talk about your impasto technique, where you thickly layer paint onto your canvases?
I paint as a sculptor. I use specific, large amounts of color in order to make deep and diverse artwork. I need to do five or six layers to achieve this. After each layer, I observe the expression of the colors. In this way I share how I'm feeling the colors.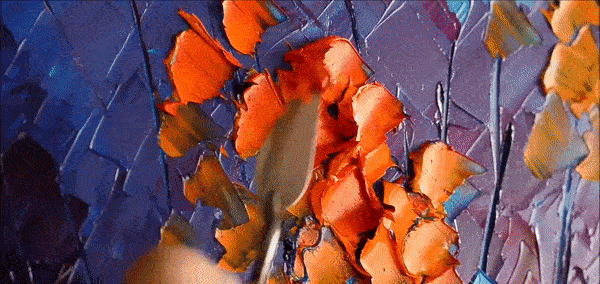 6. What do you want collectors to take away from your art?
The power and happiness of life.
7. We understand you've worked as a teacher at Israeli academies. What is your favorite thing to teach students?
I tried to teach my students one message: "Paint for everyone, not for yourself."
8. What do you enjoy doing when you're not painting?
I made a YouTube channel about people's lives and culture in Israel and Palestine. I do these videos with my best partner (and wife), Alexandra.
9. Do you have a favorite color?
My favorite color is light red.
10. Many of your works depict couples walking under colorful trees with an umbrella. Is there any symbolism or meaning behind this?
The umbrella is an element that unites people with love and friendship. The couples in my artwork symbolize my wish to you. I want my collectors to take a trip in the world of my art in order to feel the richness and the brightness of the colors. I imagine that you are those people traveling under the umbrella, and that it makes you feel a love for life.
To collect the artwork of Slava Ilyayev, register for our exciting live online auctions or contact our gallery consultants at (800) 521-9654 ext. 4 or sales@parkwestgallery.com for information.
Learn More About Park West Artists: