Interview: Mark and Paul Kostabi Discuss Their Introduction to the Art World
Brothers Mark and Paul Kostabi are two of the most talented contemporary artists working today. They both have had artwork exhibited across the world, but as children, their first introduction to the big wide world came from an unlikely source—the World Book Encyclopedia.
Listen to the Kostabi brothers talk about their early education and more in this new exclusive interview with Park West Senior Gallery Director Morris Shapiro:
Their wide-ranging conversation touches on a number of subjects, including the brothers' childhood and the early education they received from library books and the family encyclopedia.
Reflecting on his childhood, Mark Kostabi remembers how he "scoured those books, saw drawings of [corporate] board meetings," and began to draw those scenes in his own style. "I was developing the style I'm known for [now]. I would add irony, and people would say about my drawings, 'How can you have so much insight for such a young person? You must have an old soul.' I was making commentary about the corporate world, but I didn't really know what I was doing. I just liked the way the board meetings looked in the encyclopedia. And I didn't realize how influential those books were until now!"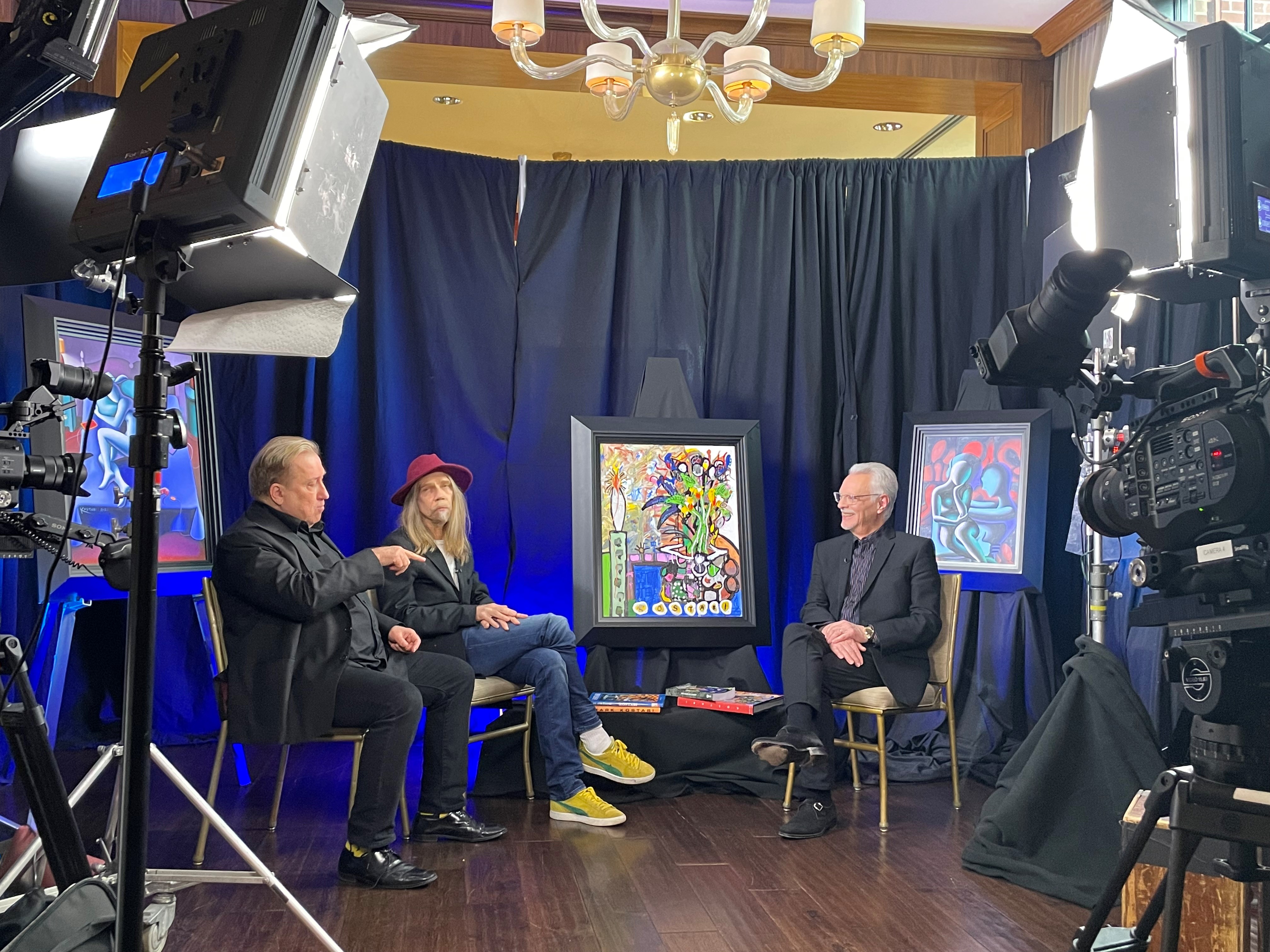 Mark also noted that "our parents were both very cultured, both were musicians. Our father made thousands of drawings, and he didn't show them in galleries, but he would draw all the time. Paul has incorporated some of those drawings in his paintings." Meanwhile, their mother would play classical music for three hours every morning in her role as a professional piano teacher. 
After moving from California to the East Coat, Paul Kostabi mentioned that both brothers "were still battling the regular youthful [concerns] of the time while growing up. So, we learned a lot about the East Coast and the Eastern way through these books. And that's sort of what prompted me to start playing music and learning about punk rock and rock and roll."
The encyclopedia's influence on Paul came to the forefront in high school where he was a cartoonist for the school newspaper. Unlike his brother Mark, who began drawing constantly at an early age, Paul was still learning to draw. So while Paul was the official cartoonist, Mark (who conveniently attended a different school) would sometimes draw the cartoons for him. This brotherly partnership would birth a comic strip inspired by punk rock fanzines that Paul titled "Polyphonic Assemblages." Meanwhile, Mark also drew a comic strip for his own school newspaper called "Megalomaniacal Regurgitations."
When asked what art movements interested them as children, Paul remarked, "We probably didn't know about pop art at that time because the encyclopedia probably did not have the term yet!" Mark Kostabi originally wanted to draw comic books for Marvel or DC, but that changed once he discovered the pre-Raphaelites. Later on, Mark learned about pop art from books he found at the La Habra Public library. He found minimalism and conceptual art appealing, but the most intrigued by, "This guy named Andy Warhol. . . That's where I learned about pop art, not the encyclopedia."
By the time he got to art school at Cal State Fullerton, he had immersed himself in conceptual art and already knew about Andy Warhol. Mark found him fascinating, and Warhol was one of the first icons he met after moving to New York in 1982 – two years before his brother Paul would join him in the Big Apple.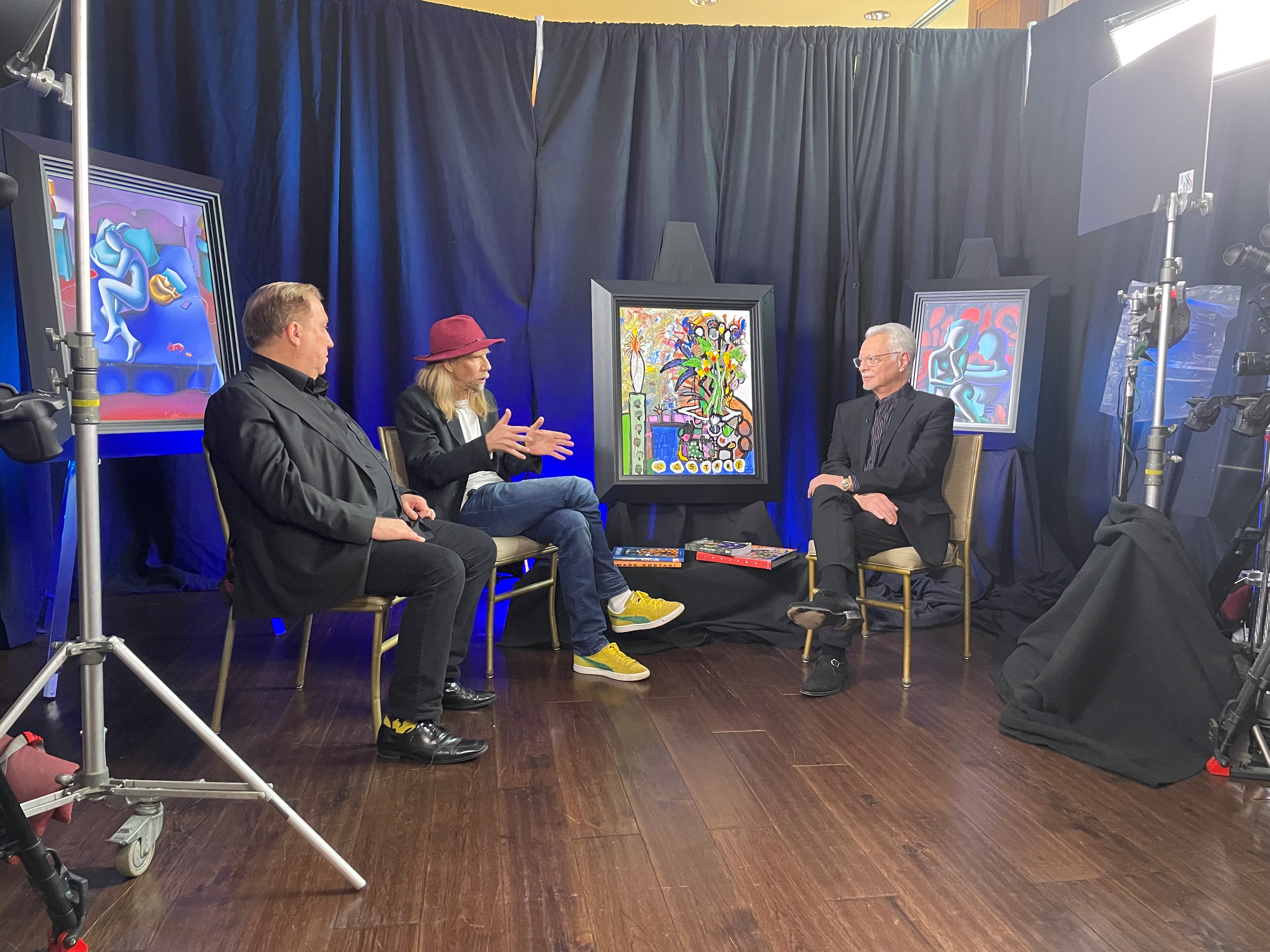 Thankfully, you don't need an encyclopedia to discover and collect the art of Mark and Paul Kostabi.
All you need to do is register for our exciting online auctions or contact our gallery consultants at (866) 648-7405 ext. 4 or sales@parkwestgallery.com