Rock Star Artist Michael Godard Has Record-Breaking Return to Park West Gallery's Online Auctions
Las Vegas artist Michael Godard knows how to make news. His exhibitions sell out all over the world, he was named the official artist for the Las Vegas Raiders, and, last weekend, he broke records at Park West Gallery's live-streaming online art auctions.
We've hosted Godard on our online auctions before, but, right from the start, there was something unique about his appearance at our September 1 auction weekend.
It all began when Godard broadcast live from his home studio dressed as TV art icon Bob Ross, complete with Ross' giant hair and "happy trees" catchphrase. Godard was giving the audience an irreverent preview of his art collection for the weekend and, as a result, collectors turned up in record numbers.
It became apparent that the weekend was going to be something special when a brand-new work by Godard titled "Balancing Act" shattered Park West's previous record for the most works of a single image sold by any artist in a single day.
The demand for "Balancing Act" was completely unprecedented, selling 194 copies to enthusiastic collectors, and the original published painting that the work was based on sold for over $65,000 during the weekend.
Godard also used our September 1 auction weekend to debut his new "Hearts of Hope" painting. For years, Godard has regularly created new paintings featuring inspirational heart designs and proceeds from the sale of those paintings are donated to St. Jude's Children's Hospital. The original of Godard's new 2022 "Hearts of Hope" sold for nearly $100,000 this past weekend with over 30 graphic editions of the design selling to excited collectors as well.
"There aren't many artists who have a bigger heart than Michael Godard," said Park West Principal Auctioneer Jordan Sitter. "His commitment to philanthropy is inspiring, and it's just another reason why people love his art so much. He's an electrifying presence, and the way the audience reacted to him this weekend proves that."
Sitter, who's been an auctioneer with Park West for over 20 years, also became part of the fun this weekend. Because Godard came to the preview show dressed as Bob Ross, Sitter showed up to the Saturday auction dressed as Godard complete with a wig, bandana, and painted-on tattoos.
Sitter got the "tattoos" during Michigan's annual Arts, Beats, & Eats Festival—the designs included Godard's signature olives and the name "Albert" in a heart as a tribute to Park West Founder Albert Scaglione.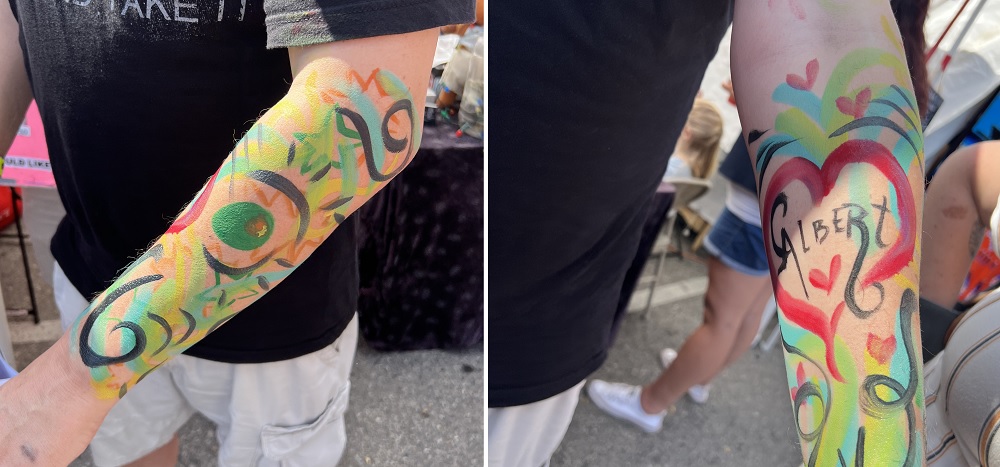 Park West's collectors lit up social media as the auction weekend progressed, praising Godard's new artwork and the lively tone set by Sitter and his weekend co-host, Park West's Senior Gallery Director Morris Shapiro.
"It's always a party when Michael Godard shows up," said Sitter. "He goes out of his way to make our online collecting events special for our guests and, as you can tell by his record-breaking weekend, they love it."
Other artists featured at our September 1 auction weekend included contemporary artists like Ashton Howard, Hunt Slonem, and Marko Mavrovich and art world legends like Pablo Picasso, Pierre-Auguste Renoir, and Joan Miro.
Remember—you can easily sign up for our upcoming auction weekends by simply filling out our interest form HERE. Who knows who will show up next weekend?