5 Artists that Honor America and its Heroes this Memorial Day
There are various ways to show pride and love for your home country, as well as your deep appreciation for the brave women and men who have given their lives defending it. This Memorial Day weekend, some may choose to decorate their flower beds and lawns with red, white, and blue flags, while other Americans come together to celebrate with music and food cooked over an open flame. Many artists turn to their craft to honor the ultimate sacrifice made by over a million American soldiers in wars and conflicts during this nation's nearly 250 years of history and to pay homage to the American flag and the diverse country it represents.
Park West artists are no different in being inspired by the colors, emotion, pride, and love of their country, with many utilizing the reds, whites, and blues of their palettes to paint stirring tributes to the complicated path to freedom the United States has and continues to walk. Here are 5 works of art from incredible Park West artists that honor America in unique ways.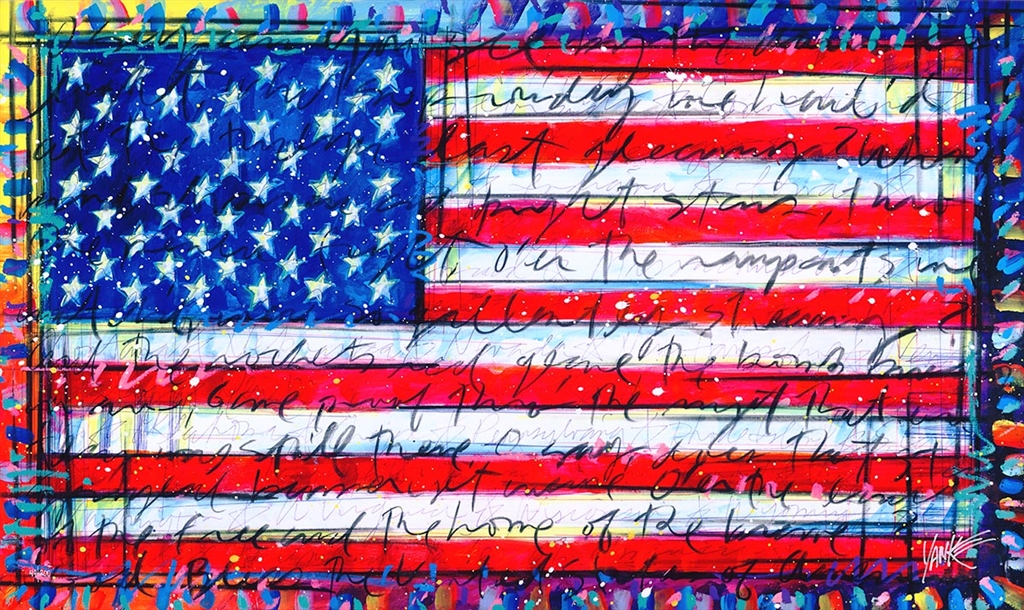 "Yanke Doodle 2012," by Tim Yanke
A master of blending nostalgic imagery with the tones of the Southwest, Tim Yanke's beloved "Yankee Doodle" series shows the U.S. flag in a whole new light. His music-inspired abstract canvases are filled with energy, movement, and a quiet-kind-of-loudness that experiments with famous iconography to cull brand-new emotions from viewers. In "Yankee Doodle 2012," Yanke infuses the U.S. flag with a touch of chaos through incoherent script writing and paint splatters – a la one of Yanke's inspirations, Jackson Pollock. The result is a painting that speaks to the relative youth of our country, as well as its ability to be many things in a single moment – from a traffic jam in a crowded city to the wide open expanses found across America.

"For Those Who Gave All" by Michael Godard
Godard is famous for his outrageous olives and sublime strawberries and for the personification of these scrumptious foods in his paintings. In this powerful work of art, the "Rock Star of the Art World" turns the dial down a few notches on his trademarked fun. In doing so, artist Michael Godard presents a solemn, moving artwork that combines the wall of names familiar to those who have ever had the distinct privilege of standing before the Vietnam War Memorial in our nation's capital, an eagle bowing its head in honor of the fallen, and the famous image of Marines raising the U.S. flag on Mount Suribachi during the Battle of Iwo Jima in the final stages of the Pacific War during World War II.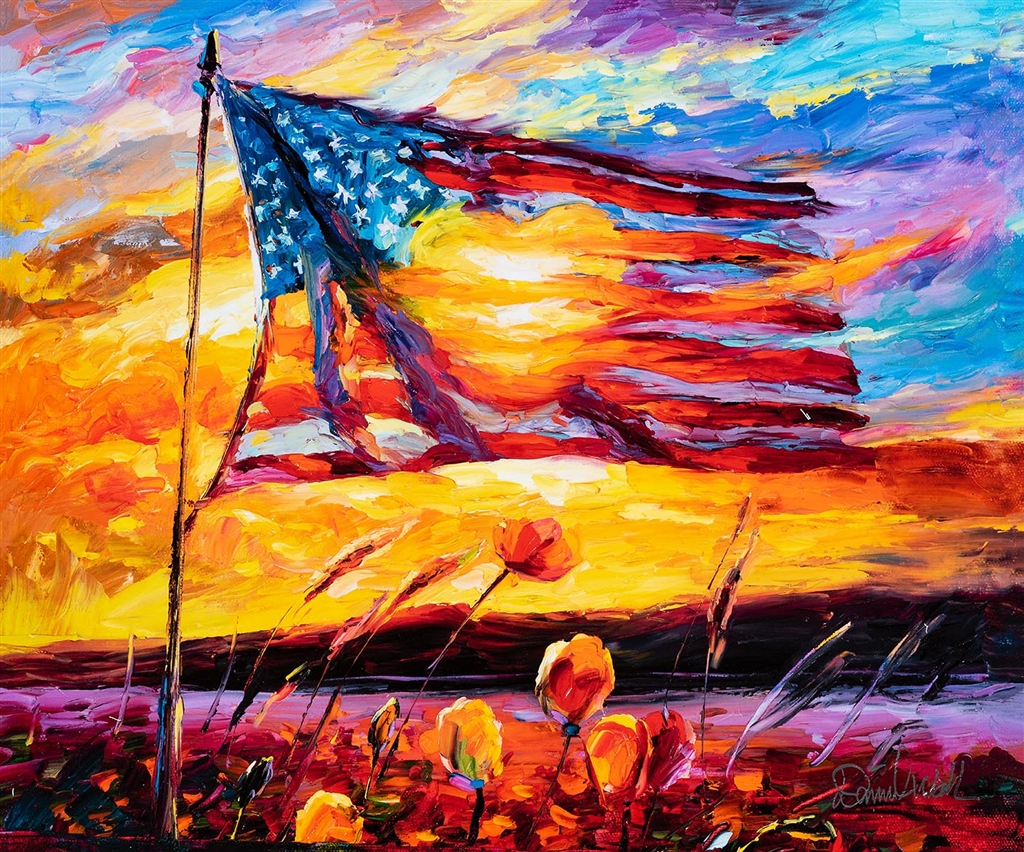 "The American Dream" by Daniel Wall
Amber waves of grain, twilight's last gleaming, and the proof through the night that our flag was still there — Daniel Wall's remarkable painting, "The American Dream," is a warm, evocative dreamscape that honors both the flag, its proud history, and the heart literally at the center of the country it represents. This work is extremely special because even in fractious times, the American flag, as Wall envisions it, is capable of bringing us together and helping us honor fallen heroes on Memorial Day and every day after. We can't imagine a better use of immense artistic talent than that.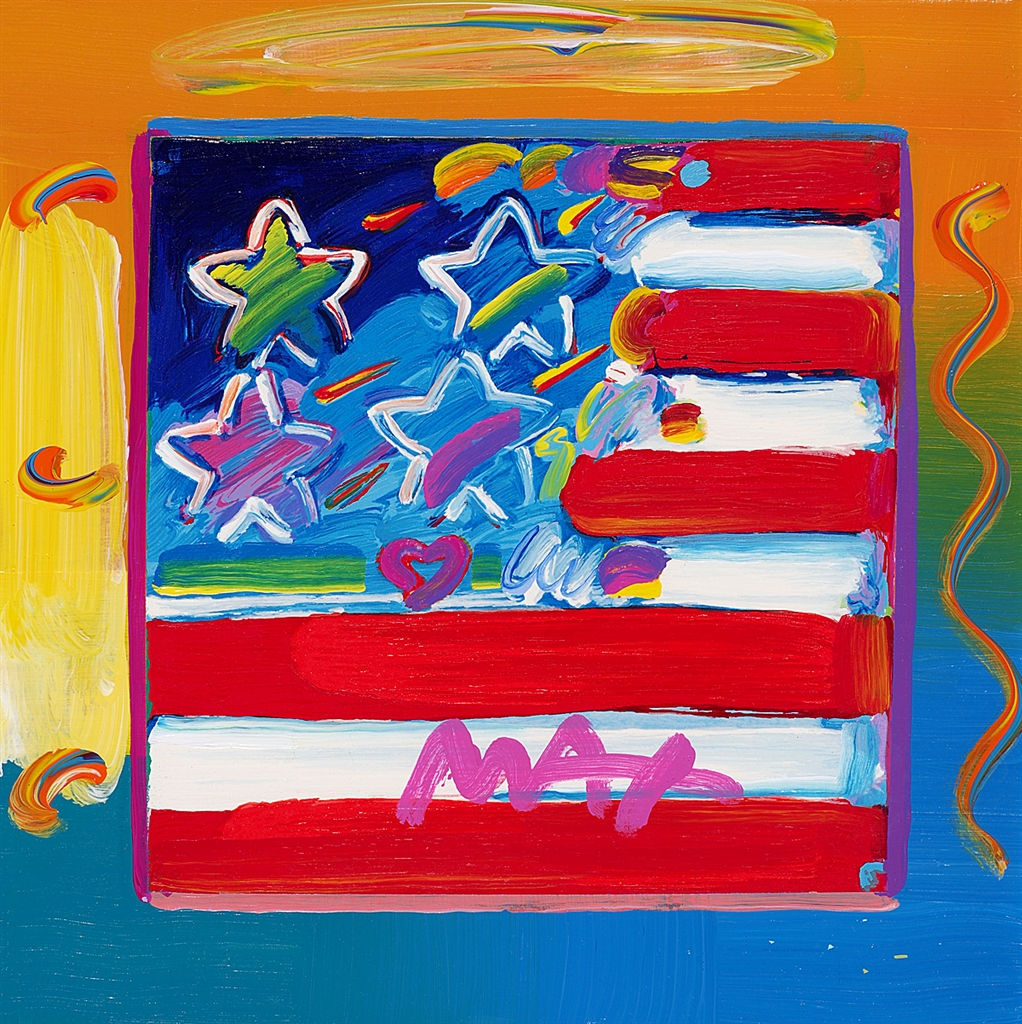 "Flag with Heart" by Peter Max
Peter Max regularaly honors America with vibrant tones and an energy that's unmatched in the art world. "Flag with Heart," as a title, couldn't be more perfectly suited for this proud work of art that presents the best of American celebrations. While the stars and stripes will be familiar to all citizens, it's the way Max manipulates these universal American design elements to create something even bolder than the democratic ideas that all men are created equal and that we will welcome, "…your tired, your poor, your huddled masses yearning to breathe free". This painting shows what a bright, young country America still is, and will look fabulous hanging in any home or office.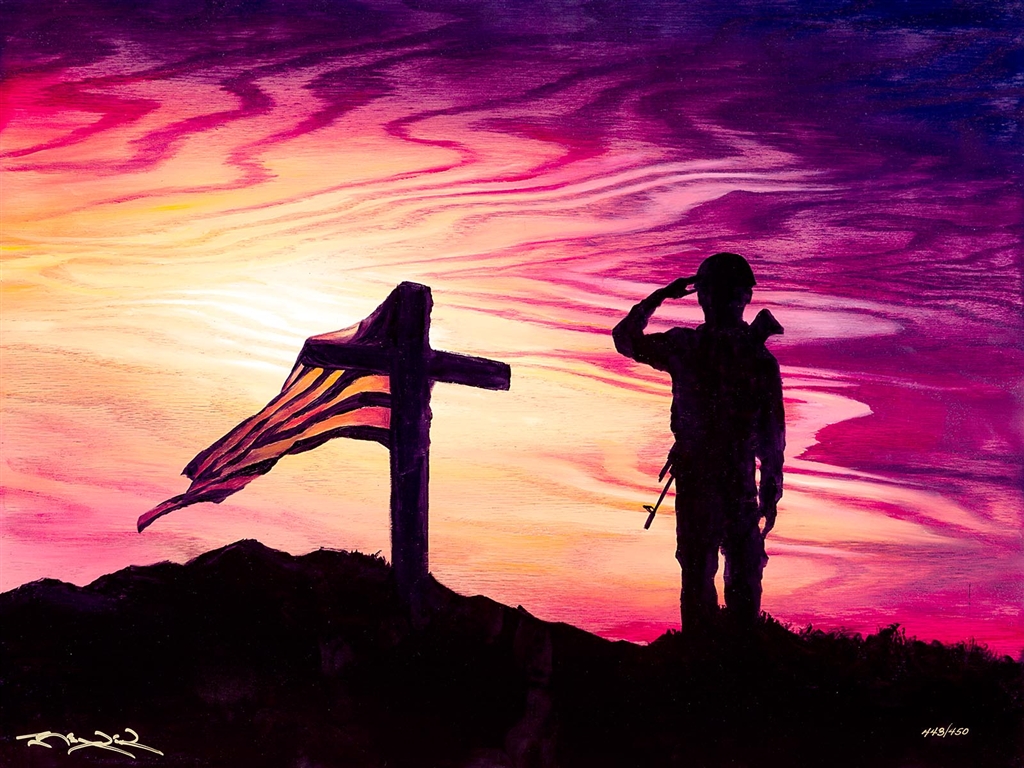 "Triumphant Salute" by Matt Beyrer
Using simple planks of wood, Beyrer has emerged as one of the most creative and resourceful artists working today. The depths of color and the texture of his work can evoke intense emotional responses in collectors. This stunning painting called "Triumphant Salute" typifies the power in the natural elements Matt Beyrer works with. We see the ripples of a warm summer evening sky, much like the ripple in the flag as it blows in the wind. And we see a cross, a symbol of remembrance and devotion, and a soldier solemnly paying their respects to a fallen friend. 
To collect powerful works of art that honors America in a variety of different ways, register for our exciting online auctions or contact our gallery consultants at (866) 654-2882 ext. 4 or sales@parkwestgallery.com