The Many Talents of Artist Cris X Delight Online Collectors
One of the best parts of our online telecasts is how our collectors get the unique opportunity to venture into the studios of their favorite artists and watch exclusive interviews with the artists themselves. During a recent live-streaming interview, collectors got to meet one of the newest members of the Park West family—Cris X, a multi-talented artist with a seemingly infinite imagination.
Park West Auctioneer Jordan Sitter noted that Cris X is a unique force in the art world because "some artists are so comfortable working in a certain dimension, certain medium, or certain genre, but [Cris X] just jumps all over the place." Simply by looking around his studio, anyone can see that this artist loves experimenting with a multitude of artistic mediums. He uses airbrushes, paintbrushes, metal grinders, clay, metal, wood, and anything else he can get his hands on to create his jaw-dropping, candy colored art.
When asked why he chooses such a variety of difficult mediums to work with, Cris X smiled and said, "I get bored easily."
Let's dive deeper into six of Cris X's artistic creations and explore the stories behind each work.
Fiberglass Sculptures
A fiberglass reproduction of a hammerhead shark is what first got Cris X into art galleries. After years of perfecting his use of automotive paints doing custom car paint jobs, his fiberglass shark gave him the opportunity to transfer that same painting technique to the fine art world.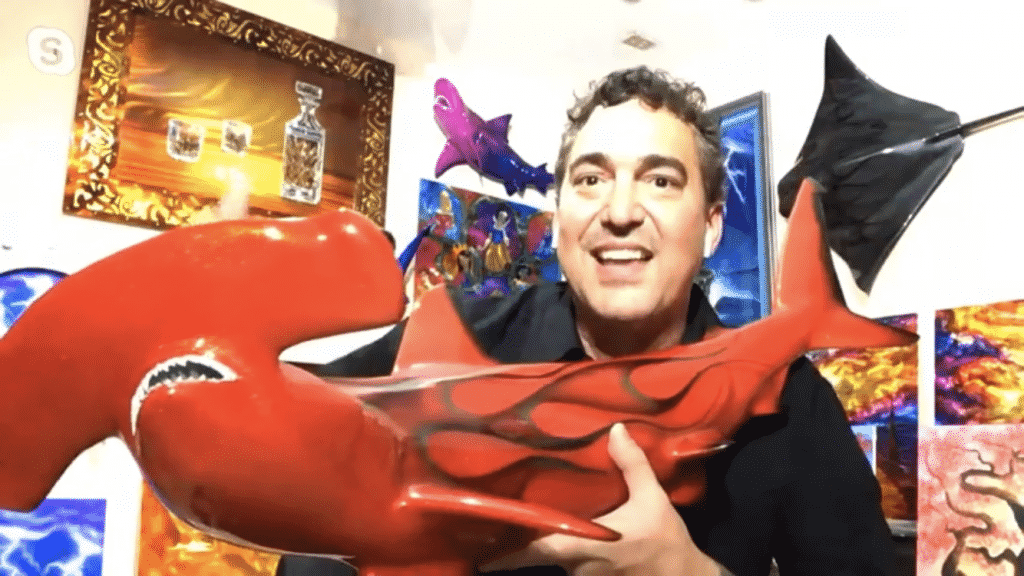 He starts by making a resized, environmentally-friendly cast of a life-size hammerhead shark model.  After the fiberglass model is cast, he details the hammerhead shark with automotive paints and an airbrush. He sees this approach to sculpture as "complimenting nature without taking away from it."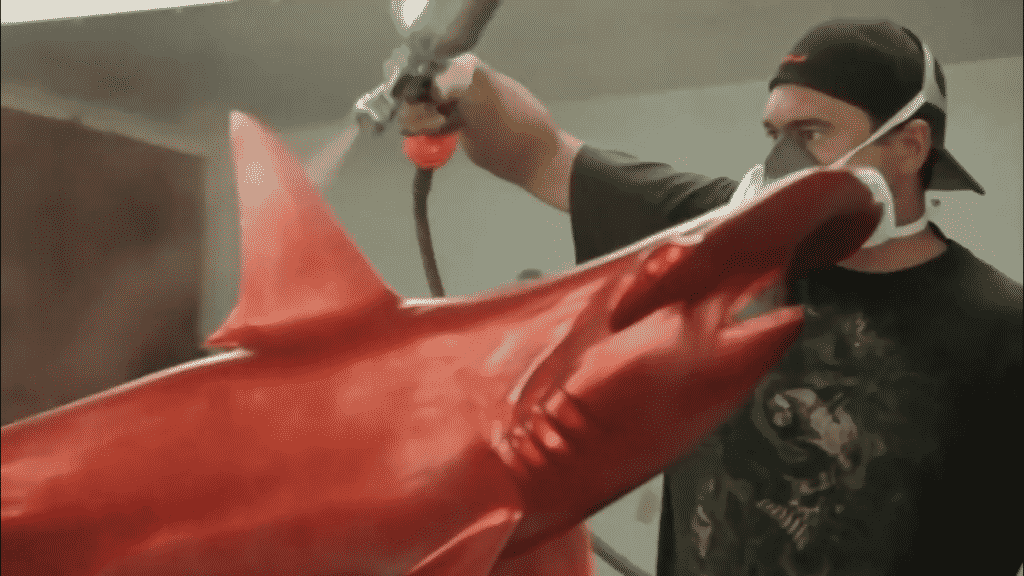 Impressionistic Metal Paintings
After getting comfortable with his fiberglass reproductions, Cris X turned to flat pieces of metal and began experimenting with unique Impressionistic-style paintings.
Cris X explained that he always has a plan when starting a new piece of work: "When I do a painting, I really try to build a blueprint of how the grinds are going to be incorporated." For example, "doing [a] different grind for the water and the sky gives [a painting] nice contrast."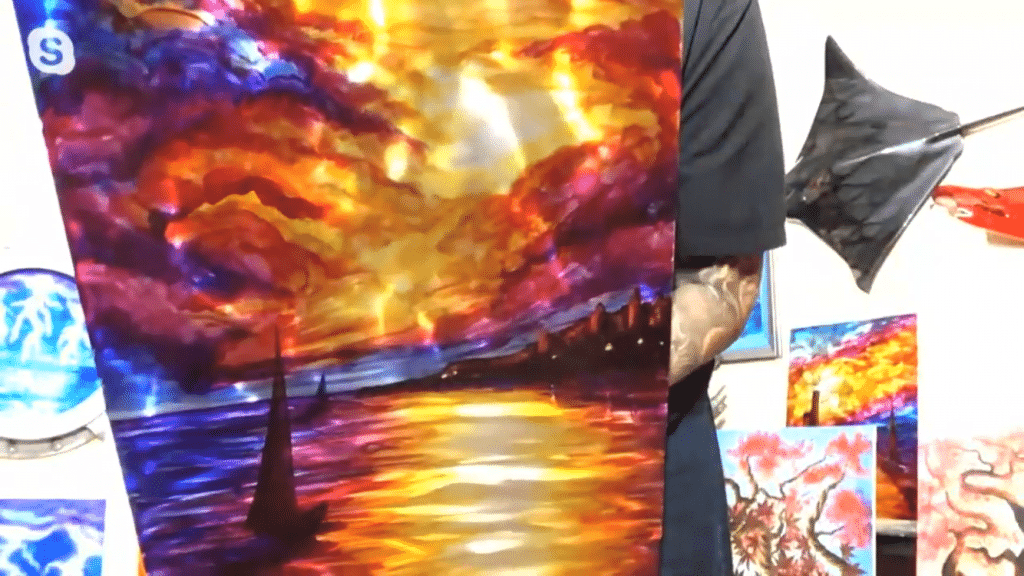 He uses the grinder to create the textured background of his landscapes. This step is necessary because it "gives [my paintings] that three-dimensional, reflective quality."
Once Cris X is happy with the base grind, he goes in with the same automotive paints he uses for his fiberglass reproductions, but applies the paint with a more traditional tool. He noted that, on these works, "I am strictly using paintbrushes with [automotive paints] instead of coming in with airbrush and spray guns. That gives it a unique look."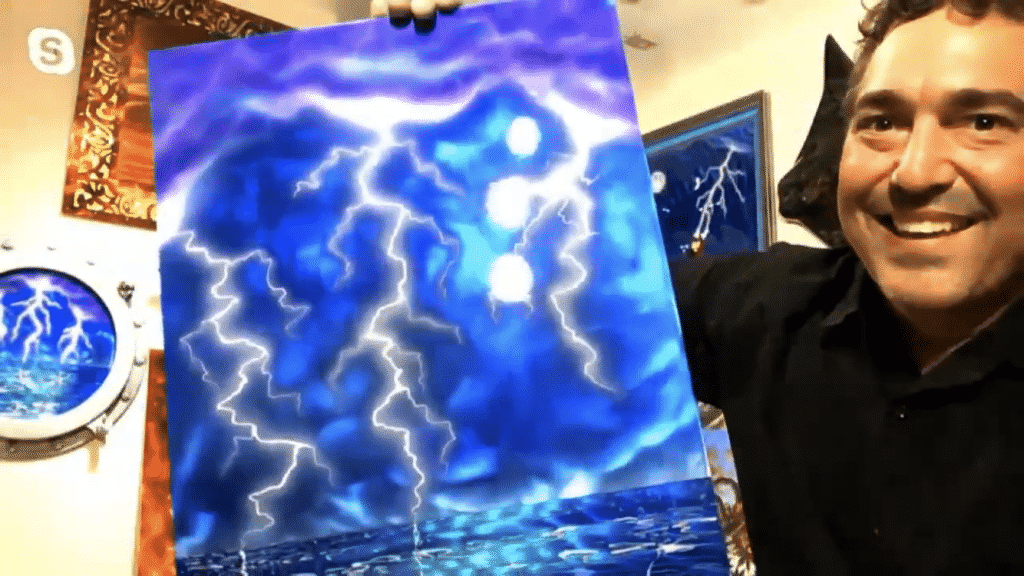 The result is a hypnotizing work of art that literally captures the light and glows. In fact, the white paint in all of Cris X's artwork will glow in the dark for up to six hours!
Porthole Paintings
Cris X's porthole paintings offer a unique way for his fans to collect their favorite original paintings.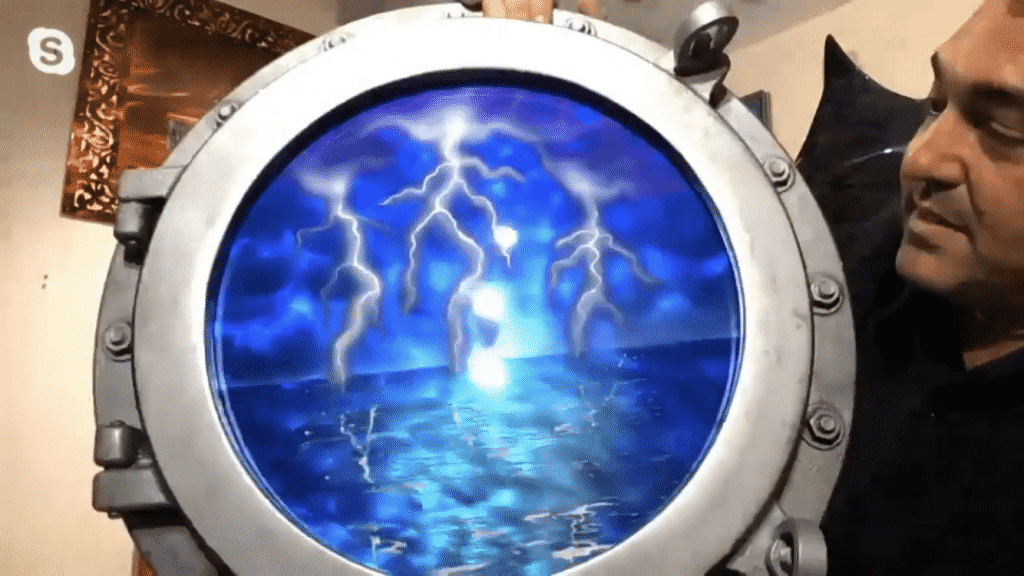 During the online interview, Cris X detailed how he creates each porthole frame for our collectors: "I had [the porthole] sculpted and then pour-cast out of acrylic, that way it's a little bit lighter. To do the coloring, I do like a faux patina, so I can get that metal look to it."
Each porthole frame holds an original Cris X painting. The artist specifically designed these for "people who love cruising who can't cruise. Now you can have a porthole in your wall in your home!"
"Framed" Artwork
Cris X has also innovated another unique approach to framing that isn't actually a frame at all.
While showing off one of his "framed" works during the interview, he pointed out that, "The design around [this painting] is actually part of the art. It's a separate water jet cut piece of metal that, after painting is done, it is attached and superimposed."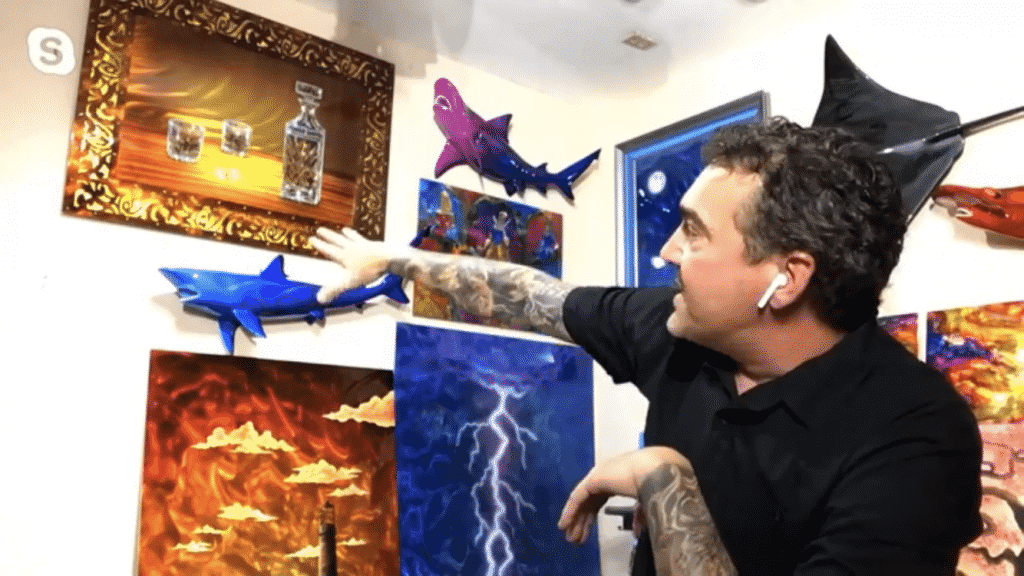 The overall painting technique that Cris X uses for these works is different than the Impressionist style seen in his other paintings as well.
Cris X mentioned that he has been spending a lot of time developing his painting skill in order to use his signature automotive paints to create realistic artwork. It's taken a long time for him to perfect, but he likes how unique the technique is to his artwork.
Japanese Maple Tree Series
Just when you might think that it would be easy to classify Cris X as an exclusively metallic artist, he surprises us again with a brand-new series of paintings on canvas featuring actual leaves from actual Japanese maple trees.
"[This series] is very new for me." Cris X told our collectors, "I came out with these last year . . . It's my first series on canvas and they're made with real leaves."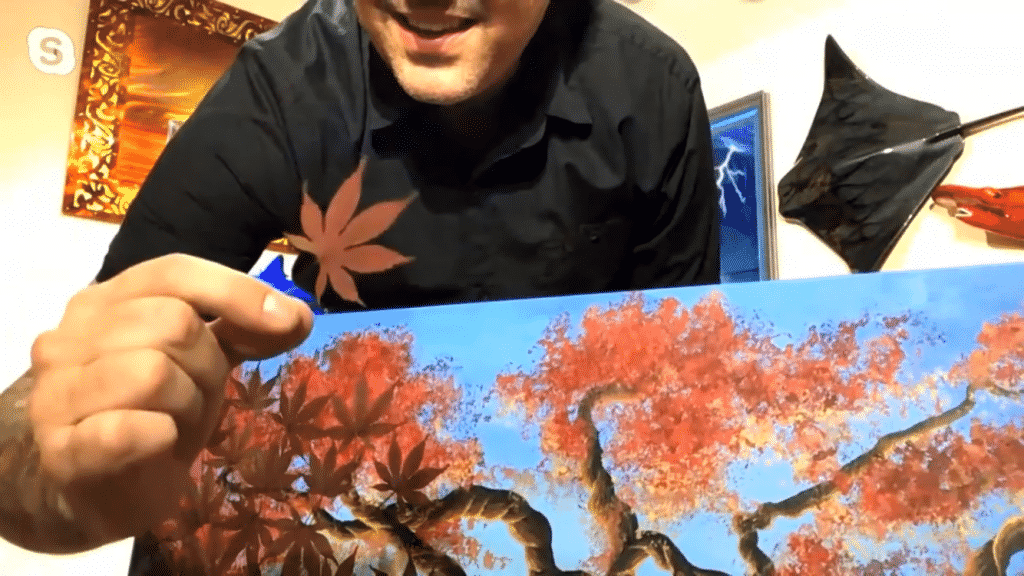 He paints the background of the trees with immaculate care and detail, hiding images within the leaves and the natural curves of the trunk. If you look closely at the particular painting Cris X displayed during his interview, you can see an intertwined couple forming the trunk of the maple tree.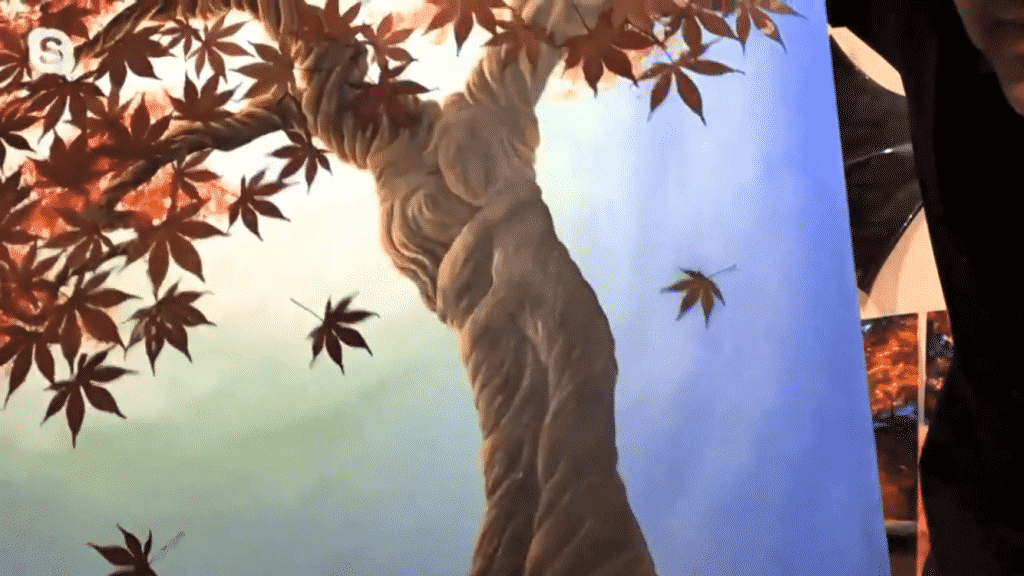 Real Japanese maple leaves are then applied to the canvas for an additional level of natural texture. For the finishing touch, the entire painting is encased in a layer of resin. This is both to protect the art and to give it a beautiful glossy finish.
This series might be Cris X's first time painting on canvas, but it is not his first experience working with resin.
Sculpture Abstraction
Cris X's newest series of three-dimensional art is called "Sculpture Abstraction" and it definitely puts his resourcefulness on full display. These works of art are actually created using recycled industrial resin that is a byproduct from the artist's favorite surf shop.
"Every piece that makes up those sculptures, this is an industrial byproduct," he explained, "I get my surfboard shaved for me and, when they go to the resin room, every surfboard that's fiberglass is coated with resin, which drips down and is caught in trays."
"Every line of random color that you see in there is the soul of one surfboard. These take a year to really build up. So when I found these, I tried to do something cool with them, hence the sculptures were born."
To the delight of Cris X's collectors all over the world, his exponential creativity isn't going to stop any time soon. His incredible imagination is sure to provide us with wildly innovative works of art for years to come.
If you want to join Park West for our in-depth, live-streaming looks into our artist's studios, all you need to do is register for one of our upcoming online collecting events here.
Follow Cris X and Park West Gallery on Instagram!

To collect the art of Cris X, attend one of our exciting live online auctions or contact a gallery consultant at +1-248-354-2343 or at sales@parkwestgallery.com
Related Articles