See What 5 Park West Artists Have Been Working on During Quarantine
While most of us have been taking up new skills like baking bread, knitting, or making candles during our COVID-19 quarantine, Park West's extraordinary artists have been experimenting in their art studios.
Now that their typically busy travel schedules have come screeching to a halt, many of our artists have found—for the first time in a long while—the time to explore something new. During one of our recent online telecasts, Park West Director Morris Shapiro commented that he thinks "the work [these artists] create in 2020 is going to be some of the more memorable work they ever create."
One of the best parts of Park West's new online telecasts is that, every week, we live-stream directly into the studios of our artists, so they can give us an inside look at what they've been working on while they've been stuck in their studios for the last few months. Let's take an exclusive peek at what five of our artists have been cooking up during quarantine.

Tim Yanke
Quarantined in his northern Michigan studio, Tim Yanke is "painting stuff that [he's] never painted before." The "Neo-West" artist has been taking advantage of the quality studio time he's had for the last few months and recently showed Park West online collectors some of his newest projects, including his new abstract Color Bar series.
Yanke's love of bold hues has always been obvious in his work, but his knowledge of color theory is truly given center stage in these new Color Bar creations. "They're time consuming, very simple, but man they have the punch," he explained to our online audience. "What's interesting about these is that there is a right and wrong way [to paint them].  You have to understand the color theory behind them or else the viewer will see something that's not jiving."  These bright compositions give Yanke the opportunity to explore his passion for eye-catching color to the fullest extent.
Patrick Guyton
Metallic art genius Patrick Guyton has also been busy expanding his horizons over the last couple months. During a recent online telecast, he told us, "It's been a great time to experiment and try a bunch of new things. I've been getting as out of the box as I can. Times like this are really great for that because when else would you experiment like this?"
His creative wheels have been turning constantly and he is in the process of developing "a little more of a northern European approach to some of the gold leafing." He explains that he's "always tried to branch out to other cultures that utilize gold leaf for some many things in art, so this is another phase I'm developing right now and it's looking really cool."  Unfortunately, at this stage in development, Guyton is only able to reveal a unique tool that he has invented to use in his new technique.
When discussing the art industry in general, Guyton estimates that 2020 "is where you'll see the dividing line in a lot of people's artwork going forward. I think you're going to see that the turning points have begun during this time. I know I'm trying to get my hands in many different things right now doing different kinds of approaches and stuff."
He finished his studio tour with a promise to Morris Shapiro: "When we see each other again, [I'll have] some fun groovy new stuff for you."
Lebo
David "Lebo" Le Batard's partnership with Park West has given him the opportunity to deeply explore his talent for creative visual storytelling. "During this time in quarantine," Lebo told our online collectors, "I started thinking… back to a lot of the things that originally sparked my interest as an artist."
Lebo realized that what he was missing was a sense of collaboration. To fix this, Lebo has a special idea to get his collectors more involved in his creative process.  He said that, one day, he would like to get to the point where he can work with his collectors "to help create their own visual story that they can tell and I can help visualize and illustrate for them. We do it together and it will include sketches and dialogue about what the piece is about and the actual completed piece itself."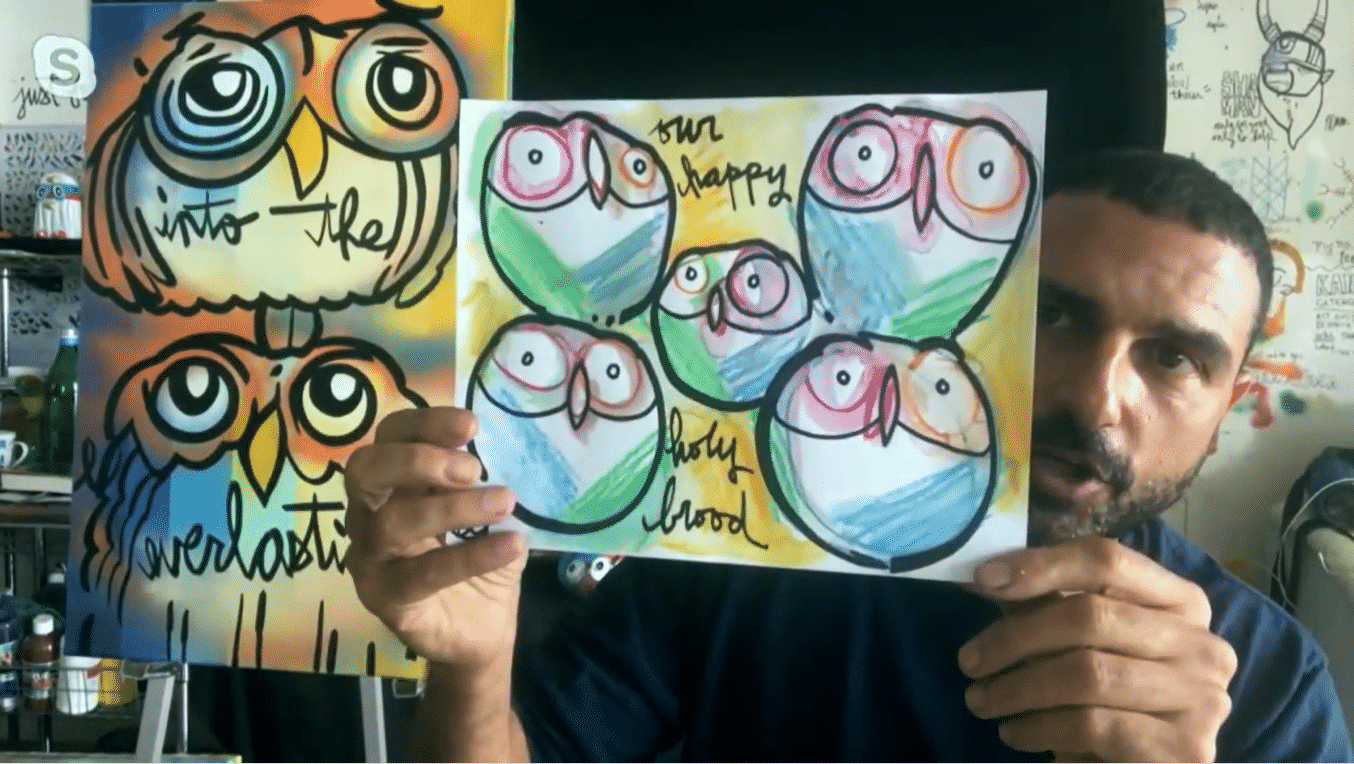 Lebo has already begun offering these once-in-a-lifetime chances to collaborate with him as a special opportunity for collectors to bid on at Park West's online auctions.
Michael Godard
Known as "The Rock Star of the Art World," Michael Godard has been trying new approaches to his art while he's been spending more time at his home studio in Las Vegas during quarantine.
"I've been working on a smaller scale because people are always saying 'Godard, I like art and I love your art and I'd love to get another piece but I don't have room!' So, guess what? I've created some little paintings."
Godard's new "skinnies" are "for people that don't really have the room in their house for more art because they're art lovers."  Rather than solely painting his famous olives and grapes, Godard has gone "all out," painting luminous city and party scenes on canvases—all captured on a smaller scale than he has ever worked on before.
Cris X
One of Park West's newest artists, Cris X, is a jack of all trades. While he's stuck in his studio during quarantine, he's been busy exploring new mediums and different approaches to his favorite mediums. He is especially excited to get back into techniques that he hasn't worked with in a long time. One of these mediums is what Cris X calls "Sculpture Abstraction."
Cris jokes that the inception of these sculptures was actually an accident. "Every piece that makes up those sculptures, this is an industrial byproduct," he explains, "I get my surfboard shaved for me and, when they go to the resin room, every surfboard that's fiberglass is coated with resin, which drips down and it's caught in trays." He uses those blocks of resin as the basis for his "Sculpture Abstraction."
This kind of resourcefulness is what Cris X is known for—in the past, he has worked with atypical materials like carbon fiber, automotive paints, and even Japanese maple leaves. Each block of resin that Cris X uses from the surf shop is grinded down and sanded to perfection.
"Every line of random color that you see in there is the soul of one surfboard. These take a year to really build up.  So when I found these, I tried to do something cool with them and the sculptures were born."
If you are interested in collecting artwork from any of these Part West artists, register for our exciting live online auctions or contact a gallery consultant at +1-248-354-2343 or at sales@parkwestgallery.com
Follow Tim Yanke, Patrick Guyton, Lebo, Michael Godard, Cris X, and Park West Gallery on Instagram!