Meet Chris DeRubeis: The Genius Who Transforms Metal into Fine Art
Artist Chris DeRubeis' style—Abstract Sensualism®—is entirely his own. With a sleek, soft, and organically flowing aesthetic, DeRubeis' artwork is earnestly collected around the world.
DeRubeis believes his work can alter the way people perceive contemporary art, and challenges art lovers to enter a world of celestial abstraction and shimmering light created by pigments, flames, and flying sparks.
A critical aspect of DeRubeis' Abstract Sensualism® is his medium of choice: metal.
His technique involves painting and manipulating its surface with a mixture of chemicals, power tools, and other techniques.
The metal panels he uses range from aircraft aluminum to precious metals like silver, gold, brass, and copper.
Regarding his artwork, DeRubeis states, "I favor metal because I can combine a form of sculpture as the foundation for my expression and have found a way to enhance my ability to communicate emotions more intently. All art should inspire and evoke emotion. Art should be something you can actually feel."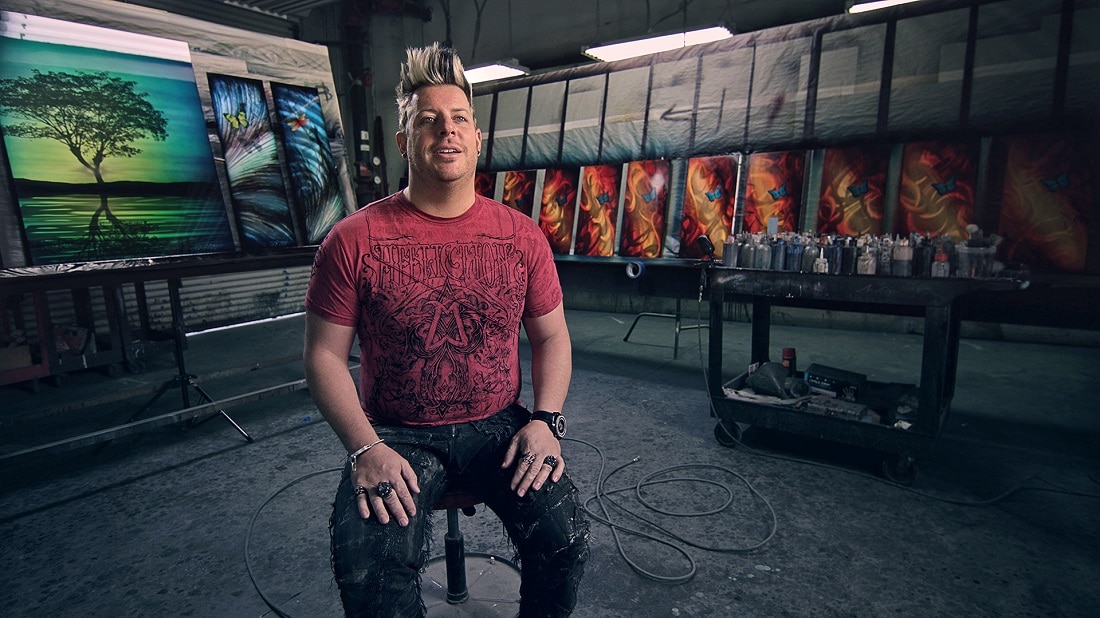 As part of his process, DeRubeis subjects his metal to flash freezing and intense fire. DeRubeis says this technique creates textures that resemble stone or marble, something he couldn't reproduce unless exposing the metal to extreme elements.
After creating his desired textures, DeRubeis applies layers of paint to build up the image, and then brushes the artwork with a final protective coating. The final result is artwork that gives the illusion of movement when spectators view it from various angles.
DeRubeis' technique doesn't allow him to create limited edition works, meaning every artwork from DeRubeis is unique. The subject matter or title of two works may be the same, but the grinds are never identical and his chemical concoctions react differently each time.
The unique qualities of DeRubeis' artwork have transformed him into an international art sensation. A protégé of famed art publisher David Smith, DeRubeis received two nominations by the First Annual Fine Art Awards, televised live from the MGM Hotel and Casino in Las Vegas, Nevada. He won the MUSE Award in the "New Movement" category.
More recently, DeRubeis parlayed his love of fine wine into a new venture, Abstract Sensualism® Vineyards. His goal was "to craft a world class Cabernet Sauvignon that would reflect the ethereal and emotional nature" of his artwork.
If you're interested in collecting the works of Chris DeRubeis, register for our exciting weekly online auction or contact our gallery consultants at (800) 521-9654 ext. 4 or sales@parkwestgallery.com
Follow Park West Gallery and Chris DeRubeis on Instagram.