Michael Godard rocks Park West with inaugural exhibition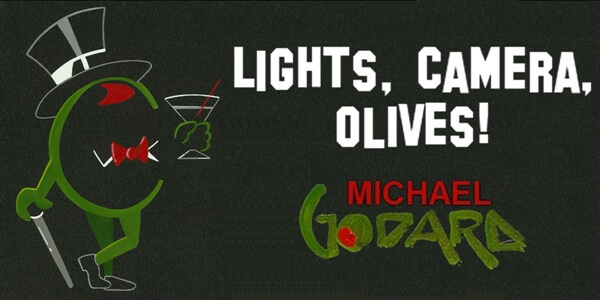 The intoxicating artwork of Michael Godard brings out the creativity in "olive" us. Discover this for yourself during his first solo exhibition with Park West Gallery.
Experience "Lights, Camera, Olives!" from Oct. 8 – Nov. 18 at Park West Gallery in Southfield, Michigan, featuring more than 30 new paintings that are available to collect.
Guests have the rare opportunity to meet the "rockstar of the art world" in person during an opening reception on Saturday, Oct. 8 from 7:30 p.m. to 9:30 p.m. Light refreshments will be served.
"Rockwell dominated the 1920s-1960s, Peter Max dominated the 1960s-1990s, and Michael Godard has ushered in a new era of art that the world won't soon forget," says David Gorman, Park West Gallery director.
Godard's paintings are instantly recognizable, depicting anthropomorphic olives, classic cocktails and Las Vegas themes. They are full of hidden details and stories of pain, love, conflict and success, and are admired by people from all walks of life.
"I want to share a laugh, it's a great way to break the ice, so I look at my art as happy art, and also a way to have a dialogue between a complete stranger where you find some common ground," Godard says.
Godard is collected all over the globe – literally – with his art featured in cruise ship auctions by Park West, magazines, television shows, casinos, hotels and more. He has appeared on A&E's "Criss Angel's Mind Freak" as well as on the Biography Channel, CTV, MTV and HBO.
Godard worked as an engineer prior to becoming an artist. When he broke free from his conservative job he decided to grow out his hair, wear bandanas and bear colorful tattoos, which ultimately led to his rockstar appearance.
Serious fun
As fun and lighthearted as Godard likes to be, he is also a dedicated philanthropist. He was inspired by his 16-year-old daughter, who in 2006 passed away after her battle with brain cancer. He emphasizes that philanthropy is the most important aspects of his career.
"We all have someone that has been touched by illness, and it's a tragedy," he says. "Having an opportunity to do something and make a difference isn't an opportunity for me, it's an obligation."
Gorman notes that Godard follows in the footsteps of artistic giants before him, using his gift to raise money and awareness for issues that include multiple sclerosis, assistance for veterans, no-kill animal shelters and cancer research.
"Norman Rockwell painted Ruby Bridges for the cover of 'Look' magazine to promote civil rights. Peter Max created images for a series of posters following 9/11, where the proceeds went directly to the victims and their families," Gorman says. "Michael Godard has created numerous images whose proceeds have gone directly to St. Jude's Children's Hospital, in hopes to prevent cancer in generations of children to come."
Admission to the exhibition and gallery is free of charge. Park West Gallery hours are 10 a.m. to 6 p.m. Monday through Saturday and 11 a.m. to 5 p.m. Sundays. For more information and to RSVP for the opening, call 248-354-234, email RSVP@parkwestgallery.com or visit www.parkwestgallery.com/rsvp.