Behind the Artist: Patrick Guyton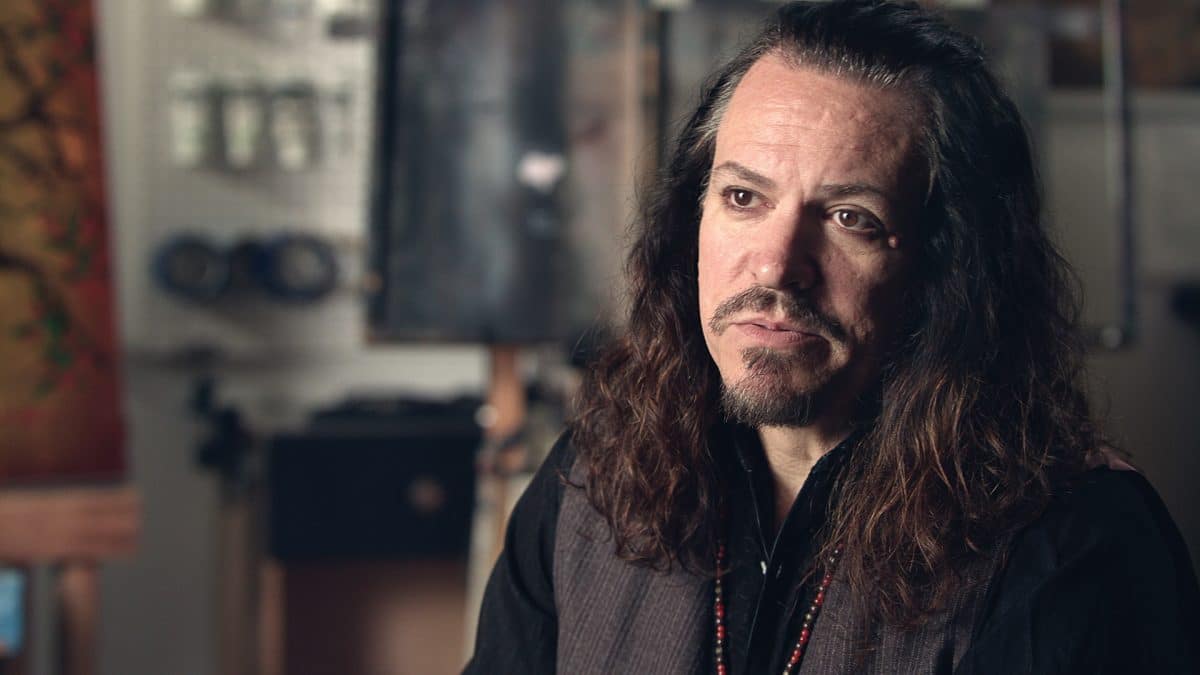 The path to becoming an internationally renowned fine artist might not be paved in gold, and that's fine with Patrick Guyton—he prefers to put gold to better use.
Guyton's own career path has had plenty of twists and turns. Born in Pennsylvania, he learned fine art and commercial sign painting from his father. After a brief stint as a furniture truck driver, Guyton refined his art education at the Art Institute of Pittsburgh in 1984. After graduating, Guyton moved to California in 1987 with aspirations of becoming a musician.
On the West Coast, Guyton honed his artistic abilities to support himself. He learned from some of animation's greatest artists while working as a background painter with Warner Brothers, while also designing custom art for computers and vehicles.
When the U.S. economy tanked in 2008, Guyton's commissions dried up, and his family's financial situation worsened with each passing day. In a final attempt to find work as an artist, Guyton applied to be an artist's assistant.
He scored the job, but when the artist's publisher saw Guyton's work, he instead immediately offered to represent Guyton.
From that day on, Guyton's career has continued to soar. Fans around the world love his unique artwork, which uses rigorous metal gilding and leafing techniques to create unforgettable compositions that incorporate thin sheets of silver, copper, and yes, even gold.
Here are some insights into what drives this talented artist.
Painting Precious Metals
The process of gilding has been used throughout history. Guyton was first exposed to gilding as a sign painter for automobiles and storefronts, but he gained a newfound appreciation for it through his studies of art history. He studied the artwork of ancient Egypt and Japan, which employed the technique to embellish documents, buildings, and other treasured objects.
"I always remember looking at a lot of leafed work and no matter what region it came from, it was beautiful," Guyton says. "I tried to think about bringing something back to the forefront that has just gone underappreciated, or has just been used as décor."
To create a work of art, Guyton doesn't simply buy a canvas and start painting. He instead applies the metal leaf (such as gold, silver, or platinum) tile-by-tile to a special board. He then manipulates the surface—with electrocution and glazing—to draw out extra tones and colors. Finally, he adds meticulous details by hand-painting the surface with brushes.
The process may be tedious, but the result is magnificent. Unable to replicate his art via printmaking, each of Guyton's works is a unique version of itself.
A Foundation in Animation
In 1997, Guyton worked at Linda Jones Enterprises/Warner Brothers. As a background painter, he rubbed shoulders with legendary figures like Warner Bros.' Chuck Jones and Maurice Noble, who worked on "Snow White and the Seven Dwarfs." This led to Guyton's brief career with Hanna-Barbera painting animation celluloids.
"I probably learned more with these people than I ever did in art school," Guyton says.
The influence these artists had on Guyton is still felt today in his artwork. Guyton became adept at using negative space and multiple layers in one work. As a result, he approaches his art with a Minimalist style, expertly creating movement, tone, and atmosphere with very few details.
Weightless Subjects
Guyton's subject matter is often inspired by his choice of medium. Because gold leaf is so light, Guyton selects subjects that complement its airy, almost mystical nature. As such, Guyton's motifs include hummingbirds, flowers, and doves.
While his creative process may be tedious, there is a silver lining. Guyton's art is instantly recognizable for his use of leafing, so he is free to paint any subject he desires. This includes his elusive figurative works.
Guyton enjoys depicting mysterious women covered in elegant, flowing fabrics, often revealing a pair of striking eyes and little more. These figurative works are so special that he only creates about 10 to 12 a year.
"I'm not trying to highlight a body or a figure as much as I'm trying to just get that statue-esque figure with an emphasis on the fabric," Guyton says.
Whether it is a delicately-trimmed bonsai tree, a swan floating serenely on a pond, or even a castle, viewers will always know a Guyton when they see one thanks to its shimmering surface.
To view the range and artistry of Guyton for yourself, check out our limited-time Guyton Fall Sale Collection. For information on how to collect the art of Guyton, contact our gallery consultants at (800) 521-9654 ext. 4 or sales@parkwestgallery.com.
If you want to know more about Patrick Guyton, why not hear from the artist himself? Guyton recently appeared on the Park West podcast "Behind the Artist," hosted by Park West Gallery Director and international art expert Morris Shapiro. You won't want to miss it.
Learn More About Park West Artists: