Meet James Coleman: 10 Questions with the Acclaimed Artist
If you're not familiar with the name "James Coleman," you're definitely familiar with his work.
For over 17 years, Coleman supervised the creation of the hand-painted backgrounds for some of the most beloved Disney films of all time, including "The Fox and the Hound," "The Little Mermaid," "Beauty and the Beast," and many more.
He eventually left Disney to pursue his true passion—fine art. Coleman now brings his animator's eye for light and color to his own paintings, which are collected by his scores of fans all over the world.
Our collectors frequently ask us questions about Coleman and his remarkable artwork, so we went to the artist himself for answers. We hope you enjoy this Q&A with the great James Coleman!
1). When did you first realize you wanted to become an artist?
At about 7 years old—it was the first time I thought that being an artist would be a cool thing to do. I always loved to paint and draw from a very early age.
2). What inspires your art?
The beauty and power of nature. Anything I see can be subject matter for a painting, and the endless beauty of nature has a lifetime of subject matter to explore.
3). Have any artists influenced your style?
I would say that the biggest influencers of my art are the Impressionists. My favorites include—not in any specific order—Monet, Van Gogh, Renoir, and John Singer Sargent, to name a few.
4). Can you describe what an animation background artist does?
An animation background artist creates the world that the animated characters live in by hand-painting backgrounds. It starts with the storyboards and ends with the final color correcting of the film. On many of the movies I worked on, it could take up to 1,500 hand-painted backgrounds to create the movie.
5). Out of all the films you've worked on, do you have a particular favorite?
I really enjoyed working on "The Fox and the Hound" and "Beauty and the Beast."
"The Fox and the Hound" was my very first supervisory role, so it was a special moment for me personally. "Beauty and the Beast" was the last film I worked on and probably the most successful in terms of background painting.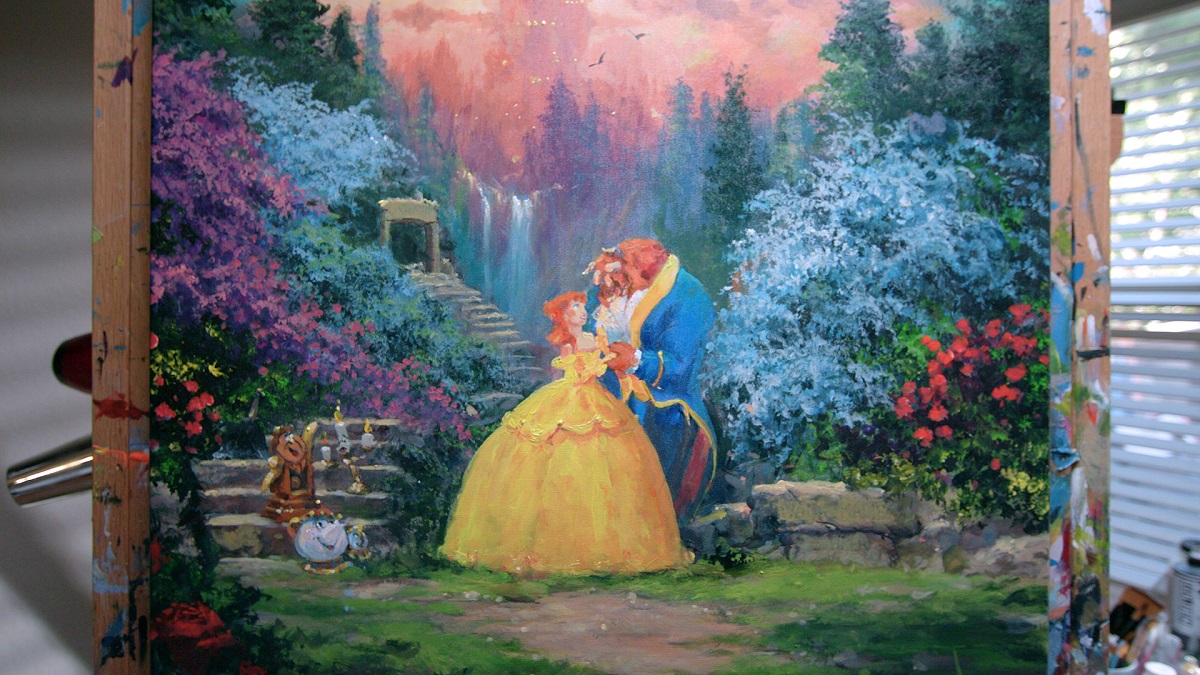 6). What do you want collectors to take away from your art?
I want collectors to not only enjoy the beauty of the art but also feel the emotion and the spirit of a place we all want to be. My desire is to bring beauty and joy into the collector's home.
7). What inspired you to start incorporating leafing into your artwork?
I did many shows in Japan in the 1990s that exposed me to the beauty and skill of the leafed screens they have created over generations. Through many years of trial and error, I began to use leaf in a style that fits my artwork. You will see that my leaf work is free-flowing and spontaneous, much like my painting style.
8). What are the challenges of painting real landscapes vs. imaginary landscapes?
I think it would be easier to paint from a picture. My style has always been a combination of my imagination and my experiences traveling the world. So, really, at the end of the day, being creative can be more challenging then recreating nature from a photo.
9). What do you enjoy doing when you're not painting?
I enjoy traveling, playing with my grandkids, and just enjoying daily life. I do love playing nine holes of golf in the afternoon!
10). Do you have a favorite color?
Red.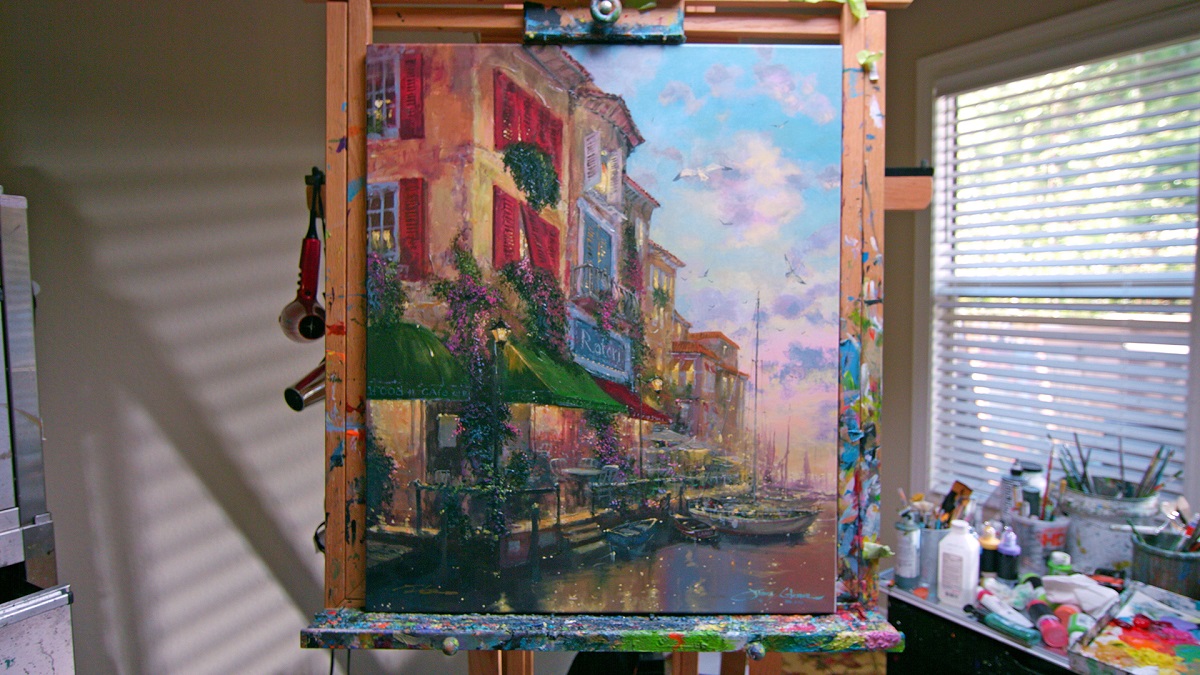 If you're interested in learning more about James Coleman, watch Park West's latest artist video all about this fascinating artist!
LEARN MORE ABOUT JAMES COLEMAN: