Autumn de Forest Inspires Children in Detroit with Self-Expression Workshop
Earlier this week, a group of excited elementary students in Detroit welcomed a new art teacher to their school… international art superstar Autumn de Forest.
The seventeen-year-old De Forest—who has been a professional artist since the age of six—was visiting the Detroit Academy of Arts & Sciences to lead a special workshop focused on helping kids develop methods of artistic self-expression.
In collaboration with the Park West Foundation, De Forest has conducted similar workshops in cities across the country, including California, New York, Connecticut, Tennessee, Washington D.C., and more. In 2018, De Forest even led a special artistic expression workshop for students at Marjory Stoneman Douglas High School in Parkland, Florida.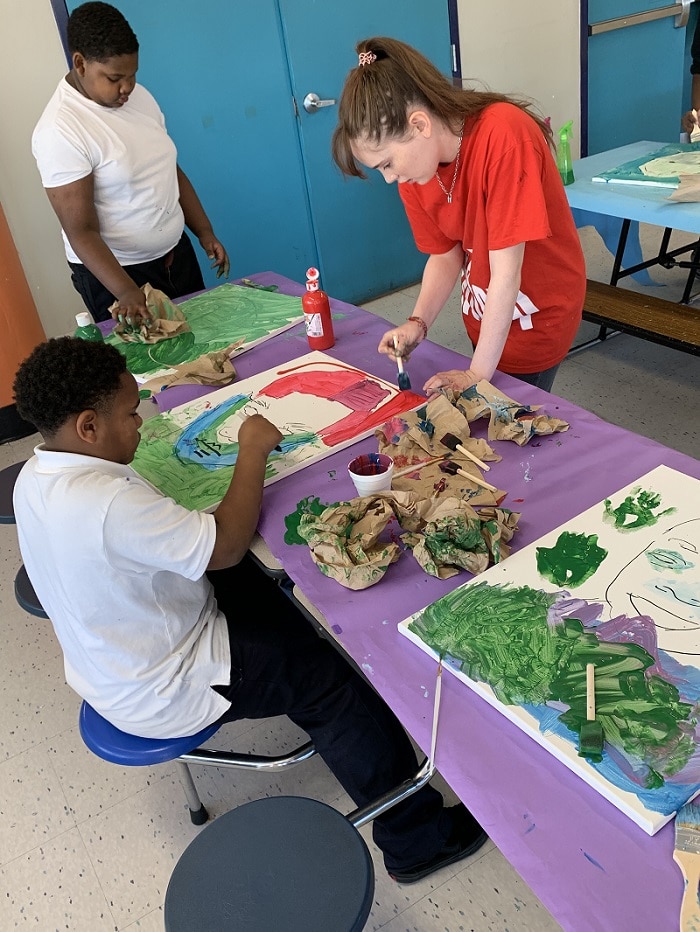 At that event, De Forest told the students, "I've been able to go to underprivileged schools across the country and work with kids in really bad areas and it's remarkable just seeing how they're able to create artwork right then and there and they're able to express themselves just with colors."
At the Detroit Academy of Arts & Sciences, De Forest worked with 25 students to spread her knowledge and passion for art by guiding the students in creating their own captivating self-portraits. Each student traced the outline of their face onto a canvas, which De Forest then helped them embellish with vibrant flourishes and splashes of color.
While describing the project to the students, De Forest said, "Do you ever feel like you're completely free and don't have to worry about messing up or making something look bad? Where you just have this freedom of creativity and you're just having fun and everything melts away? That is what we are going to capture today."
The students were thrilled to be creating their own masterpieces and received great insight from De Forest on different ways to apply the paint to create special effects, like utilizing plastic to dab the canvas to create a rugged look.
Park West collectors have been fortunate to follow De Forest's journey since selling her first painting at the age of six. Dubbed an "artistic genius" by the Discovery Channel at just eight years old, De Forest has already had a remarkable career as an artist.
She has presented an original painting to Pope Francis (which now resides in the Vatican), has appeared in a Shawn Mendes/Khalid music video, and has been named one of Vogue Magazine's 21 under 21.
She is also the youngest artist ever chosen to represent the President's Committee on the Arts and Humanities in Washington D.C., alongside celebrities like Sarah Jessica Parker, Kerry Washington, Edward Norton, Yo-Yo Ma, Usher, Cameron Diaz, Whoopi Goldberg, and Elton John.
To collect the art of Autumn de Forest, contact our gallery consultants at (800) 521-9654 ext. 4 or sales@parkwestgallery.com.