Future Cruise Ships from 6 Cruise Lines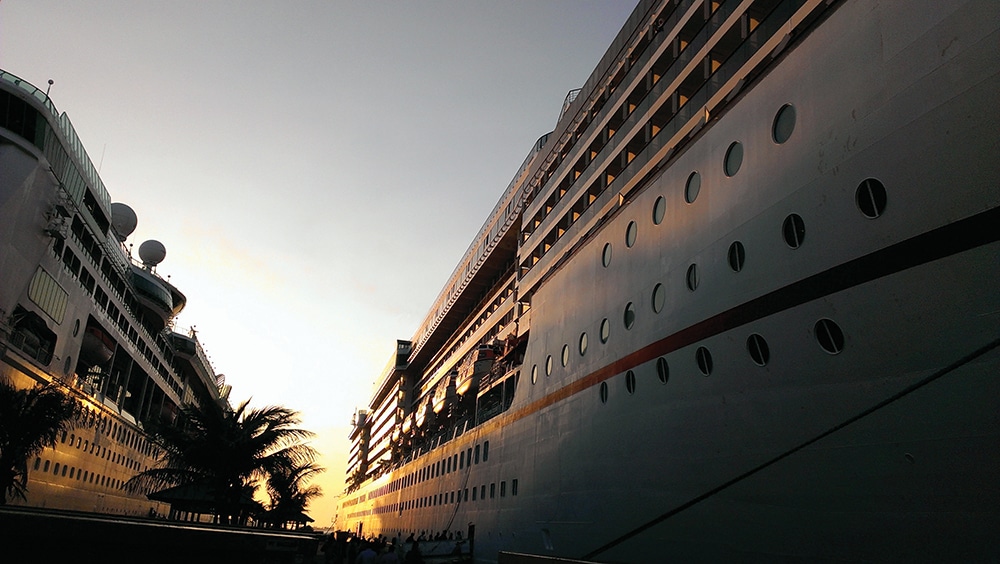 Interested in being among the first passengers aboard brand-new ships? Then you have plenty of time to reserve your cabin on one of these upcoming cruise ships.
Many of the cruise lines that Park West's art auctions at sea can be found on are looking to the future with a slew of new cruise ships that are sure to please their guests.
Royal Caribbean International
After Royal Caribbean International built the world's largest ship, Harmony of the Seas, it has announced the construction order for a fifth Oasis-class ship that will be delivered in 2021. The Oasis-class ships are among the world's largest cruise ships, which include Harmony of the Seas (a 6,780-passenger ship), Allure of the Seas and Oasis of the Seas.
Royal Caribbean International currently has its fourth Oasis-class ship (unnamed as of the writing of this article) under construction with an anticipated in-service date of 2018. The cruise line is also looking to launch two more of its Quantum-class ships in 2019 and 2020.
Celebrity Cruises
Celebrity Cruises is signing up for ships that will set sail in 2021 and 2022. These will be two of the line's newest class of ships, the Edge class. Celebrity previously ordered two 2,900-passenger Edge-class ships, making it four ships total under the line's Project EDGE.
While the Edge-class ships will not be larger than its Solstice-class ships, they will be bigger than its Millennium-class ships, and promise to offer small-ship itineraries with large-ship amenities.
Norwegian Cruise Line
Norwegian Cruise Line is preparing to launch Norwegian Joy, which will debut in China in 2017. The 3,900-passenger ship is the first for the line to be purposefully built for the China cruise market. Its homeports will be in Shanghai and Tianjin (Beijing).
Norwegian Cruise Line has also ordered two new ships, the Norwegian Bliss and an unnamed ship, scheduled to set sail in 2018 and 2019, respectively. The Breakaway-class ships are expected to each weigh 168,800 gross tons, which are larger than the line's largest ship to date, the Norwegian Escape.
Carnival Cruise Line
Carnival Cruise Line has already announced one of its newest ships, the Carnival Horizon, which is slated for delivery in March 2018. As the sister to the line's largest ship, Carnival Vista, the Horizon will hold 3,394 passengers and have many of the Vista-class' attractions, such as the IMAX theater and Alchemy Bar, but also her own unique features.
Princess Cruises
Princess Cruises has two ships underway. The first is the Majestic Princess, a 143,000 gross-ton vessel that is expected to launch in 2017. She will be the third Royal-class ship for Princess and will be among the largest ships sailing at sea with a passenger capacity of 3,560. The vessel will make her maiden voyage in the Mediterranean and Southeast Asia, and is purposefully built with a Chinese flair.
Princess Cruises has another yet-to-be-named Royal-class in the works, but it will not launch until 2020.
Holland America Line
Meanwhile, Holland America Line set sail in April 2016 with its largest ship, the Koningsdam, but is already looking to the future with the Nieuw Statendam, which will be delivered in November 2018. She will be the line's second Pinnacle-class ship, and as such, will be the sister ship to the Koningsdam.
The 99,500 gross-ton Nieuw Statendam is expected to feature many of Koningsdam's attractions as well as new features. Its name is inspired by the line's long history of Statendam ships, with the first launched in 1898 and weighing 10,491 gross tons.
Don't forget to check out Park West's onboard galleries and art auctions when sailing with these luxury cruise lines!