Behind the Artist: Csaba Markus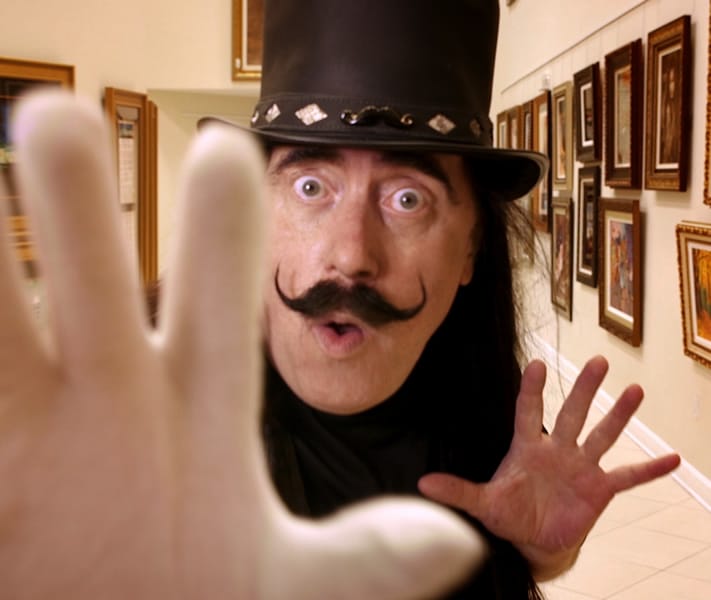 When someone is described with the adjective "Renaissance," it means they're someone who has an unusually wide range of talents. For artist Csaba Markus, however, the term "Renaissance man" takes on a more literal meaning.
At an early age, Markus found kindred spirits in the Old Masters like Michelangelo, Caravaggio, and Botticelli. Born in 1953 in Budapest, Hungary, he loved exploring the museums of Europe, which ultimately inspired him to learn how to draw and paint.
The young artist trained with Mohácsi Regõs Ferenc, a renowned Hungarian artist, and received his first exposure as an artist when his artwork appeared on international public television.
However, as Markus continued to develop his artistic talents, he felt stifled by Hungary's state-run art academies. In 1978, Markus immigrated to the United States. He opened his own art studio in California, where he worked on everything from painting and sculpture to ceramics and mono prints.
The artist refused to sign his real name to his art for 15 years, because he didn't feel it met his self-imposed high standards. When Markus finally believed his art lived up to his standards, he began signing his true name, and soon after his work was featured in exhibitions throughout the world.
Painting Women
According to Markus, his goal with each and every work he creates is to complete the most beautiful painting possible. For Markus, women are his ideal subjects.
This tradition of portraying beautiful and mythological women in art dates back centuries. In fact, one of the oldest figurative artworks ever discovered is the so-called "Venus of Hohle Fels," an ivory sculpture of a female that is at least 35,000 years old.
Markus finds particular inspiration from Leonardo da Vinci's famous "Mona Lisa." His aim isn't to create grinning supermodels—instead, he channels the timeless elegance, grace, and realism found in Leonardo's masterpiece to create his own modern-day Mona Lisas.
"In my art, I am making an idealized woman who is confident, peaceful, mysterious, sensual and beautiful," he says. "I want to continue into the 21st century this message that Leonardo da Vinci established with his work."
This is the extent to which Markus discloses any meaning behind his art, even when asked by collectors. Instead, he believes the quality of the art should speak for itself, and that the viewer should generate their own interpretations.
"If I'm explaining my art, then I'm closing down your imagination," Markus says. "If you submerge and relate your soul to that art, it's your art. If I tell you what I did and my thoughts, you are just an observer. I want you participating in the art experience."
High-Quality Art
Markus strives for five essential elements when creating his art: quality, creativity, craftsmanship, beauty, and the "wow factor."
In describing the "wow factor," Markus says, "The art should shape their soul, not just please it."
In his quest for creating art that elevates and enriches, Markus has dedicated his life to learning about art history. Throughout the years, Markus has researched and the romantic, classical, and Renaissance artists as well as the avant-garde, expressionism, and abstraction of modern times.
Most notably, Markus is a master of "sfumato," a shading technique for gradually blending colors that results in no definitive lines or borders. The process gives each of his works a realistic and mysterious quality.
He's also skilled in a variety of other mediums, including oils, handmade paper, ceramics, silk screen, etching, sculpture, and glass. The artist even crafts his own paint from gemstones and dry pigments.
His high standards have resulted in a method that he uses to judge the quality of his work: If the art isn't sold within a year of its completion, he takes it back. If he can make it better, he'll send it back into the world. If he can't, he ensures it never leaves his studio again.
Markus' dedication to his craft has not gone unnoticed. In 2013, Markus earned the distinction of having his painting "Pure Love" counted as one of the world's 10 most sensual paintings by the Toronto Sun, joining some of history's most esteemed artists, including Diego Veláquez, Paul Gaugain, Sandro Botticelli, and perhaps most fittingly, Leonardo da Vinci.
Creating a Medium
With his long interest in combining ancient and contemporary aesthetics, it shouldn't shock anyone that Markus invented a new artistic medium that fuses centuries-old art techniques with modern technology.
In 2017, Markus unveiled "caldographs," a new kind of art inspired by the "Mona Lisa," which celebrated its 500th anniversary that same year.
The "Mona Lisa" was painted on wood, which was a common practice in Leonardo's time. A caldograph allows today's artists to use wood as their surface and substrate in a similar fashion to the 14th-century masters, but in a new cutting-edge way. To create a caldograph, an artist creates an image and transforms it into a digital matrix. The image is then printed using water-based inks and placed on top of a specially-coated wood panel.
Next, both the wood and print are pressed together, and the combination of heat and pressure changes the ink into gas, transferring the image onto the wood surface at a molecular level. The end result is a startlingly crisp image that embodies the best of classical and contemporary art.
Markus' name for his medium combines the Italian word for hot (caldo) and the suffix "graph," which means "to write."
"Every caldograph is unique," Markus says. "The grain of the wood is different every time, so every one is a one-of-a-kind piece."
Several other Park West artists have adopted this new medium for their own editioned works, including Lebo, Tim Yanke, and Yuval Wolfson, resulting in a vivid, new method of presenting their imagery to collectors.
But it all started with Markus. His endless fascination with classic techniques and modern beauty transformed him into a true artistic innovator.
If you're interested in collecting the art of Csaba Markus, attend one of our exciting online auctions or contact our gallery consultants at (800) 521-9654 ext. 4 or sales@parkwestgallery.com.
Follow Csaba Markus on social media