Auctioneer Spotlight: Michael Cowan and Christopher Harrison
Many of our Park West collectors develop friendships with the art teams over the course of their land or sea vacations. Here's a chance to get to know them more as they share their favorite adventures in the art world.
Park West auctioneer Michael Cowan attended college outside Toronto, Canada for event planning and brand management with a minor in graphic design. After graduating, he found Park West Gallery was the perfect opportunity to combine his education with his talents to entertain and enrich people. Shortly after he started, Michael met Christopher Harrison working in the onboard retail shops. Both Michael and Christopher discovered Park West was the ideal avenue to combine their enthusiasm for travel and art into a blossoming career together. Michael has recently become an Auctioneer Qualification Mentor, where he assists Park West associates to become onboard art auctioneers.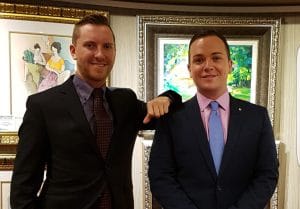 Previous ships as Auctioneer: Royal Caribbean International (RCI) Jewel of the Seas, RCI Liberty of the Seas, Celebrity Equinox, and Norwegian Epic, and RCI Allure of the Seas.
Current ship: RCI Freedom of the Seas
Where is your hometown?
Michael Cowan: Toronto, Ontario, Canada
Christopher Harrison: Newcastle upon Tyne, England
When did you start working as an international art dealer on cruise ships?
Michael: I started with Park West Gallery in October 2013 and for three years now I have been able to share my passion for the visual arts with people around the world.
Christopher: Prior to Park West, I was working on cruise ships in retail. After finding out about the onboard art auctions, I decided to pursue a position with Park West Gallery, since it is such a perfect combination of my passion for both travel and art.
What do you like most about being an auctioneer?
Michael: I like the excitement and joy the audience gets when bidding on their favorite works of art. I know the feeling of exhilaration and nervousness because I have bid at auctions before. Every time there is a bid, I know I'm helping someone collect what they love.
Who is your favorite Park West artist and why?
Michael: I have a couple favorites. The first is Tomasz Rut, because no other contemporary artist today can master the classical tradition of painting in the spirit of the great masters like Michelangelo and Raphael. On a totally different spectrum, my second favorite artist is Joan Miro for his interpretations of everyday life that make you think outside the box.
Christopher: Although I love so many of our artists, my favorite has to be Peter Max! I love his use of color and all of the stories behind his famous imagery. I was lucky enough to meet him last year through another Park West event, which was such an honor for me. I like the fact that no matter how famous he has become, he has never stopped giving back and is so philanthropic.
What is your favorite client memory?
Michael: I have too many good memories to mention just one person. So, I will mention the charter cruise we did called "Bare Necessities." The auctions were filled with energetic naked people just wanting to collects their favorite works of art.
Christopher: It is difficult to choose only one particular memory. I have dealt with so many amazing clients over the past few years; it's always great to assist clients in collecting something you can tell means so much to them. Their acquisitions are something they have always dreamt of owning, and being able to assist them in making that dream a reality is always an amazing feeling.
What is your favorite port?
Michael: I have so many favorite places, but the one that stands out is Mykonos, Greece for its pristine beaches and pretty blue waters, to its whitewashed churches and blue-roofed houses. The atmosphere can be so relaxing and you can enjoy many great restaurants.
Christopher: My favorite place would have to be Santorini, Greece. It is what I would describe as "post card perfect." No matter where you look you, are surrounded by beauty and breathtaking views. It's impossible to take a bad photograph there!
Please tell us about your experience on being an auctioneer aboard the Freedom of the Seas.
Michael: We are currently working as auctioneers on Royal Caribbean's Freedom of the Seas. This is our second time on this class of ship, and after being auctioneers on one of their smaller ships, the Jewel of the Seas, and one of their largest, the Allure of the Seas, we have really found this to be our favorite class within the fleet.
Christopher: The Freedom has everything you can imagine, and all of the most popular features from other ships, without seeming too large. So for anybody who is yet to try a cruise on Freedom-class, we would most definitely recommend it.