When Duaiv Met Salvador Dali
Imagine walking up to the home of your favorite celebrity or role model, knocking on the door, and instead of being shooed away by security, the celebrity opens the door and invites you in.
Such a personal interaction would leave a lasting impression, which is exactly what happened to artist Duaiv when he had the amazing opportunity to meet Surrealist Salvador Dalí.
Duaiv and his wife, Magella, are both involved in creative fields – Duaiv with his music and painting and Magella in dancing. In 1975, Duaiv (23 at the time) and his wife decided one of the best ways for them to find inspiration and take in new cultures was to tour Spain on a motorcycle.
Duaiv says Dalí was the first to inspire him to paint and become an artist, so during their journey, the couple decided to visit Port Lligat where Dalí resided so they could see his home. Duaiv recalls going up to the door and knocking, expecting a maid or assistant to tell him that Dalí was not home or wouldn't see them. However, when the door opened, he was surprised to be greeted by Dalí himself.
"It was, for me, the best thing I can have in my life," the artist says.
The trio conversed about art, and Duaiv expressed his desire to make a living, like Dalí through the arts. He says that Dalí encouraged him to combine his passions for music and art and to follow his dreams.
"He said 'okay, if you believe in yourself it does not matter, if you want to succeed then you will succeed,'" Duaiv says.
Duaiv also asked Dalí how he came up with the ideas for his paintings. Dalí informed him of his famous napping technique, "slumber with a key." He would sit in a chair with a key held in one hand, and when he nodded off, the key would fall to the floor and onto an overturned bowl, causing a clatter and startling him awake. This gave Dalí a creativity boost and apparently enough sleep to feel refreshed.
When asked if Duaiv adopted the napping technique, he laughs and says he has not.
"It was not for me," he says.
Following the fateful meeting, Duaiv dedicated himself to being both a cellist and professional artist, and is now known throughout the world for both his art and his musical talents. Duaiv says he is grateful for Dalí's encouragement and considers the day to be one of the most important events in his life and career.
An Artistic Flair with Hair
Duaiv also shares something in common with Dalí – a signature look. For Dalí it was his upturned mustache, but for Duaiv it is a constantly changing hair color, which has ranged from dark blue to bright pink.
The artist says the multicolored hair began one night when he was painting a water scene and wasn't wearing gloves. After using his bare hands to blend and mix hues of blue – his favorite color – he touched his hair. He ran to Magella, worried about how he could remove the colors, but she proposed a different idea.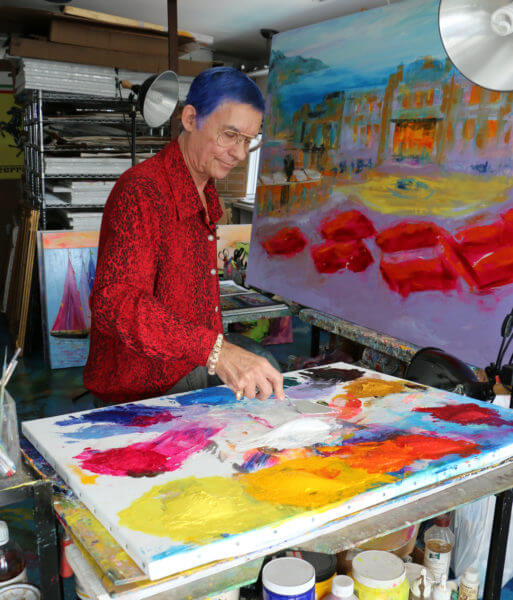 "She told me, 'oh don't worry, I will dye your hair with blue, and we'll see if, for the next show with Park West, if people like that.'"
Duaiv's fans fell in love with his hair, and since then he and Magella have had matching hair color. He says the only color collectors won't see atop his head is green.
"It's difficult to work with green," he says. "It's a hard color for me."
To collect the art of Duaiv, attend one of our exciting online auctions or contact our gallery consultants at (800) 521-9654 ext. 4 or sales@parkwestgallery.com.
Follow Duaiv on social media
Related Articles