Upcoming Event: Leslie Lew
Our team invites you to stop in and preview the Leslie Lew collection for this weekend's exhibition!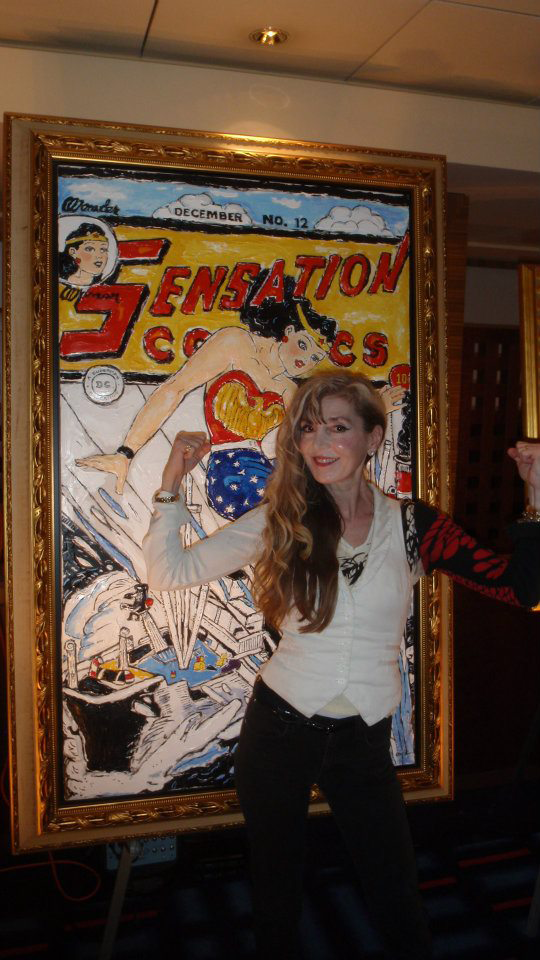 Artist Leslie Lew, whose graphic, colorful "sculpted oils" draw inspiration from the worlds of advertising and pop culture, will be debuting exciting new work at Park West Gallery in Soho, Friday the 29th from 5pm – 8pm. Lew herself will also be present to give a talk at the gallery, as well as to meet and answer questions for gallery visitors and prospective buyers and collectors.
Growing up with a father who worked in advertising, Lew has always been inspired by commercial imagery, product labels, and American pop culture; but unlike most other pop artists, her "sculpted oil" technique creates a tactile, almost three-dimensional relief that adds an air of surreality and delight to familiar images. The lines and geometric shapes take on a slightly primitive feel and seem to vibrate with movement and life, creating a fanciful mood that is perfect for viewing works inspired by childhood and pop culture nostalgia.
"Leslie Lew has been with our gallery for many years, and we're always excited to see what she's been working on," said John Block, Park West's Executive Vice President. "She brings such a fresh, unique style to the world of Pop Art—both keeping the viewer in conversation with American cultural history, and showing why that conversation is still so relevant."
Lew's career formally began at the School of the Art Institute of Chicago, where she received her B.F.A. and M.F.A., and continued to develop in New York's 1980s art scene. As a longtime veteran of the fine art world, her works have been featured in the Guggenheim, shown next to Lichtenstein and Warhol, and included in several published art books. She cites Norman Rockwell, Andy Warhol, and Peter Max as her biggest artistic influences.
"I have always felt that art should be for the masses, not for just a few of the elite," Lew told senior gallery director Morris Shapiro. "I have worked and established myself…Now is the time to have fun and do what I was meant to do…share my work with the world."
This free and public event is a must-attend for art collectors, culture fiends, and pop art lovers alike. Attendees are welcome to mingle, meet and speak with the artist, and get a first look at her freshly-unveiled work—as well as a first chance to buy.
Park West Gallery SoHo is open 7 days a week, Monday-Wednesday 10:00 AM – 6:00 PM, Thursday 10:00 AM – 7:00 PM, Friday-Saturday 10:00 AM – 8:00 PM and Sunday 11:00 AM – 7:00 PM. Entry is at no cost, and Park West's expert staff are available to guide visitors through the gallery.