Street Style: Park West Artist Christian Calvin Visits the Waikiki Gallery
Christian Calvin, a multimedia Pop artist who has captivated the contemporary art world, is heading to Hawaii.  He will make his debut in the Aloha State at Park West Fine Art Museum & Gallery on Friday, October 20.
Calvin, also recognized as 33N Art, is celebrated for his abstract paintings and mixed-media pieces that challenge the norms of Pop Expressionism.
What sets Calvin apart is his distinctive approach, employing a diverse range of mediums including traditional paint, sand, and glue. The outcome is a collection of strikingly textured artworks. Notably, Calvin eschews conventional paintbrushes, opting instead for gardening tools to meticulously apply paint onto his masterpieces.
Event Details
From 5 to 8 p.m. on Friday, October 20, Christian Calvin will appear at Park West Hawaii where he will meet fans, paint LIVE, and show off his incredible artwork—this event is free and open to the public.
Artist Background
Calvin embarked on his artistic journey at the age of 45, following a lifelong career in the retail industry. Upon the sale of his business, he found himself with more time on his hands and a newfound curiosity to create. This led him to explore painting on various surfaces, from canvases to cardboard and even cereal boxes.
Calvin immersed himself in experimentation with an array of techniques and materials, gradually finding his footing as an artist. Reflecting on his work, Calvin shared, "I feel my art leaps off the page, taking on form and life. For me, art is more about vision, passion, and love than it is about talent." He signs his creations with "33N," a nod to his football jersey number from his youth, later continuing to play football at the University of Tennessee.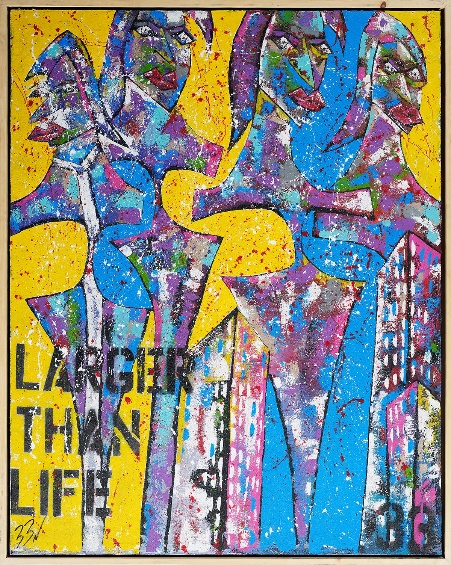 Calvin's art made a significant impact when he generously contributed a piece to a charity auction in his hometown just outside of Nashville, Tennessee. This act of generosity caught the eye of the director at Tennessee's esteemed Monthaven Arts & Cultural Center, leading to an exhibition of his work that was met with high praise.
Throughout his journey, Calvin has explored various styles and genres, including Abstract Expressionism, Cubism, and Impressionism. He enjoys characterizing his work as an ongoing exploration of form, color, and emotion.