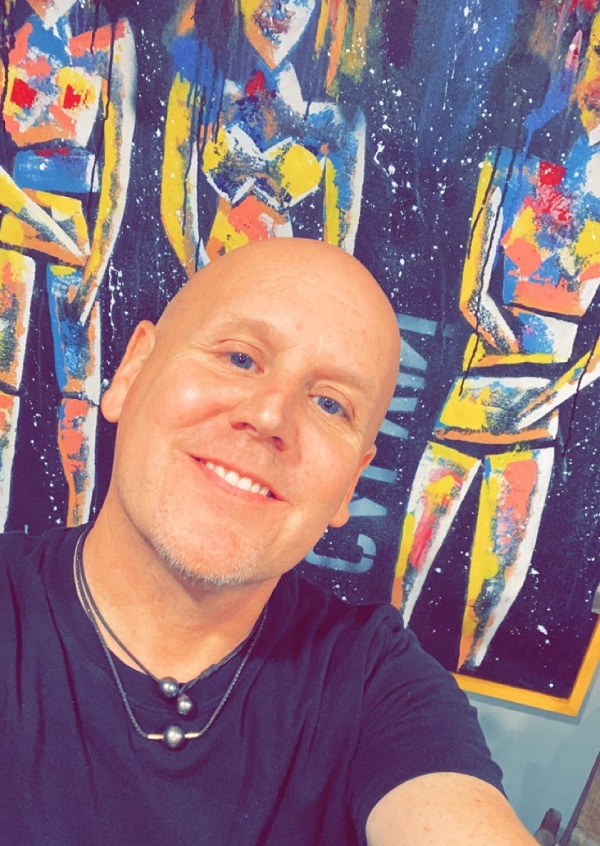 Christian Calvin—also known as 33N Art—is a popular artist from Tennessee well known for his abstract paintings and mixed-media art that play with the conventions of Pop Expressionism.
His unique style incorporates multiple mediums, ranging from traditional paint to sand and glue, and the end results are remarkably textured works of art. Another point of distinction about Calvin's artwork is that he never uses traditional paintbrushes and often utilizes gardening tools to apply the paint to his grand-scale creations.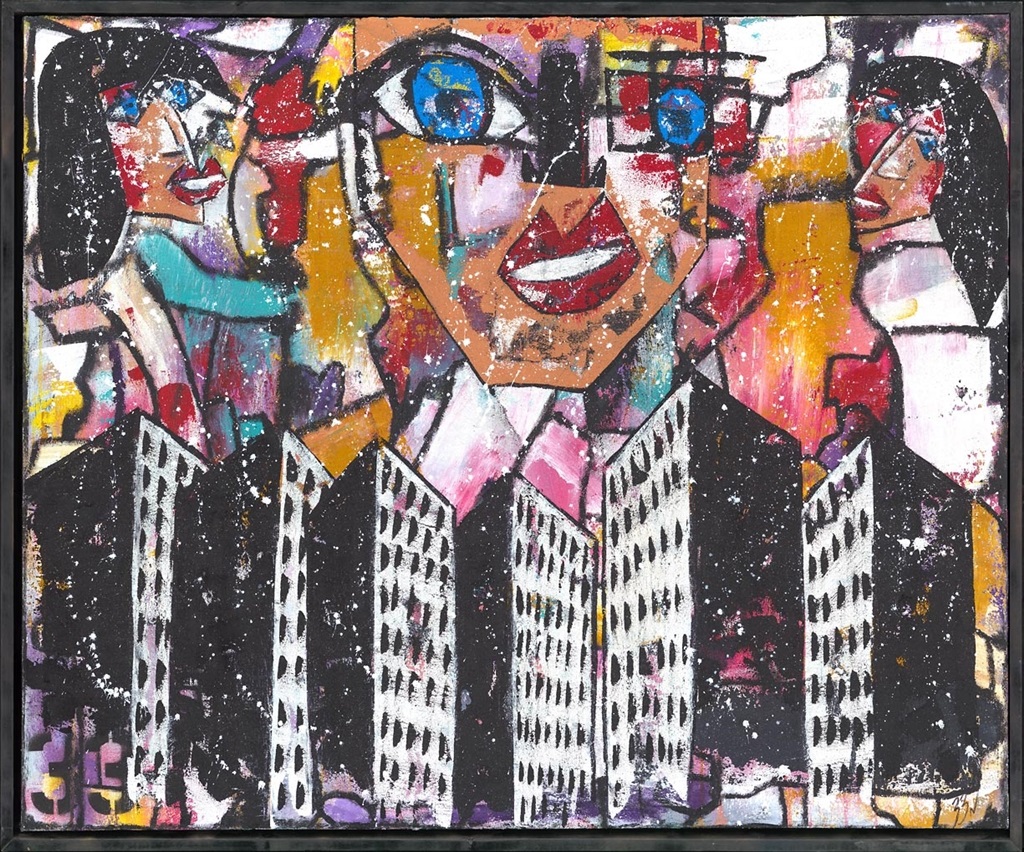 Personal History
Calvin began his art career at age 45 after spending his entire career in the retail business. After the business sold and he had more time on his hands, he curiously explored an untapped desire to create and began painting on canvases, cardboard, cereal boxes, or anything he could get his hands on.
After experimenting for months with different techniques and styles, Calvin began to find his rhythm as an artist. Calvin said, "I feel my art jumps off the page and takes form and life. To me, art is more about vision, passion, and love than talent." Calvin signs his artwork with "33N," which is a reference to his football number growing up (he later went on to play football at the University of Tennessee).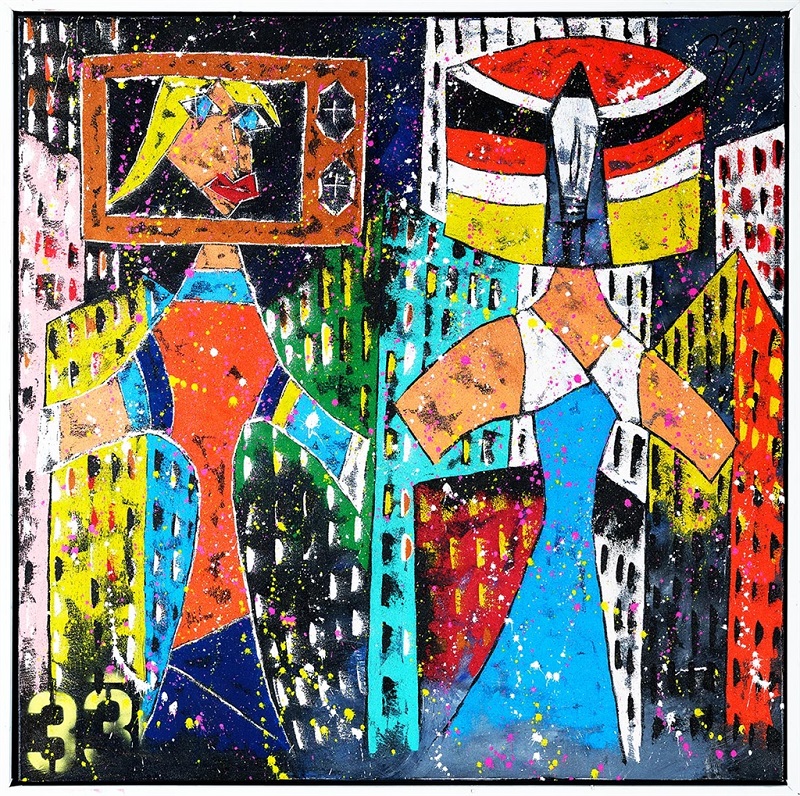 Calvin first found notoriety after donating his artwork to a charity auction in his hometown just outside of Nashville, Tennessee. That brought his art to the attention of the director of Tennessee's prestigious Monthaven Arts & Cultural Center, who offered Calvin his first public exhibition, which opened to great acclaim.
Style and Influences
Calvin has experimented with many artistic styles and genres including Abstract Expressionism, Cubism, and Impressionism. He likes to describe his art style as "Neo-Expressionism," which is an artistic crossroads between the work of Picasso and Jean-Michel Basquiat. Calvin cites both artists—and Keith Haring—as his primary inspirations.
When creating a new work, Calvin begins with a white canvas and then paints the entire canvas black. The next layer is his background where he mixes paint, sand, glue, and water and starts to add in colors, textures, and abstraction.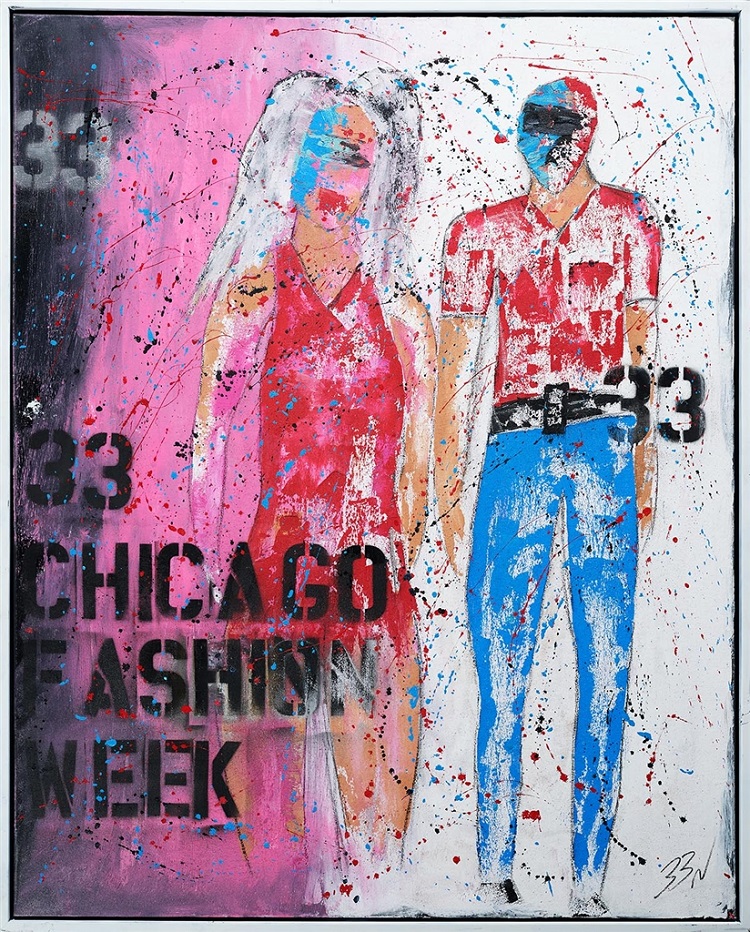 Once the backdrop is complete, it must dry overnight. The next step is to draw out what his final painting will look like using either chalk, charcoal, or marker. Once that step is complete, Calvin is able to look at the overall painting and make changes before the next step. If everything looks and feels good to him, he will then start an outline. The outline will take overnight to dry before the colors can be added. Once the colors are added, he then adds his signature splash of paint as a final component to complete the painting, along with his signature "33N."
Music is also very important in Calvin's painting process. He likes to listen to all types of music while painting, depending on the mood that needs to be set. He listens to every genre of music—ranging from country and rock to rap and R&B—though he most often paints to the music of Khalid and Shawn Mendes. Their music sets a tone of calmness and relaxation during his creative process.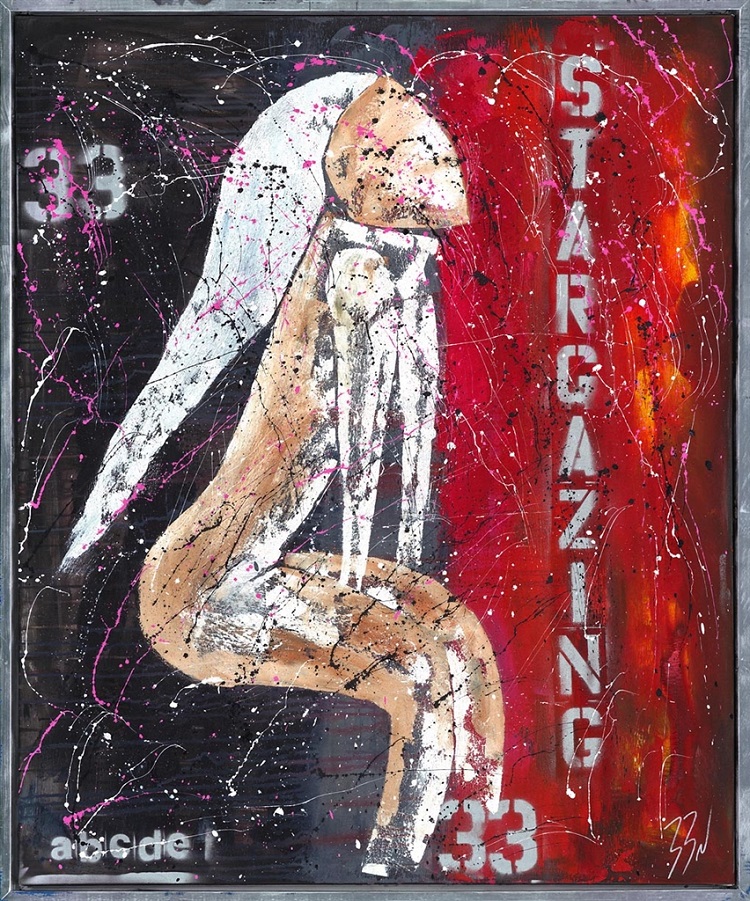 As a girl-dad to four girls, Calvin often finds inspiration for his unique art style from ideas or experiences in his life as he relates them to his children, family, past history, and current events.
If you're interested in collecting the artwork of Christian Calvin, you can contact Park West's gallery consultants at (800) 521-9654 ext. 4 or sales@parkwestgallery.com
Latest News About Christian Calvin