Remembering Igor Medvedev, 1931-2015
Renowned Park West Gallery artist Igor Medvedev passed away the morning of February 16, 2015. He was 83 years old.
"The world has lost a great artist and all of us at Park West have lost a great friend," said Albert Scaglione, Park West Gallery founder and CEO.
Born in Kharkov in Eastern Ukraine on Nov. 10, 1931, Medvedev's interest in art began with befriending artist Anatoly Martinov. Medvedev and his family fled Russia in 1943 to the American-occupied zone in Germany and it was during these times that Medvedev would sketch German towns, feeding his desire to capture structure in art.
In Munich, Medvedev learned the art forms of bronze casting and sculpture, with his talents helping his family move to the United States when he was 17 years old. Medvedev gained a scholarship to attend Dartmouth College, where he graduated with a bachelor's degree in art history. He continued his studies at the University of California, Berkley, earning a bachelor's degree in 1952 and a master's degree in 1953.
Medvedev's art is characterized by a perfect sense of composition, deep colors, use of light and shadow and a tranquil, peaceful mood. He didn't attempt to copy what he saw, but instead create a "moment of intimation." During his career he worked with various mediums, including painting, printmaking, watercolor and sculpture.
Medvedev's artwork was well received, with 15 solo exhibitions in 1954 and 1955 in Germany and featuring in major shows in the U.S. from 1959 to 1963. He was co-founder of Graphics Art Center and Estamp Gallery in Palo Alto, and later owned the Mead Original Art Prints Gallery in San Francisco, but ultimately devoted his life to art.
In the 1970s Medvedev taught at the San Mateo State College and Los Altos' Foothill College. In 1977 he married his second wife, Marina, and the couple moved to San Francisco, where she helped exhibit his artwork at galleries. They loved to travel, especially to the Greek Isles, where he was further inspired by the architecture.
In the 1990s through 2006, Medvedev worked exclusively for Park West in serigraphy, working hand-in-hand with artisans at the Romi studio in Rishon Le Zion, Israel. In 2011, Medvedev would create his first two lithographs exclusively for Park West at the Atelier Arts Litho in Paris.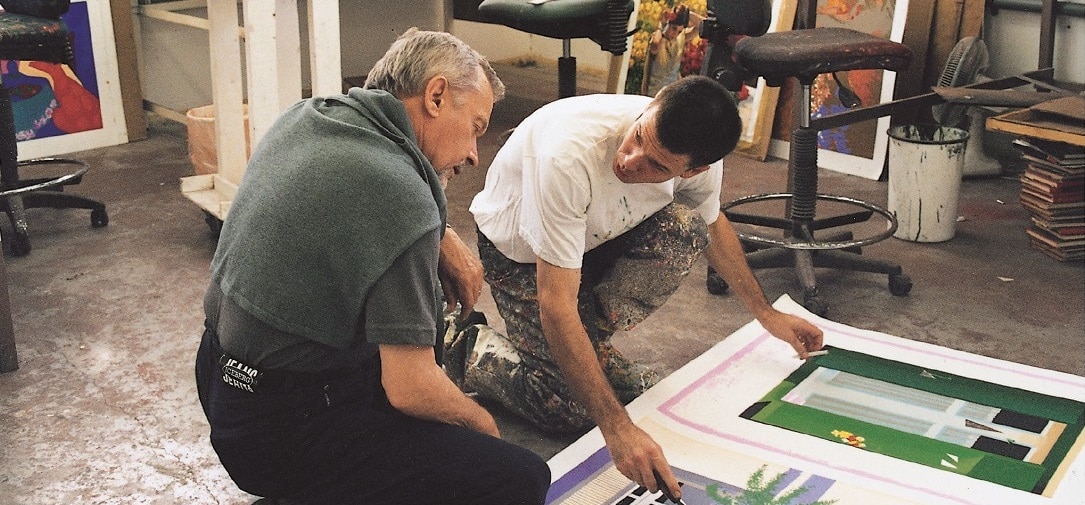 Scaglione and his wife, Mitsie, knew the Medvedevs since 1989, visiting his studio in San Francisco to select paintings. Albert has a history of working with artists as they have gone through personal and professional struggles, as they achieved maturity. This was especially true of Medvedev, and the two formed a great partnership, and more importantly, a great friendship based on trust and admiration.
"There is something leading all of us toward something," Medvedev once said. "Through life, I was motivated to create art."