Nano Lopez Reveals the Magic of His Nanimals
For Nano Lopez, animals embody the mysterious and magical aspects of life, opening a world of wonder every time he observes one.
Lopez tells Park West that the inspiration for his colorful Nanimals draws upon seeing animals in person or studying their anatomy online if it isn't a native species.
"Often the sculpture is just the beauty of the animal itself that is the inspiration," Lopez says. "The rest is the textures, the combination of textures and elements that makes it richer."
Lopez takes this inspiration and transforms it into fantastical creatures with their own personalities. With their playfulness and colors, it's as if Lopez has plucked characters from fables and immortalized them in bronze.
"It's the innocence and purity of animals that attract me, and that I like to capture," he says.
Lopez has created stories for his Nanimals. Lopez says the stories typically develop with the piece, though sometimes he has the story in his head before creating the Nanimal. He says the same goes for figuring out a Nanimal's name.
Here is look at a few of his Nanimals:
Samuel the Poet
Samuel, an owl, sits on a small log while donning a small satchel full of writing supplies. Lopez said he preferred an owl without "ears" so it wouldn't have a mean look.
"Samuel is a really simple guy," Lopez says. "He is just sweet and beautiful."
In western culture, owls are associated with wisdom. According to Lopez's narrative:
"Constantly in thought, he is a true poet, always ready to write down any particular thought or idea. He never leaves home without his bag which is full of papers and brushes to keep all of his thoughts and ideas well documented."
Davian
Davian is one of the most popular Nanimals. Lopez says the dragon sculpture captivated him from the onset, and he had a lot of fun making it. As he created the dragon, he thought about the myths of fire-breathing dragons and how this hot breath would melt ice cream.
Davian's story is as follows: "Davian is a young dragon seen here enjoying a well deserved dragonberry ice cream cone (his very favorite) after a long exhausting class about fire extinguishing techniques."
Elizabeth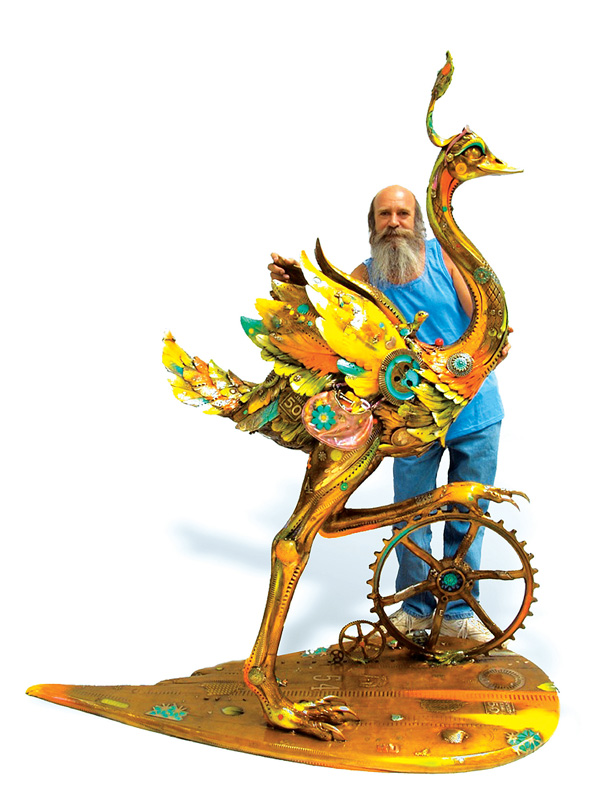 Lopez describes Elizabeth as a teenage ostrich ready to shop, complete with a credit card, cell phone and make-up tucked into her purse. On her back is Thunder, a turtle, going along for the ride. Lopez says the reason the purse looks so real is because he used a real purse when sculpting the life-sized piece.
Since Lopez did a smaller version of Elizabeth, it wasn't difficult for him to create a life-sized version. Lopez worked in the enlargement business prior to becoming a full-time artist.
"Usually you have the anatomy solved already in the little model, so when you have the big one some of the problems have been solved, so it doesn't take that long," Lopez says.
In Lopez's narrative:
"Elizabeth is full of enthusiasm because she can't wait to get to the mall where she's meeting some of her friends to help her go shopping. In her purse, also known as her life support system, she has lots of stuff which I don't know of, but she certainly did not forget her credit card."
Nano's cats
A number of Lopez's Nanimals are cats, such a Suzie Q, Catfish Lily, and Lucy. He says the way a domestic cat's fur hides its anatomy provides a challenge, which could explain why he has created so many.
"Cats are difficult to find the anatomy…unless it's a wet, skinny kind of naked cat, but they're not that pretty," he says.
Of course, the cats have appropriate personalities. Lucy is waiting for her owner—her "butler"—to pour some milk while she naps or plays with a ball of yarn.
Lopez says he is continuously inspired by animals, so he has many more he would like to make.
"There are a lot of animals that are waiting for me," he says.
To learn more about how you can reserve one of Lopez's made-on-demand sculptures, contact our gallery consultants at (800) 521-9654 ext. 4 or sales@parkwestgallery.com.