Groundbreaking New Mediums on Display in Tim Yanke's 2019 Fall Sale Collection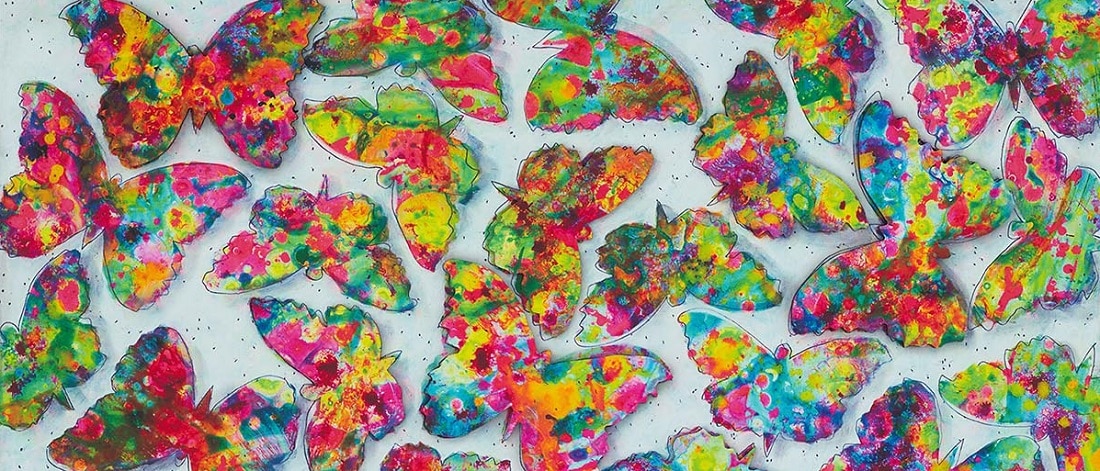 There are many words that describe artist Tim Yanke—bold, passionate, spontaneous, innovative—and all of those qualities can be found in Yanke's new Fall Collection from Park West Gallery.
You can view the full collection here, which presents over 40 works from an ambitious variety of mediums, ranging from traditional paintings to sculptures to even more advanced art forms.

The centerpiece of Yanke's Fall collection is "Peta Louthias," the first augmented reality-enhanced artwork from Park West's new Moving Canvas platform.
The magic of Moving Canvas begins when collectors download an exclusive app for their smartphones or tablets. While viewing "Peta Louthias" through the app, Yanke's butterflies come to life—moving, changing, and flying off the canvas.
"Peta Louthias" is one of Park West's most unique offerings in recent memory. While the virtual aspects of "Peta Louthias" are amazing, the artwork is stunning to look at even without its digital enhancements.
"Peta Louthias" is a 3-dimensional work brought to life using the medium of the SCULPTOGRAPH, a new technique that combines traditional painting and sculpture in a fresh new way. SCULPTOGRAPH is exclusively available through Park West Gallery.
"Historically speaking, collecting the first example of a new medium is a huge opportunity for collectors," says Park West Gallery Director David Gorman. "This new work challenges past questions of what art can be, using augmented reality to change the way art can be experienced. 'Peta Louthias' is the first of its kind and will always be important for that reason."
There are multiple SCULPTOGRAPH works available from Yanke in this new collection, in addition to other spectacular mediums. Case in point—collectors will be thrilled by Yanke's new line of acrylic sculptures. These bring to life some of the artist's most popular images, driven by his creative fascination with the American West and the spontaneity of abstract art.
The pillar-sculpture "Timber" is wrapped in his abstract designs, which Yanke refers to as his "DNA" or the building blocks of his artistic style. Continuing his focus on Americana, the sculpture "A Vision Woman" is steeped in Yanke's trademark Neo-West style, a form of Abstract Expressionism using boldly saturated hues. Yanke frequently incorporates Native American imagery and symbolism into his art in addition to dragonflies and other spiritual icons.
This collection also features sculptures and other works featuring Yanke's trademark American flag designs, lightheartedly dubbed "Yanke Doodles." These flags represent Yanke's artistic interpretation of his own patriotism and the melting pot of cultures that makes up the United States of America.
In addition to these new mediums, this Fall Sale collection is proud to present a fantastic selection of Yanke's acrylic and mixed-media paintings. Yanke is a master of iconography, and his paintings re-energize traditional cultural totems with a new sense of urgency and spontaneity.
Park West's Fall Sale is also offering a select number of Yanke's abstract paintings, which were recently the subject of a major museum exhibition, "Abstract Musings," at Nashville's prestigious Monthaven Arts and Cultural Center.
Tim Yanke has never been afraid to explore new mediums or accept new artistic challenges. This Fall Sale collection is a limited-time opportunity to collect a new work from one of the most exciting artists working today.
If you're interested in the art of Tim Yanke or acquiring a work from this new Fall collection, contact our gallery consultants at (800) 521-9654 ext. 4 or sales@parkwestgallery.com.