Free 2016 Seminar Series begins January 10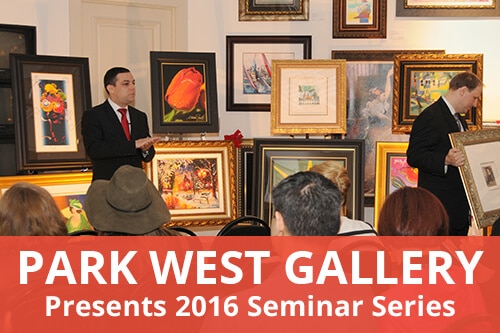 Discover more about your favorite artists, brush up on art history and gain valuable tips for collecting art with Park West Gallery's new 2016 art seminar series.
Visit the gallery in Southfield, Michigan at 3 p.m. each Sunday from January 10 through March 20 for free art seminars that are sure to enhance your knowledge of collecting and the art world. Topics include animation art, masters such as Picasso and Rembrandt, "Art Collecting 101" and contemporaries such as Thomas Kinkade and Yaacov Agam.
"Whether you're a novice or seasoned collector, these seminars are designed to instill a new passion for art collecting and gain a more well-rounded understanding for all aspects of art appreciation," says David Gorman, Park West Gallery Director.
The seminars are held at Park West Gallery in Southfield, Michigan. Each art seminar lasts 30-45 minutes and are free of charge to attend. Complimentary light refreshments will be served. Seating is limited, so RSVP at 1-800-521-9654 ext. 4 or email sales@parkwestgallery.com.
See the following schedule for more details:
January
1/10 – "400 Years of Art History in 40 Minutes"
From Baroque to Pop Art and everything in between, join your Park West Gallery staff in a fun, fast and informative approach to understanding the evolution of modern art through the past four centuries.
1/17 – The Life & Art of Thomas Kinkade
Learn how Thomas Kinkade was able to establish the largest artwork collector base in history. This seminar will also discuss hidden metaphors and initials/names of his loved ones found in some of his works of art. Ever wonder what the number next to his Rockwell-esque signature means? Find out in this short and sweet seminar on the life and work of America's most collected artist.
1/24 – Living Legends, featuring the art of Max and Agam
With careers spanning over five decades and countless museum exhibitions, find out why Peter Max and Yaacov Agam are considered some of the most important painters alive today!
1/31 – Art Collecting 101
This seminar is designed to give the audience a more complete understanding of various printmaking methods as well as powerful collecting tips gained from over 2 million collectors in our 47-year history.
February
2/7 – The History of Animation
Something everyone can relate to! Find out about the history of animation before the digital age took over, including original production cels from your favorite Saturday morning cartoons. These rare pieces of animation history will give you a better appreciation and knowledge for collecting animation art.
2/14 – Dali & Destino
Walt Disney and Salvador Dali met, inspired one another, and collaborated back in 1945. This film has been shrouded in history for over six decades and will be shown, along with the art, in this one-time-only showcasing and analysis of this important six-minute animated film.
2/21 – The Art of Etching, featuring Goya & Rembrandt
A discussion on two of the most important etchers to have ever lived. Gain insight into the inspiration and technique of two of art history's greats, Rembrandt van Rijn and Francisco de Goya. For those who desire to take their collection to the next level, this seminar is worth its weight in gold!
2/28 – Antique Art Collecting, featuring illuminated manuscripts & Japanese woodblock prints
Whether inheriting an heirloom or thinking of acquiring one for your family, this seminar will cover provenance, care, restoration and more for your antique art collection. Featuring original illuminated manuscripts dating back to the medieval ages and Japanese woodblock prints dating back to the mid-19th century, you will learn everything there is to know about collecting antique art!
March
3/6 – 20th Century Masters, featuring Picasso, Chagall, & Miró
Three of the most influential artists of the 20th century will be discussed in this seminar. Many say, "My kid can do that!" when approaching works by these artists, but in this seminar, you will learn that they were not only revolutionary for their time, but influenced the course of modern art.
3/13 – Modern Masters, featuring Mouly, Tarkay, Medvedev, & Lebadang
A tribute seminar to some of the most influential artists Park West has dealt with during its lifetime. Although they have all passed on, they live on through their art. As Park West was the primary dealer for these painters for the majority of their careers, no one could put on a better seminar to learn about the lives and works of these historic painters.
3/20 – Emerging Israeli Artists
Considered by many critics and historians to be the early 20th century Paris of today, Tel Aviv is a booming melting pot of culture that is making waves in art history. This seminar will feature some of the more prominent painters emerging from Israel, specifically Tel Aviv, in 2016. Don't miss out on the chance to discover and even collect art from some of the most exciting Israeli artists today!