Park West's 2018 Spring Sale Features Old Favorites, New Surprises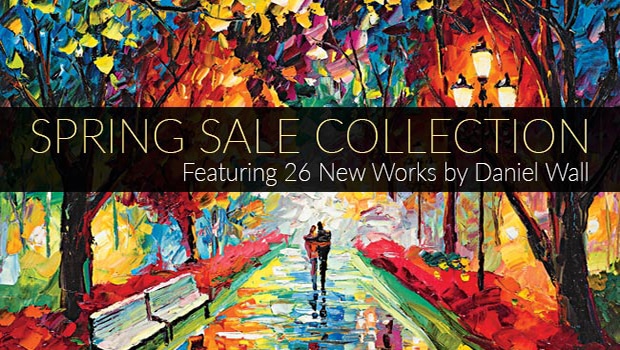 Need to melt the winter blues away? Park West Gallery's 2018 Spring Sale is sure to brighten any home.
You can browse the 2018 Spring Sale now—it's filled to the brim with new works from world-renowned artists like Daniel Wall, Guy Harvey, Michael Godard, David Najar, Matt Beyrer, Csaba Markus, and Chris DeRubeis.
But that's not all. Among the latest works Park West Gallery is bringing to collectors is the three-dimensional kinetic (or "3-DK") art by Ron Agam. Like his father—celebrated kinetic artist Yaacov Agam—Ron engages viewers with his limited-edition artwork that transforms when viewed from various angles.
The Spring Sale features nearly every artistic medium you can imagine, giving you the chance to enhance your existing collection or start a new one. Choose from acrylics, giclées, etchings, digital multiples on metal, and caldographs created by our vast family of talented artists.
The Spring Sale is unique, however, because it offers Park West Gallery collectors the rare opportunity to collect artwork by legendary artist Albrecht Dürer.
"One would typically have to attend Park West Gallery's invite-only auctions to have the chance to acquire historical works such as these, oftentimes resulting in active bidding between enthusiastic collectors," says Park West Gallery Director David Gorman.
Born in 1471, Dürer was a pivotal figure during the Northern Renaissance. He is considered to be one of history's greatest printmakers due to the unmatched quality of his woodcut prints.
"For one of the first times, Park West Gallery is opening its vault and allowing original graphic works by Renaissance master Albrecht Dürer to be collected on a first-come, first-served basis," Gorman says.
Dürer's art isn't the only artistic master you'll find in the 2018 Spring Sale.
Works by Francisco Goya, Rembrandt van Rijn, Pierre-Auguste Renoir, and Joan Miró are all available, making it easy to elevate anyone's art collection to the next level.
Be sure to browse the 2018 Spring Sale Collection and, should you have any questions, contact our gallery consultants at (800) 521-9654 ext. 4 during business hours or sales@parkwestgallery.com after hours.