Simon Bull featured in the Oakland Press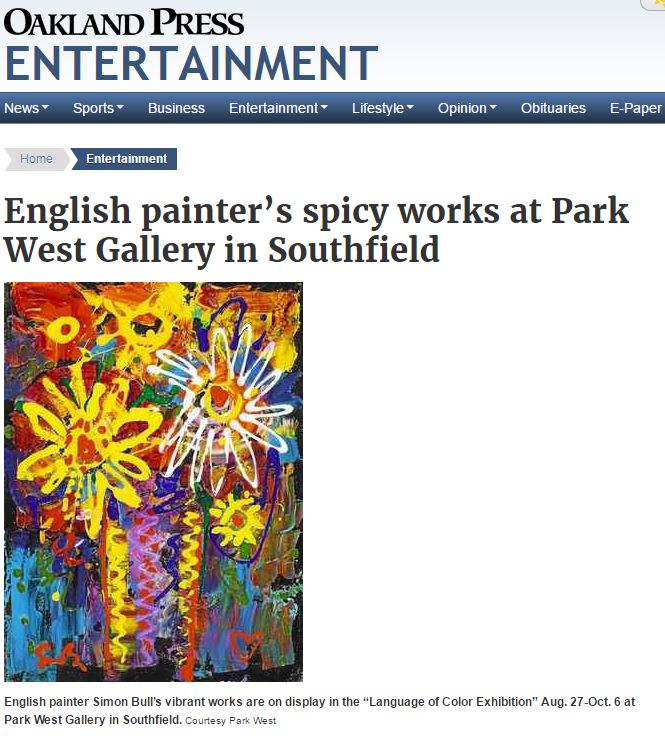 Artist Simon Bull is making headlines with his first-ever Park West Gallery solo exhibition.
The Oakland Press spoke with Bull about his artwork and his exhibition, "Language of Color," held at Park West Gallery in Southfield, Michigan from Aug. 27 to Oct. 6.
Bull talks about how he used his artwork to support himself through college, selling his work in Europe and around the world. When he saw that his artwork was well received in the United States, he decided to move to Carmel, California from England in 2003.
The article notes that Bull finds inspiration from nature, and initially had a more realistic style that centered around landscapes and flora. Over time, Bull transitioned to a more abstract style that focused more on vibrant colors and gestural brushstrokes.
"Like a chef, I felt the need to spice things up — to go brighter and bolder," Bull says. "In the mid-'90s, my style changed. I moved from a traditional approach to a more flamboyant one, and have been enjoying my time with color ever since."
Bull has worked with Park West Gallery for 16 years, his artwork having been seen by thousands of people on cruise ships around the world and at VIP events throughout the U.S. According to the article, part of the creative freedom Bull expresses is, in part, thanks to the gallery:
"I love the way they work with their artists, because as an artist I'm totally free to do what I want," Bull says. "It's a fabulous partnership."
The "Language of Color" exhibition features more than 40 works by Bull, including artwork from his Muhammad Ali series. All of the artwork featured in the exhibition is available to collect.
Read the full article here: "English painter's spicy works at Park West Gallery in Southfield"