Revealed! Norwegian Breakaway Hull Art by Peter Max
MIAMI, Fla. (Aug. 4, 2012) — Norwegian Cruise Line today revealed Norwegian Breakaway's signature hull artwork designed by pop icon and America's most popular living artist, Peter Max.
This is the first time Norwegian has commissioned a well-known artist to paint the hull artwork on one of its ships.
Launching in April 2013, Norwegian Breakaway will be the largest ship to homeport in New York City year-round. Max's signature artwork will cover approximately 40,000 square feet of Norwegian Breakaway's hull.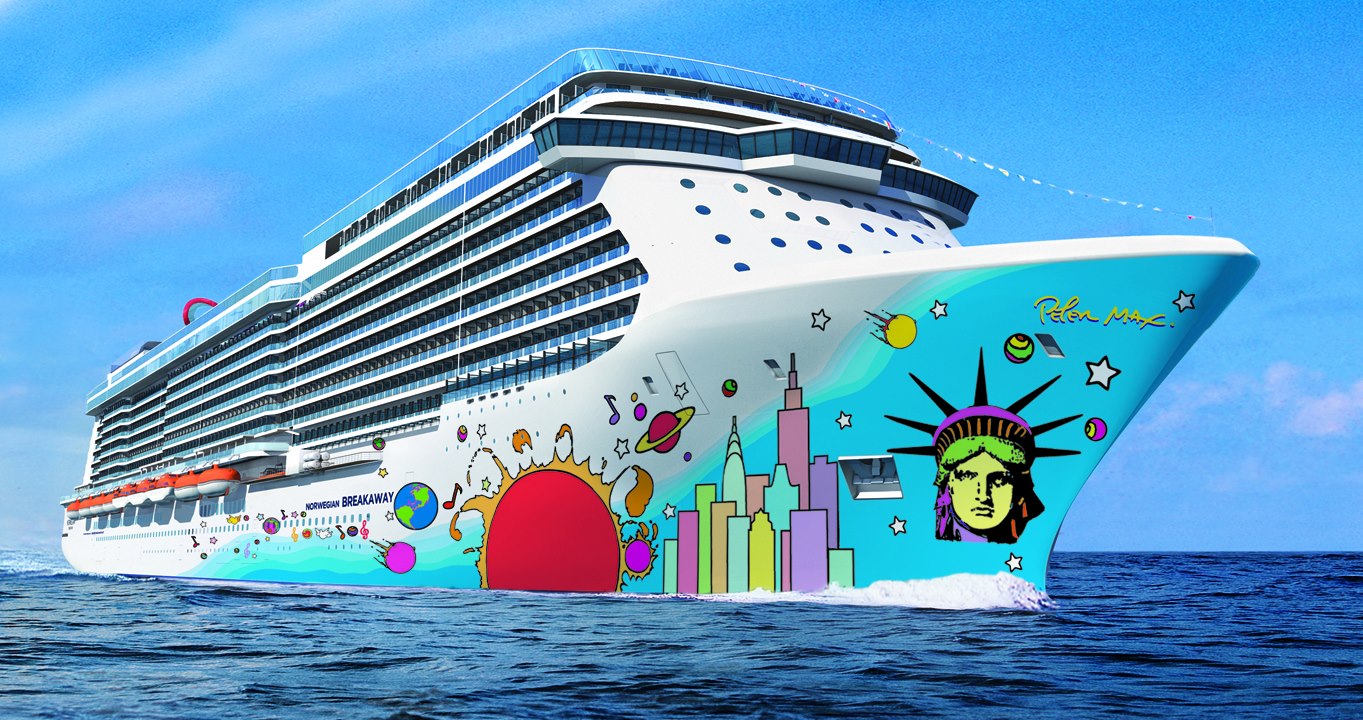 "While it has been an honor to have my art exhibited in museums and galleries, I have also enjoyed creating giant 'canvases' for public view, including my 600 ft. Woodstock stage, a giant World's Fair mural, the body of a Continental 777 super jet, and now, the hull of Norwegian Breakaway," said Peter Max from his New York studio. "The artwork is a composite of New York City and cosmic imagery— the Statue of Liberty, the Manhattan skyline, a giant sunburst, planets, stars, and musical notes. That's my New York! And now Norwegian Breakaway is my New York cruise ship 'canvas.'"
"Norwegian Breakaway is New York's ship and this colorful artwork by Peter Max will make the ship an instant icon," said Kevin Sheehan, Norwegian Cruise Line's chief executive officer. "The Big Apple is known for its love of art and its many galleries – and now, Norwegian Breakaway becomes a floating piece of art that will cruise in and dock every Saturday on New York's West Side. With this distinctive design, unlike anything else on the water, the ship will be recognizable to the millions of New Yorkers who will see her as she journeys up and down the Hudson River each week."
To learn more, visit www.breakaway.ncl.com.
---
Peter Max fine art is available at Park West Gallery cruise art auctions throughout the world or may be purchased through our gallery in Southfield, Michigan. Learn more at www.parkwestgallery.com.