Park West Gallery Sponsors Annual FCCA Gala Fundraiser Through Major Art Donation
The 17th Annual FCCA Gala Dinner was held Thursday, March 17, 2011 at the Miami Beach Convention Center. More than sixty cruise line executives, CEOs and presidents representing the member lines of the Florida-Caribbean Cruise Association attended this unforgettable evening of networking, entertainment and fundraising.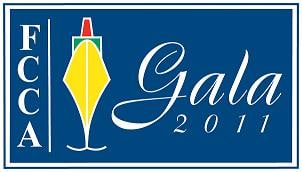 Park West Gallery was privileged to receive an invitation to be a partner for the premier cruise travel industry event. Park West Gallery CEO and founder, Albert Scaglione, his wife, Mitsie, and a group of Park West Executives also had the pleasure of being hosted to dinner that evening.
Park West Gallery's generous donation of fine art for the gala's silent auction helped raise close to $30,000 for the FCCA Foundation, benefitting children's charities in the Caribbean and Latin America. Albert Scaglione was also honored and recognized with a plaque for being the Art Auction Sponsor.
To nominate a charitable organization in your community that would benefit from a Park West Gallery donation, please send your submission to pwgcares@parkwestgallery.com.