Park West Gallery Holiday Sale Features Over 270 Artworks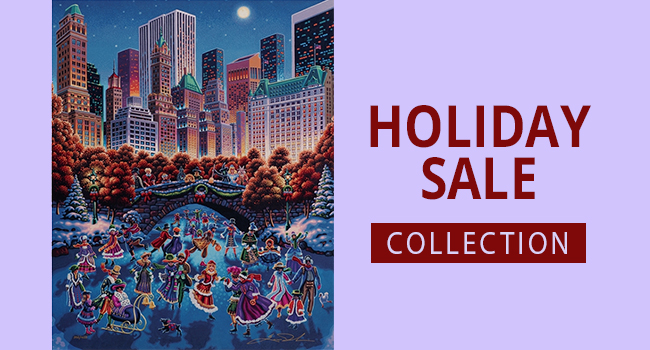 Don't just bundle up to endure the cold holidays – brighten walls and deck the halls with one of the largest Park West Gallery sales of the year.
Park West Gallery is offering artwork from 62 renowned artists during its 2016 Holiday Sale. With 274 different works available at amazing sale prices, there is something for everyone on your holiday shopping list.
Everything from one-of-a-kind paintings and drawings to giclées, sculptures and woodcuts are available during the sale. The collection spans art history, beginning with Old Masters like Rembrandt and Francisco Goya, continuing to modern masters like Pablo Picasso and Marc Chagall and ending with today's great contemporary artists from Yaacov Agam to Tim Yanke.
Works in the sale by Pop artist Peter Max include unique paintings, a sculpture and even etchings of some of his iconic images. Fellow renowned Pop artist Romero Britto also offers his 3-D limited edition graphic works, which are only available through Park West Gallery.
New Artists and New Art
Some of the newest members of Park West Gallery's family of artists are showcased during this collection:
Park West artists are giving collectors the chance to acquire their latest explorations into new mediums. The first-ever sculpture by Marcus Glenn, featuring his Piano Man character, is now available to collect. Collectors can also take home Yanke's first "dragonfly" digital art on metal as well as the first digital multiples by Anatole Krasnyansky.
Kinkade, Pino and More
A Holiday Sale wouldn't be complete without artwork from Thomas Kinkade. Choose from eight works of art by the Painter of Light including works on canvas exclusively offered by Park West Gallery.
Other artists in the sale include but aren't limited to: Alexander Chen, Chris DeRubeis, Duaiv, Erte, Michael Godard, Guy Harvey, Linda Le Kinff, Martiros Manoukian, Dominic Pangborn, Itzchak Tarkay and Daniel Wall.
Along with the Holiday Sale, Park West Gallery is featuring artwork by famed Italian artist Pino with a special 2016 Pino collection. Don't miss the chance to own watercolors, illustrations, drawings and hand-embellished giclees by this talented artist.
Now is the time to bolster a new or existing collection with this diverse collection of artists, styles and mediums. For more information or to acquire works from the collection, contact Park West Gallery at (800) 521-9654 ext. 4 or sales@parkwestgallery.com.