Park West Foundation Honors Foster Youth Graduates from the Class of 2018
Last month, 87 very special students celebrated their graduation from high school at the Skyline Club in Southfield, Michigan.
At first glance, you'd never notice any similarities between the students, but one crucial aspect bonded them and made their achievements all the more worthy of celebration—they were all raised in Michigan's foster care system.
On July 31, the Park West Foundation proudly hosted a celebration for foster youth who all graduated high school as part of the Class of 2018. The event was held in partnership with the Wayne County Health and Human Services department.
Since 2006, the Park West Foundation has supported foster youth throughout Michigan by connecting them with education, shelter, clothing, and food assistance. By providing these resources, the Park West Foundation aims to help foster students overcome statistics that show high school dropout rates are three times higher for foster youth.
"Park West Foundation's hands-on approach in the tri-county area has supported hundreds of students in care," says Saba Gebrai, Park West Foundation Program Director. "Celebrating the achievements and graduations of our students has been another priority."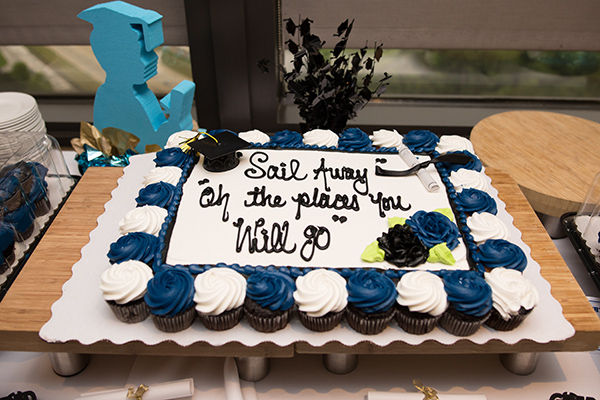 Living in the foster care system, these students face more difficulties than the typical high school student. Without stable homes or families, many foster youth often struggle to keep up with their high school peers.
However, students like Kyonna Woods didn't let those difficulties hold them back. In an essay that earned Kyonna a scholarship from the Park West Foundation, she summed up the resolve she and her fellow foster graduates embody:
"Oftentimes people can find themselves in deep enigmatic pain. We ask ourselves what we should do when facing such ineffable pain…I eventually chose to let the pain make me instead of break me. The endurance of pain allowed me to overcome and it developed me into the person that I am today."
Along with Kyonna, two other students earned scholarships awarded by the Park West Foundation: Penny Richards, who will attend Wayne State University; and Breanna Morgan, who is attending Wayne County Community College. Kyonna will attend Jackson College this fall.
A special award for extraordinary community service was given to filmmaker and Qween Magazine founder Veunita Garrison, who is also a Western Michigan University Seita Scholar. An award for the most improved Class of 2018 student was presented to Grant Williams. The ceremony also recognized graduates serving in the U.S. Army.
Among the special guests in attendance were Wayne County Circuit Court Chief Judge Colombo, Wayne County Department of Health and Human Services Deputy Director Lynette Wright, Park West Foundation Co-Founders Albert and Mitsie Scaglione, and Park West Foundation Director Diane Pandolfi.
"I was delighted to attend this year's celebration of the 2018 graduating class sharing in their pride for such an amazing accomplishment," says Pandolfi. "The Foundation will continue to support these young people as they move forward on their journey to achieve a productive and fulfilling future. Way to go graduates!"
Visit the Park West Foundation website for more information about its missions to aid foster youth and promote art education.