Park West Gallery Celebrates Crissia Vaughn as the 2022 Made in Hawaii Champion
Last night, Park West Gallery had the chance to say "Mahalo" to all of the artists who participated in its 2022 Made in Hawaii artist search competition. The popular gallery on Waikiki Beach held an invite-only gala to honor all of the Top 10 finalists of this year's contest and, in particular, shine on a light on their 2022 grand prize winner, Oahu native Crissia Vaughn.
The invitation list included local collectors, US and Japanese media, Hawaii-based influencers, and several of the Top 10 finalists from this year's competition.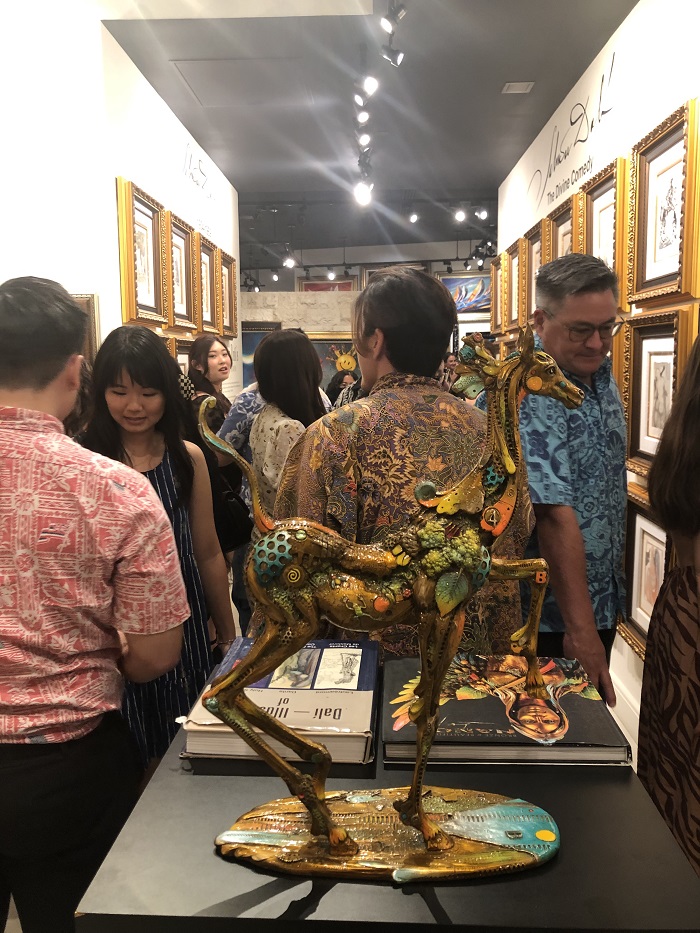 Vaughn attended the event with her mother and three sisters. She was born and raised on Oahu and graduated with her BFA from the University of Hawaii at Manoa in 2021. She describes herself as a photo-realist oil painter, and her winning paintings wonderfully capture dreamy, intricate portraits of her local spearfishing dives.
When she was announced as the winner, Vaughn said, "Thank you, Park West, for this gift of an opportunity! I am so excited and honored to share more of my work with the community and represent women spearfishers, along with the sustainable harvest through my art."
Many of the contest's other Top 10 finalists also made appearances at the Made in Hawaii 2022 party such as Jay Dee, Michael Jimenez, Rusty Johnson, Kayla Napua King, and Kristine Provenza.
Park West Gallery Director Arturo Torrez served as the master of ceremonies for the evening, introducing all of the artists to the assembled crowd and giving an impassioned speech about Park West's commitment to becoming a part of the local Hawaii art community.
As a jazz quartet played throughout the evening, guests were able to have a cocktail, enjoy appetizers, and mingle with this year's semi-finalists. Many of the artists met for the first time at the event and truly enjoyed networking, swapping stories, and even posing for a selfie or two.
As the ultimate winner of Made in Hawaii 2022, Vaughn will be offered a one-year contract with Park West and will be given a three-month exhibition in the gallery, which is scheduled to debut in 2023.
Vaughn's winning artwork is currently still on display at the Park West Fine Art Museum & Gallery, located at the famous Waikiki Beach Walk, which is open daily from 11 am to 10 pm. For more information, visit www.parkwestgallery.com/hawaii or call 808-859-4871. You can see more of Vaughn's extraordinary artwork on Instagram here or on her website here.